Craving a belly warming stew that is as healthy as it is delicious? Try our savory Mediterranean chickpea stew! This stew is loaded with hearty vegetables, packed with flavor, and can be made in UNDER 30 minutes!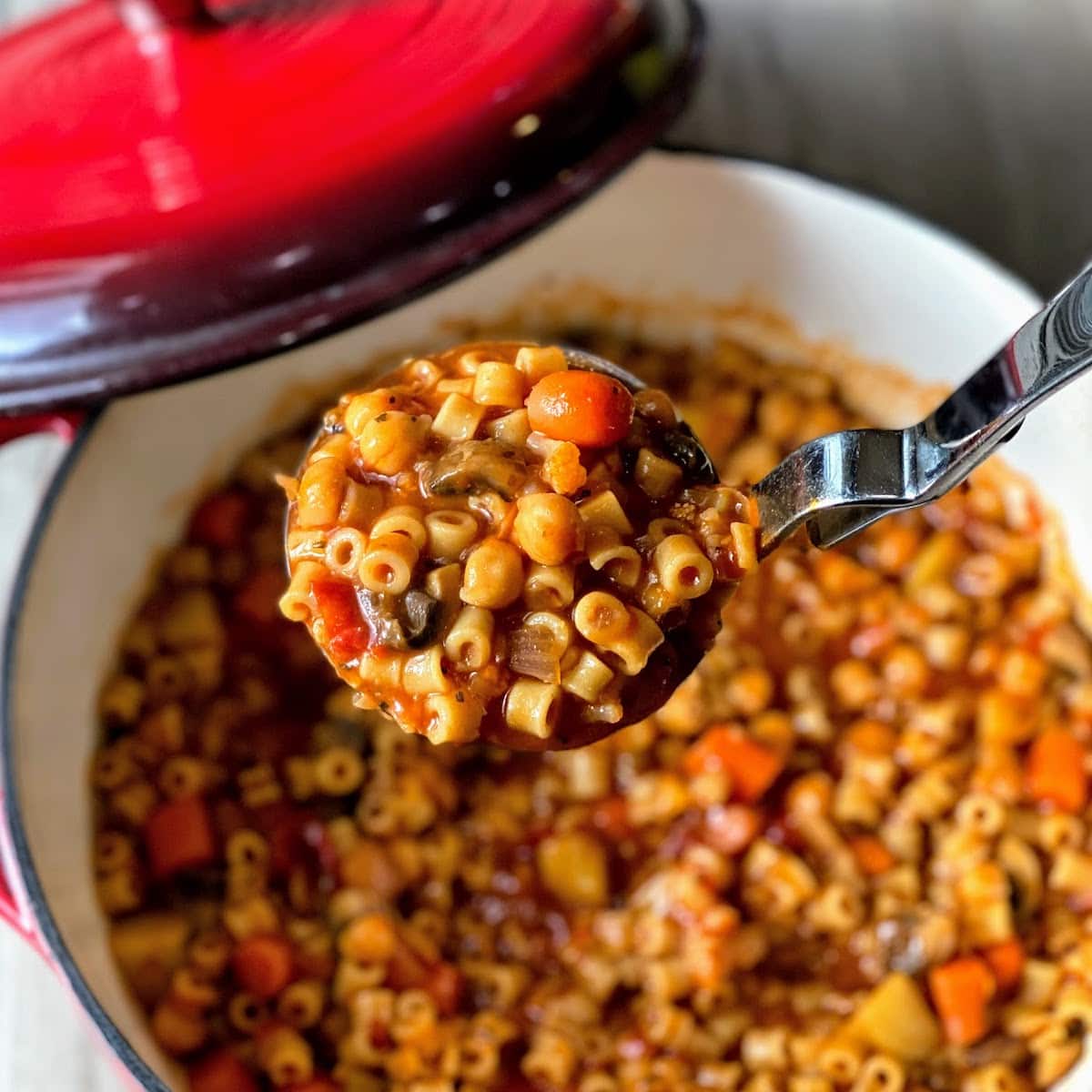 Note: Some of the links in this post are Amazon affiliate links. This means that if you click on an affiliate link and purchase an item, we will receive a commission. However, we genuinely recommend all the products we link.
---
Mediterranean Flavors in a Delicious Stew!
This hearty vegetable stew fits the bill. It's warm, delicious, and chock full of many of our favorite veggies and Mediterranean flavors and spices. It's also vegetarian and you can make it in one pot!
And most importantly...drum roll please...our kids all liked it! We basically combined our mom's and college friend's mom's beef stew recipes (minus the beef) with some elements of our favorite Mediterranean soups (Sausage Orzo Soup and Italian Wedding Soup) on the site, plus some new flair.
---
What is a Hearty Vegetable?
This chickpea stew has lots of hearty vegetables. But what does hearty mean? As far as I see it, a hearty vegetable is a veggie that's nourishing, satisfying and won't leave you hungry. Typically, root veggies are considered very hearty due to being full of vitamins and minerals, and high in carbohydrates (aka starchy). According to the USDA, root veggies are marked by having edible underground roots. Our stew recipe has the following root veggies: carrots, potatoes, onion and garlic.
As for the other veggies in our stew, there are a ton of vitamins. We get loads of Vitamin C from cauliflower. And we get Vitamin B-12 and plenty of antioxidants from mushrooms.
---
Why Add Chickpeas?
Chickpeas make a great substitute for meat in this vegetarian dish, as they are rich in fiber AND packed with protein. In fact, the USDA classifies chickpeas (also known as garbanzo beans) as both a vegetable AND a protein. We also love chickpeas because they contain important nutrients that may help prevent certain health conditions, like heart disease and cancer.
Note: If you want to do more with chickpeas, check out our Sweet Roasted Chickpeas recipe for a sweet and healthy treat!
---
More Soups and Stews to Check Out
---
How to Make This Stew
STEP 1: COOK ONION, GARLIC & CELERY
🥄 Kids Step: Chopping! We love this Curious Chef Kids Knife.
STEP 2: ADD BROTH, VEGGIES & THE REST. BRING TO BOIL.
🥄 Kids Step: Measure and combine ingredients. We always use our tried and true Pyrex Measuring Cup to measure liquid ingredients.
STEP 3: ADD PASTA!
🥄 Kids Step: Taste Testing! This is an easy job. Along the way, have your kids taste the veggies and pasta to see if they're done.
STEP 4: ADD THICKENING AGENT! 
🥄 Kids Step: Make the thickener! Your kiddo can whisk together the 1 cup water and 2 T cornstarch in a Pyrex container. Then pour that mixture into the stew, stir continuously and see how the soup thickens.
---
FAQ
Are chickpeas healthy?
Yes, chickpeas are a great source of fiber and protein!
Can you eat canned chickpeas?
Yes, canned chickpeas are pre-cooked and can be eaten right out of the can. Just be sure to rinse chickpeas under water to remove excess sodium.
How can I thicken this stew?
Ways to thicken the stew: (1) Whisk together cornstarch + water and pour into the stew towards the end of cooking. (2) Toss your veggies in flour before cooking. As the stew cooks, the flour breaks off and thickens the broth. (3) Take a cup of your soup/stew out, blend it (in a Vitamix or blender), and then add it back in to the soup/stew. 
My stew is too thick. How can I loosen it?
This stew soaks up all the broth pretty quickly. If you want more liquid, use more than 8 cups of broth or add in more towards the end of cooking. As always, we love this Better than Bouillon Veggie Base.
How can I reheat leftover stew?
As for the leftovers, the veggies and pasta will soak up ALL the broth overnight and what's left is something like a rice dish (exactly like our Sausage Orzo Soup). So, the next day you can eat the dish as-is or add broth and heat stew up again.
---
Modify this dish for picky eaters
🍅 Cheese! My kids were all more amped to eat this soup once they knew we could put cheese on top. Either let them use shaky cheese (aka Kraft) or show them how to shred cheese from an actual block of parmesan.
🍅 Change the Veggies! As always, you can adjust the ingredients based on what your kids like. I threw in mushrooms because my stepdaughter is going through a mushroom phase. Lol. There are some super easy frozen mixes that you can throw in too, i.e. peas, carrots, corn, green beans mix.
🍅 Alphabets! I had no idea that this was actually a real pasta: alphabets. Lots of name brands make alphabets pasta, but sometimes it's hard to find. However, if you can find it, do it! My kids had so much fun eating the stew, while making words on their spoons. Plus, the small noodles cook fast.
🍅Garlic Bread!!!! My kids go crazy for it. Pepperidge Farm is our fave, and it only takes 8-9 mins in the oven.
---
CRAFT FOR THIS CHICKPEA STEW RECIPE:
Sweet Roasted Chickpeas with Sugar and Cinnamon
: Looking for a healthy snack? Indulge in these protein-packed Sweet Roasted Chickpeas! This is a snack your kids can make completely on their own. And you'll feel good about them munching on this crunchy treat!
---
Mediterranean Chickpea Stew
Our Mediterranean Chickpea Stew is the perfect comfort food! Full of hearty veggies and chickpeas, your belly will be so satisfied!
Ingredients
2

T

olive oil

1/2

onion, chopped

1-2

cloves

garlic, minced

1

stalk

celery, chopped thinly

8

cups

vegetable broth

1

cup

carrots, chopped

(frozen or fresh)

5-6

baby yukon gold potatoes, cut into small pieces

(or 2-3 medium potatoes)

5

oz

cauliflower florets

(frozen or fresh)

4

oz

mushrooms (baby bella or crimini), cut into small pieces

2

t

salt

1

t

sugar

1/2

t

black pepper

1/2

t

paprika

1/3

cup

tomato paste

15

oz

can diced tomatoes

2

cups

small pasta

(like ditalini, alphabets, orzo, acini di pepe, Israeli or Pearl couscous)

1

cup

water

2

T

cornstarch

1/2

cup

parmesan cheese, grated or shredded

(for topping)

[optional: garlic bread]
Instructions
Heat large stockpot on low-medium and add olive oil. Once heated, add onion, garlic and celery. Cook for 2-3 mins, stirring frequently.

Turn heat to high, add broth. Bring broth to a boil while you add all the other ingredients (except pasta and thickening agent). Stir periodically to make sure nothing sticks to bottom of pan.

Once veggies are soft, add pasta and stir regularly.

Meanwhile, combine water and cornstarch in small bowl and whisk together. Once pasta is done, reduce heat to medium and stir cornstarch mixture into pot. Stir regularly until stew is slightly thickened. Serve stew in bowls, with parmesan cheese sprinkled atop.
Notes
If time is an issue, use frozen or canned veggies so you don't have to chop much, a squeezy bottle of minced garlic, and Kraft Parmesan cheese instead of grating it yourself. 
If you are using fresh veggies, chop them ahead of time or buy them pre-cut. You can use baby carrots instead of full size...you just have to cut them in thirds and that's it. FYI, your stew will cook more evenly if you cut most of your veggies roughly the same size.
Consider putting a lid on your pot to speed up the boiling process. Some burners are slower than others.
This stew soaks up all the broth pretty quickly, so add extra broth, if needed. 
We think the stew goes really well with Pepperidge Farm Garlic Bread (find in frozen aisle).
Nutrition
Serving:
1
serving
Calories:
466
kcal
(23%)
Carbohydrates:
77
g
(26%)
Protein:
19
g
(38%)
Fat:
10
g
(15%)
Saturated Fat:
2
g
(13%)
Polyunsaturated Fat:
2
g
Monounsaturated Fat:
5
g
Cholesterol:
7
mg
(2%)
Sodium:
2025
mg
(88%)
Potassium:
974
mg
(28%)
Fiber:
9
g
(38%)
Sugar:
8
g
(9%)
Vitamin A:
3979
IU
(80%)
Vitamin C:
33
mg
(40%)
Calcium:
195
mg
(20%)
Iron:
4
mg
(22%)
*Percent Daily Values are based on a 2000 calorie diet. While we are not certified nutritionists, we work with a WordPress-integrated nutrition API to calculate our recipes' ingredient values.