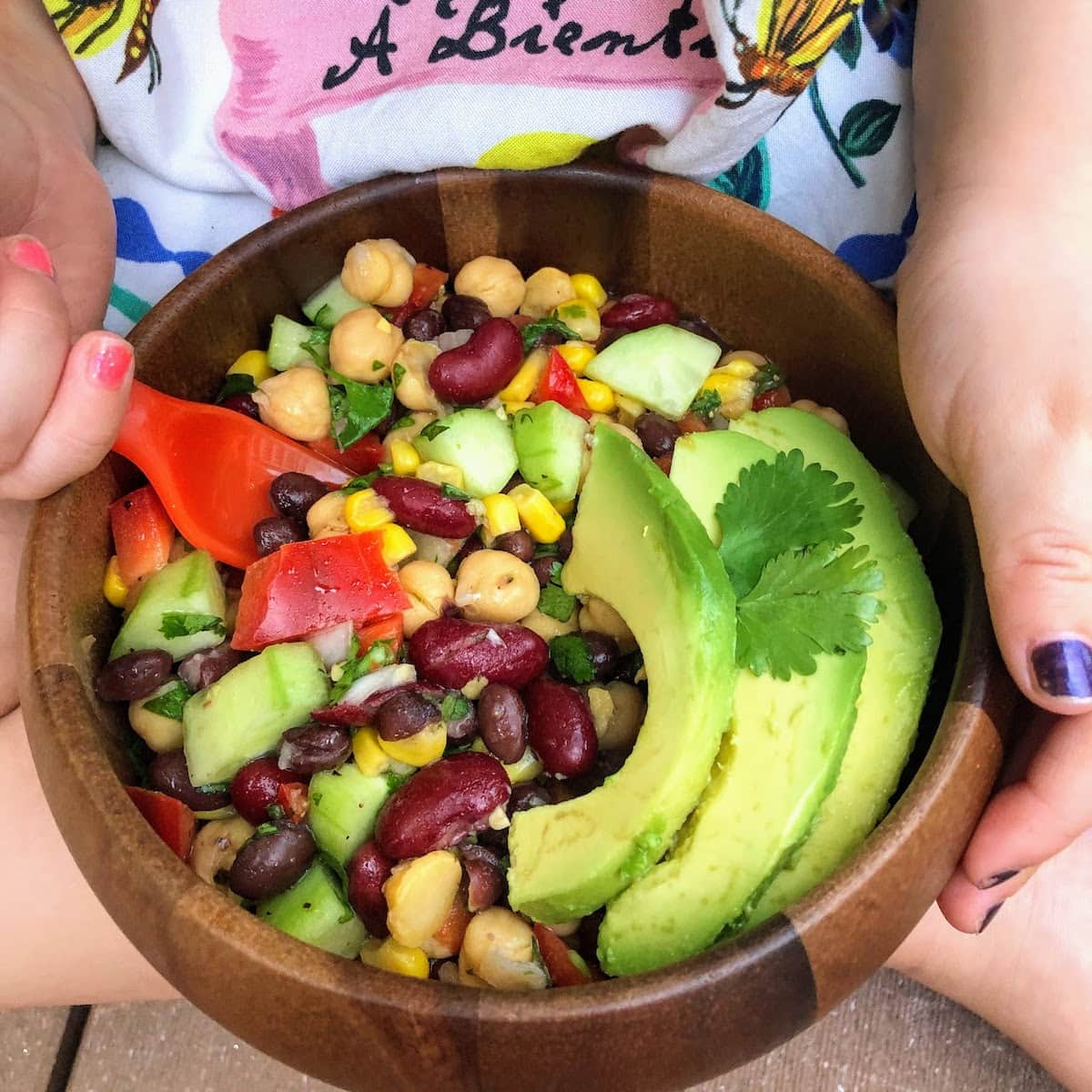 'Tis the season for fresh produce and easy meals with lots of fresh ingredients. And with beans, corn, fresh herbs, and flavorful veggies, this three bean salad definitely hits the spot.
My mom came up with the recipe and I adjusted it, keeping young palettes in mind. The end result is truly delicious in a simple food kind of way. It's pretty much all natural ingredients, even though the beans and corn are canned. The main thing that I adjusted, and it's totally up to you if you want to change this, is the avocado use. My mom originally had avocado mixed in with the salad BUT I found it made the salad too mushy and the leftovers really browned overnight. I liked having a few slices of avocado on top of salad instead. That way, the salad is crisper, the salad won't be all funky the next day, and if the kids don't like the salad, at least they'll eat some plain avocado.
This three bean salad is pretty versatile. You can have it as a meal unto itself or as a side dish. You can bring it to a potluck or picnic, dip chips into it, or snack on it for lunch. It would pair really well with our Perfect Picnic Chicken Salad Sandwich or Bow Tie Pasta Salad.
We'd love to know what you and your kids think about this three bean salad. While the adults at my dinner table loved it, the salad had more mixed reviews with the kids. Both of my kids were all over the avocado and gobbled that up, and my daughter picked out the kidney beans and ate a ton of those. But both merely tolerated a few bites of the salad. I can never guess what direction the kids' reactions will go. Lol. That being said, my daughter was super amped to help with every step of making this salad, from rinsing to chopping to mixing. And she snacked on the veggies while assembling everything. That's a win in my book.
🌈 
Kidify the Meal 🌈
🍅Separate the parts! I know we always say this, but seriously, so often kids will be more likely to eat something if you present the main ingredients separately, rather than mixed together. For this salad, try making a plate with separate servings of corn, beans, red bell peppers, cucumber, and avocado. Then season the plate with salt & pepper if your kids are into it.
Note: This post contains affiliate links.
Three Bean Salad
This three bean salad is perfect for summer! 🌞Bring it to a potluck or picnic. Have it as a dip with your fave chips. Or eat at home as main dish or side!
Ingredients
16 oz

can

kidney beans

strained & rinsed

15 oz

can

garbanzo beans

strained & rinsed

15 oz

can

black beans

strained & rinsed

10 oz

can

corn

strained & rinsed

1

large shallot

chopped

⅓

cup

cilantro

both leaves & stems, finely chopped

⅓

cup

basil

just leaves, finely chopped

¾

cup

red bell pepper

chopped

1

cup

cucumber

peeled & chopped

¼

cup

olive oil

¼

cup

lime juice

1

teaspoon

salt

½

teaspoon

ground black pepper

1-2

avocados

sliced
Instructions
Combine all ingredients except avocado. Mix completely.
Notes
Serve salad in a bowl or on a plate, with a few slices of avocado on top. 
Nutrition
Calories:
2455
kcal
(123%)
Carbohydrates:
449
g
(150%)
Protein:
121
g
(242%)
Fat:
42
g
(65%)
Saturated Fat:
6
g
(38%)
Polyunsaturated Fat:
11
g
Monounsaturated Fat:
19
g
Sodium:
609
mg
(26%)
Potassium:
5993
mg
(171%)
Fiber:
111
g
(463%)
Sugar:
49
g
(54%)
Vitamin A:
3930
IU
(79%)
Vitamin C:
104
mg
(126%)
Calcium:
310
mg
(31%)
Iron:
25
mg
(139%)
*Percent Daily Values are based on a 2000 calorie diet. While we are not certified nutritionists, we work with a Wordpress-integrated nutrition API to calculate our recipes' ingredient values.
Choose an Activity