Have extra tortillas? With a little food coloring and water, it's so easy to color tortillas and transform them into beautiful and edible art!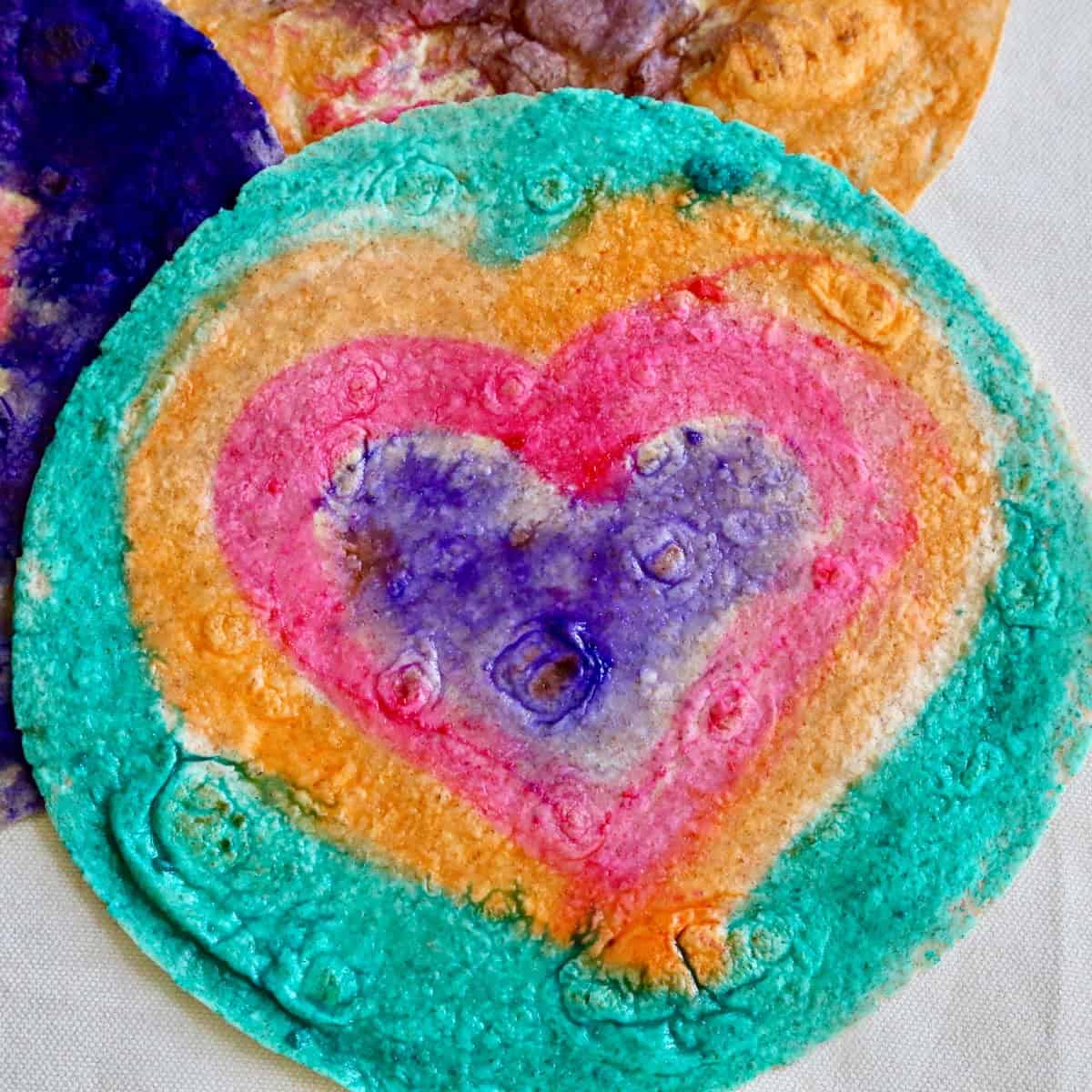 Jump to:
👌 Why We love to Color Tortillas
Simple supplies- All you need is food coloring, water and tortillas! You can even use tortillas as paint brushes.
Fun for all ages- Kids of all ages can have fun coloring tortillas.
Safe to eat- The best part about this craft is you get to eat the final product. Turn colored tortillas into quesadillas! You'll be surprised at how well the color holds even after toasting.
Perfect for special occasions! Color hearts on your tortilla for Valentine's Day or surprise mom with a colorful tortilla for Mother's Day!
Learn about tortillas! Take a moment to share some fun tortilla facts with kids, like how in Spanish, tortilla means "small cake" and that corn tortillas were originally made by the Aztecs.
🛒 Supplies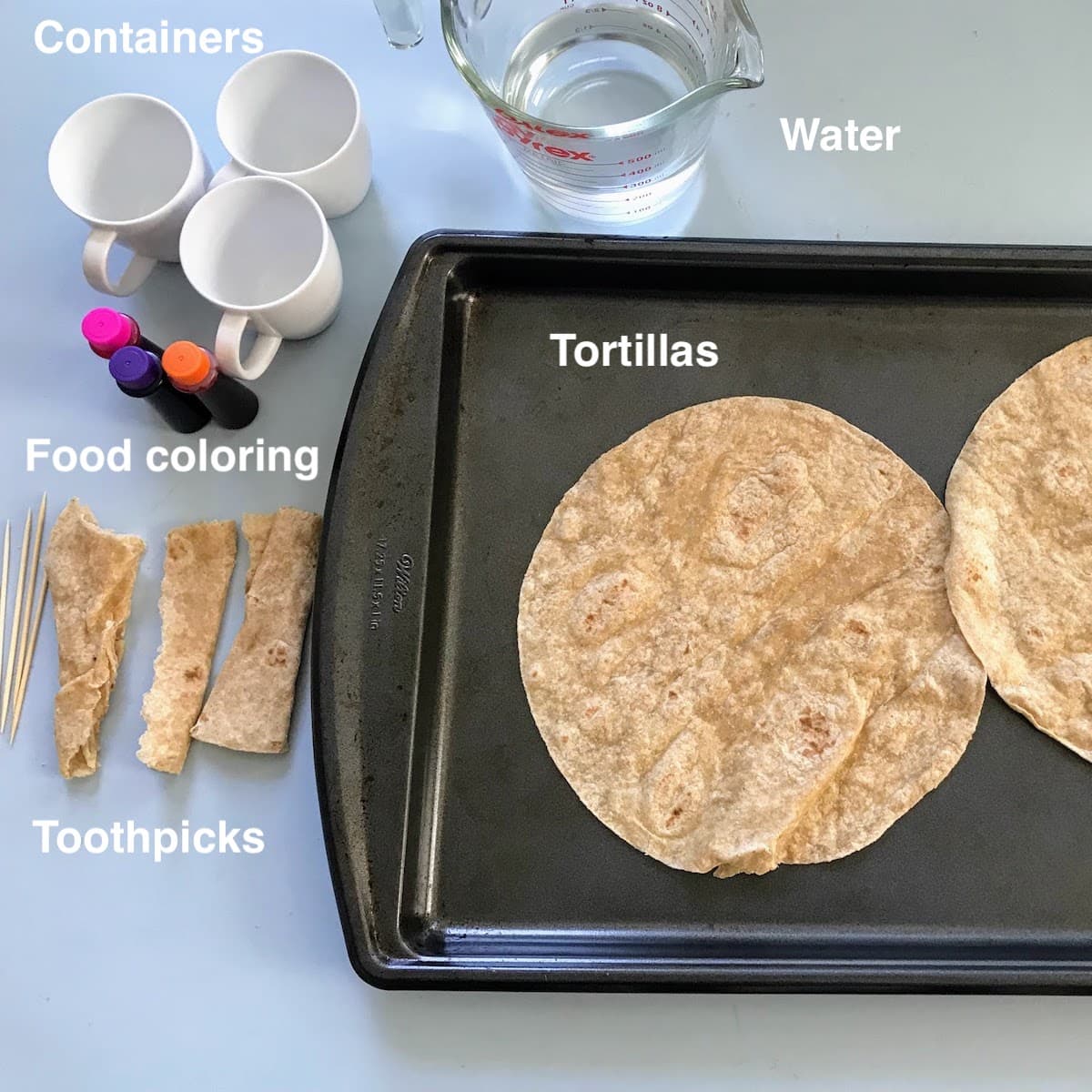 Notes on supplies:
Food coloring- Choose 1-3 colors of regular food coloring or gel-based food coloring.
Tortillas- Set aside 1-2 round tortillas (for painting) and 1 tortilla folded and broken into 3-4 strips (to form paintbrushes).
Containers- We used expresso cups but any small, clean container will work.
Baking sheet-This is totally optional but can help catch any drips or messes.
Note: If you love food art, be sure to check out our Easy Pancake Shapes craft using our Vanilla and Cinnamon Pancake recipe!
🖌 How to Color Tortillas
Step 1: Make your edible paint
To maker edible paint, we simply combined 1-2 drops of food coloring with a few drops of water in a small bowl. The less water we added, the more vibrant the colors turned out.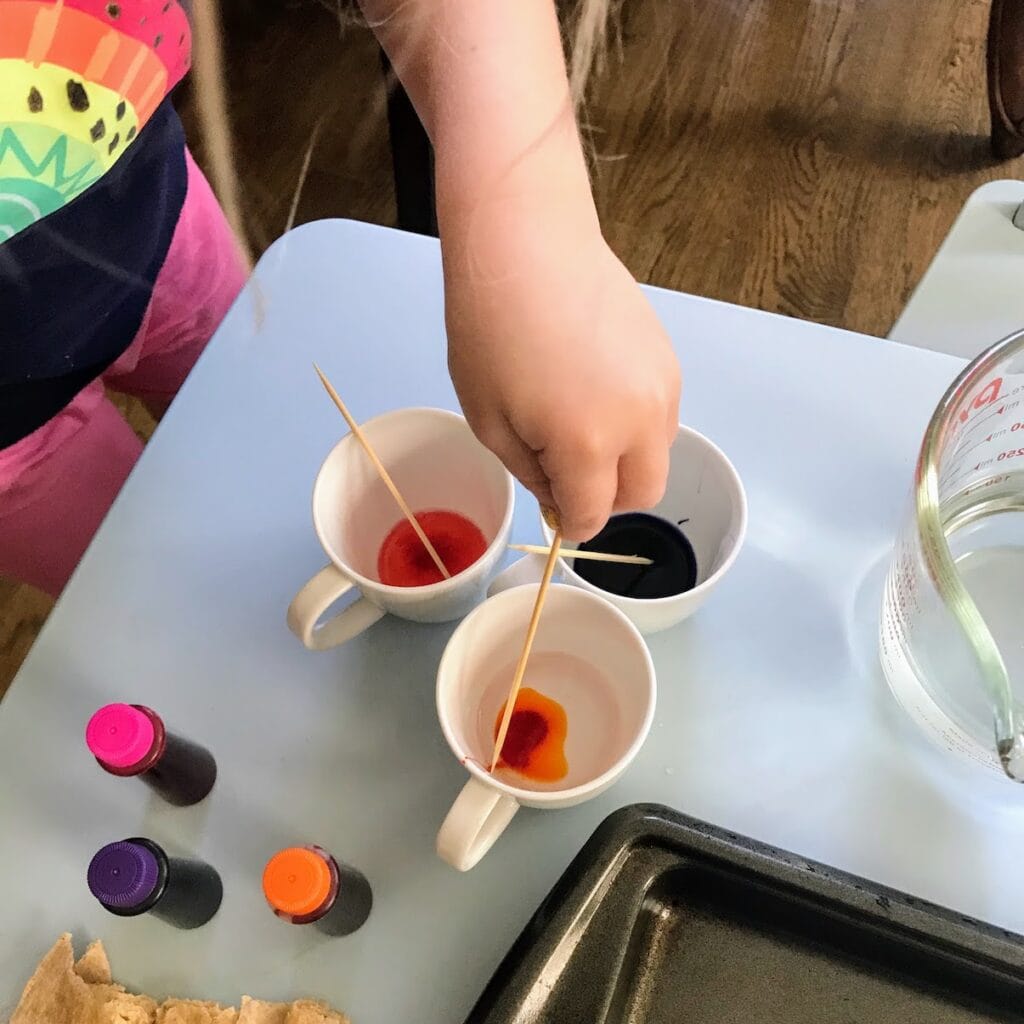 Step 2: Color your tortillas!
Dip your tortilla "paintbrushes" into your edible paint and color your tortillas however you'd like!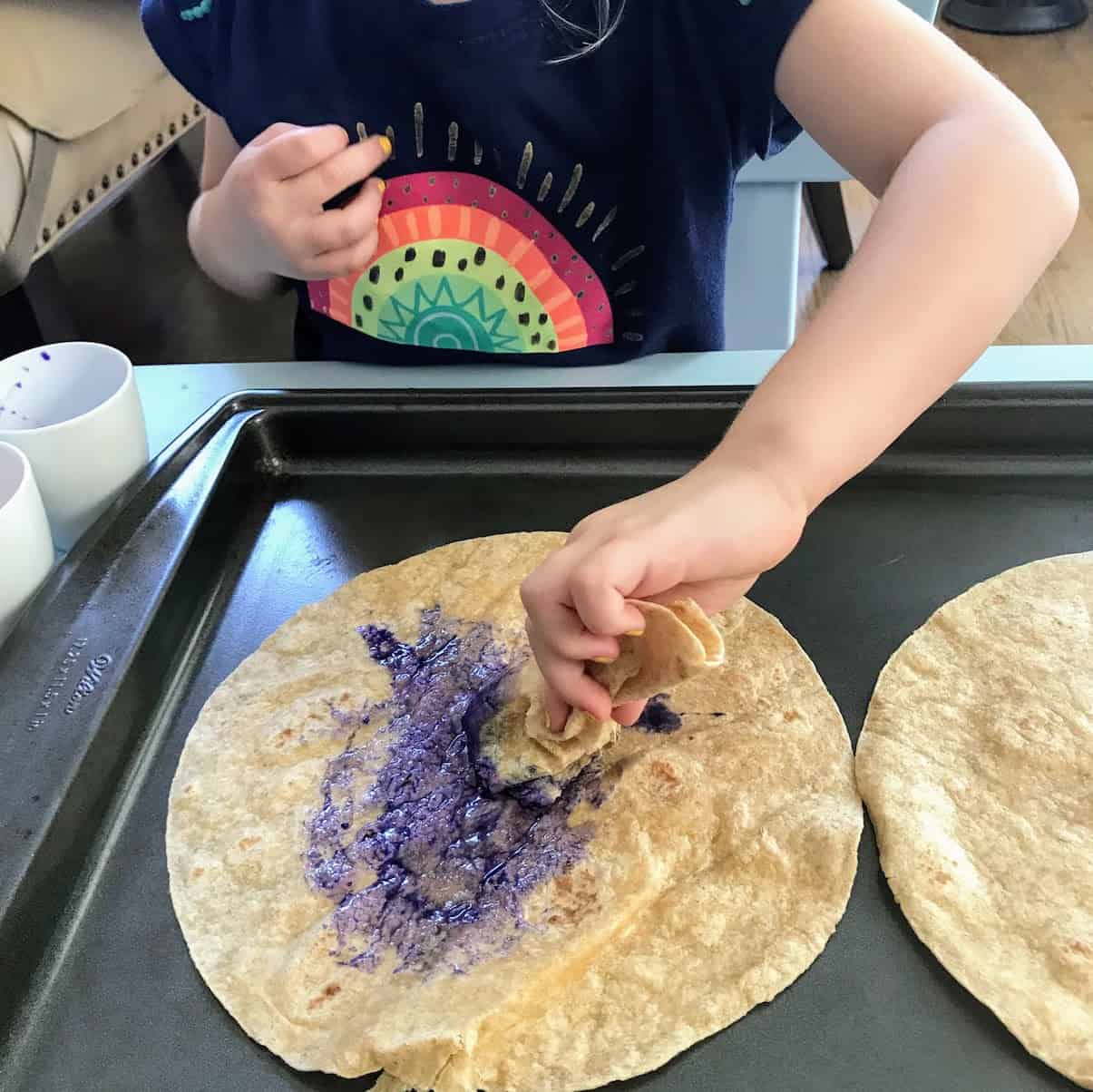 ❓FAQ
Should I use food coloring or food gel for edible paint?
We have tried making edible paint using both standard food coloring and gel-based food coloring.It's worth pointing out that you will get a more concentrated and brilliant color using gel food coloring. However, we happened to have some pastel food coloring in our pantry that we wanted to try out with this craft, and it came out quite nice! We just made sure not to over dilute our food coloring too much with water.
Can other liquids be used instead of water?
While we stuck with water as the base of our food coloring paint, there are lots of other options. We have seen others use  lemon extract, white vinegar or condensed milk as the base to their edible paint. These liquids may yield a more colorful outcome, but can also impact the taste of your final product.
What else can edible paint be used for?
Edible paint can be used to decorate cookies, cakes or even toast. We have also used food coloring/gel to color spaghetti and rice for various crafts.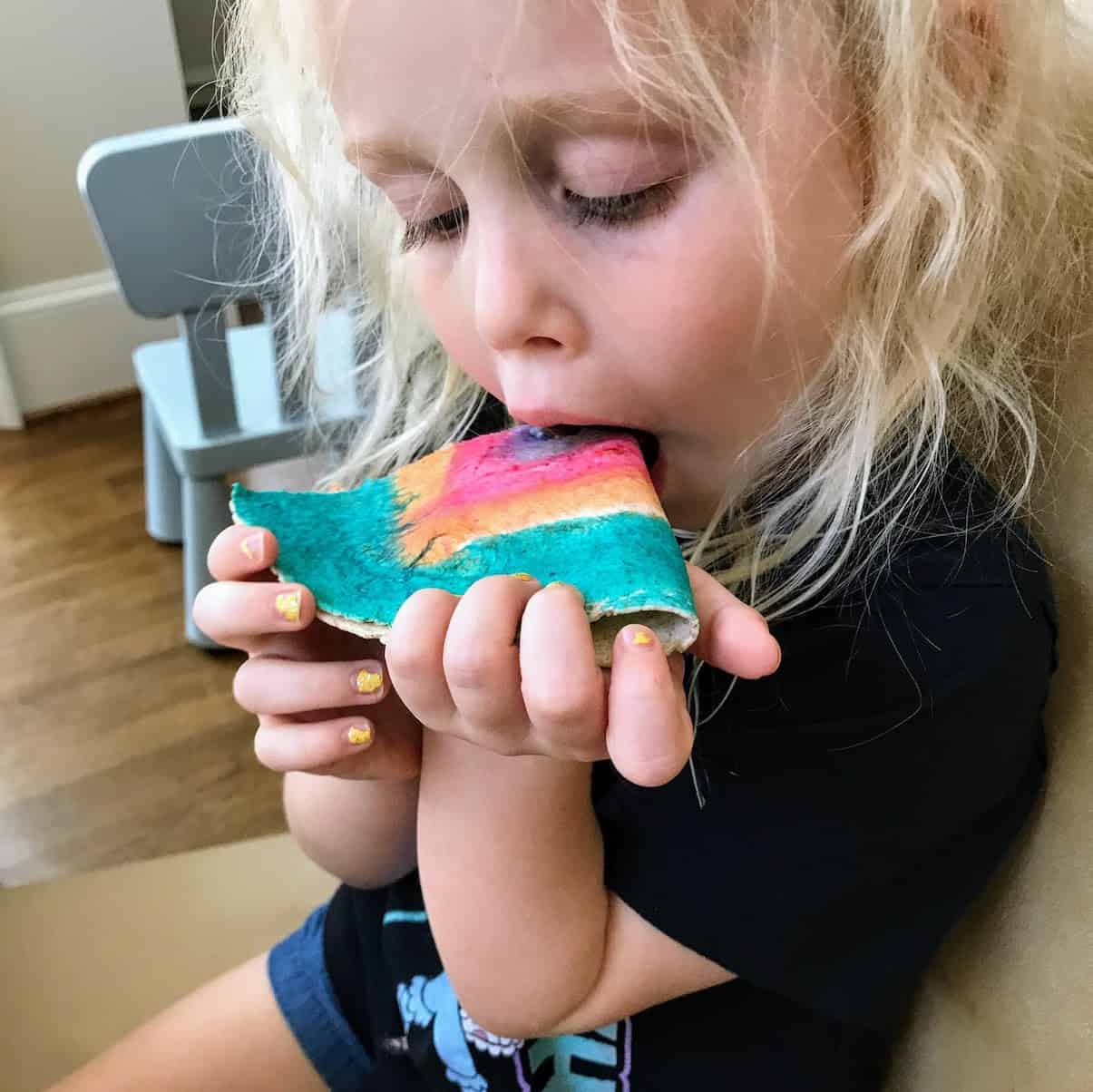 🧶 Other Colorful Food Crafts
Follow Platein28 on Pinterest, Instagram and Facebook and Sign up for our newsletter for all the latest recipes and crafts!
Color Tortillas with Edible Paint
Jazz up your meal and color tortillas with edible paint! Your quesadillas and soft tacos never tasted AND looked so good!
Supplies
2-3 round tortillas

1-3 colors of regular food coloring or gel-based food coloring

any colors you'd like

water

1-3 Small, clean containers

(we used espresso cups!)

toothpicks
Instructions
Pour 1-2 drops of food coloring into each container. Use a different color for each container. Add a few drops of water to each bowl (the more water, the more diluted the color will be). Use a toothpick or spoon to mix water with food coloring. 

Dip your tortilla paint brushes into your containers of edible paint and color your tortillas!
Notes
For your colors, use either regular food coloring or gel-based food coloring.
Use an extra tortilla, folded and broken into 3-4 strips, to form paintbrushes.
To prevent messes, consider painting your tortillas on top of a baking sheet or parchment paper. 
Want more 28-minute recipes and crafts? Sign up and get recipes straight to your inbox!