What's better than a bowl of hearty, comforting, delicious soup on a cold day?! Almost nothing, except maybe a hot chocolate or hot toddy 😜 This Italian vegetable white bean soup is simple, yet extremely flavorful. And it just feels good in your belly on a cold, fall or winter's night.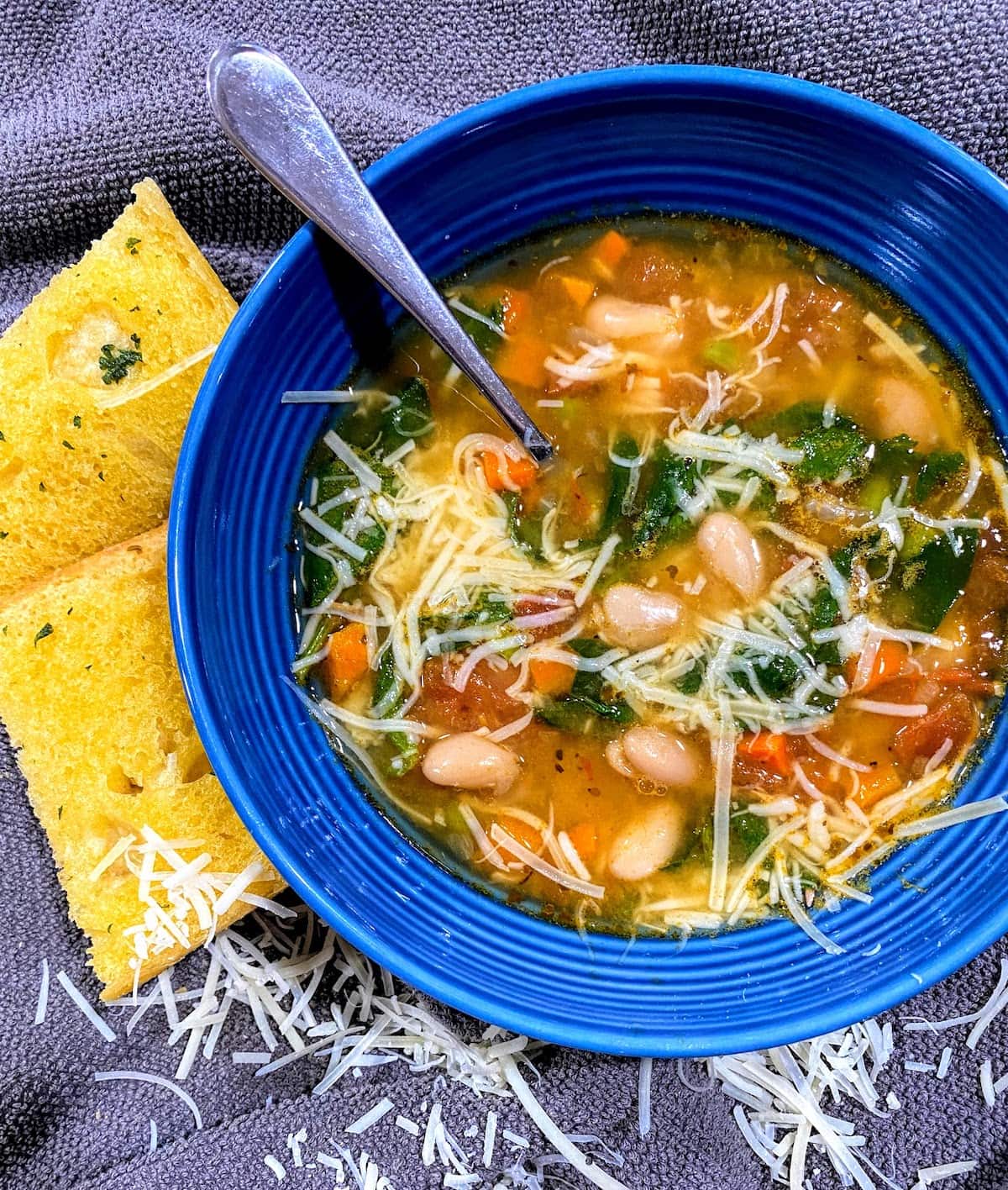 Jump to:
👌Why we Love this White Bean Soup
Oh, Italian vegetable white bean soup, how do I love you? Let me count the ways....
Easy to make. No complicated steps. Like all of our recipes, our Italian Vegetable White Bean Soup can be made in 28 minutes or less!
One pot is all you need (plus a Vitamix/blender).
Ingredients are simple, inexpensive and accessible.
Vegetarian & gluten free!
Beans! We love cannellini beans (aka white kidney beans) because they are packed with all the good stuff for your body! Namely, protein, fiber, iron and antioxidants.
Super customizable! Make it vegan, make it meaty, or just use different veggies.
Family-friendly! My kids loved this soup, and I ate it all week without getting tired of it! I think I developed an addiction!
Note: If you love Italian soups as much as we do, be sure to check out our Healthy Italian Wedding Soup and Sausage Orzo Soup with Kale for more inspiration!
🛒 Ingredients
Note: You can find all of these ingredients easily at the store, for fairly cheap. And you might already have some in your pantry.
Notes on Ingredients:
Beans: We used canned white cannelloni beans, but any bean is fine (white kidney, Great Northern or navy beans).
Veggies: Go with what you like! This soup is very flexible. Frozen, canned...it doesn't matter. Just make sure, if you add in a harder veggie, that you allow enough time to soften.
Vinegar: An amazing tip I learned from The Food Lab, J. Kenji López-Alt, is to add something acidic to the soup at the very end of cooking (p.204). This was the missing link for me! Sherry vinegar, red wine vinegar and lemon juice all work.
Vegetable base: I'm totally not getting paid by the company, but I can't help but always suggest my fave Better than Bouillon brand for broth/stock. It's condensed so it goes a long way, takes up very little space in the fridge, and is better for the environment (less bulky, recyclable). Pro-tip: buy the low-sodium version if available.
🔪 How to Make this Dish
Step 1: Cook onion and garlic.
🥄 Kids Step: These awesome kids' knives are great for cutting the onion. If your kids wear swim goggles, the onion won't make their eyes tear up. Plus, it's fun!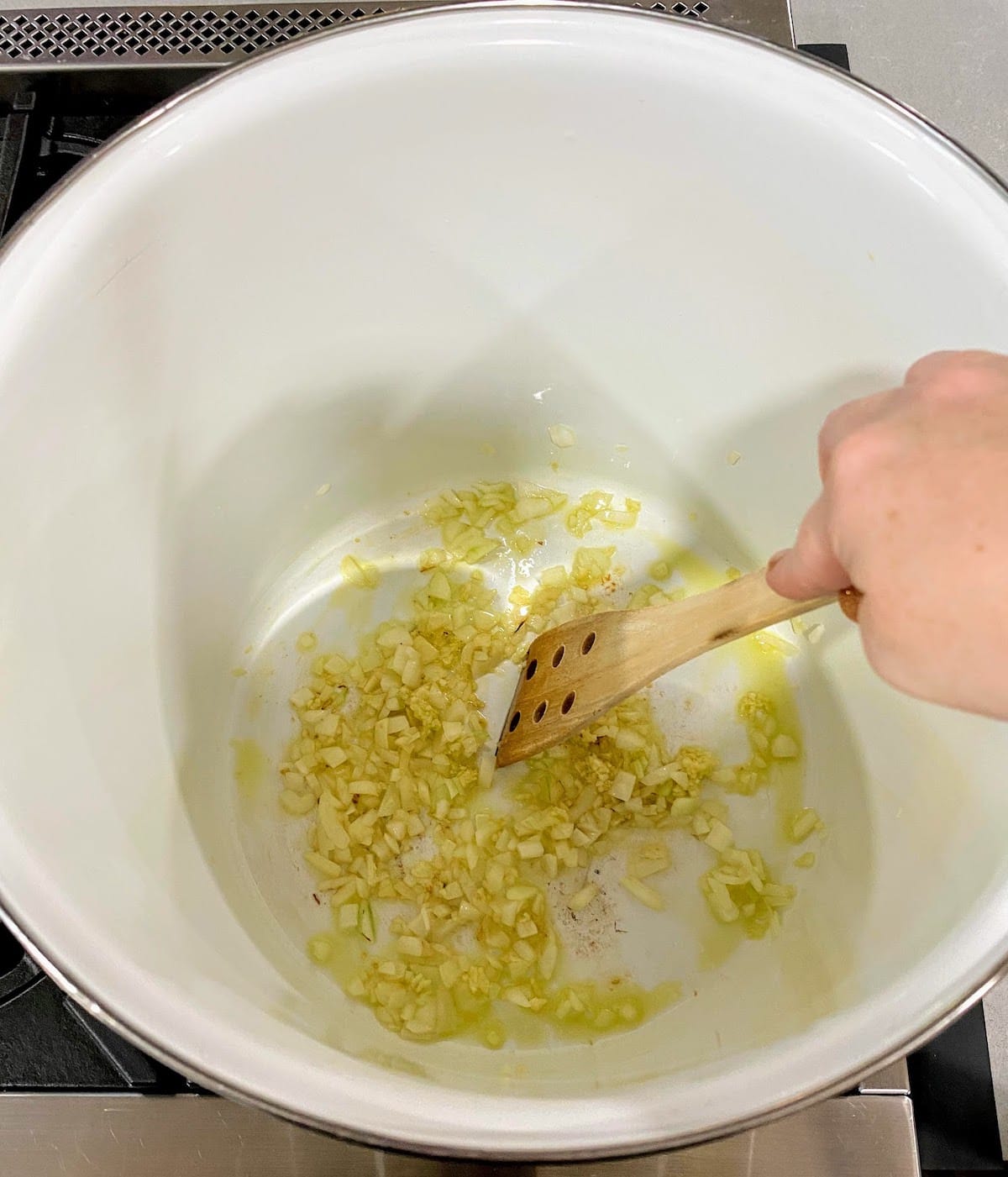 Step 2: Add broth, veggies and seasonings and bring to boil.
🥄 Kids Step: Pull out all your cups and spoons and let your kids do the measuring. It will be messy, but kids really like this task!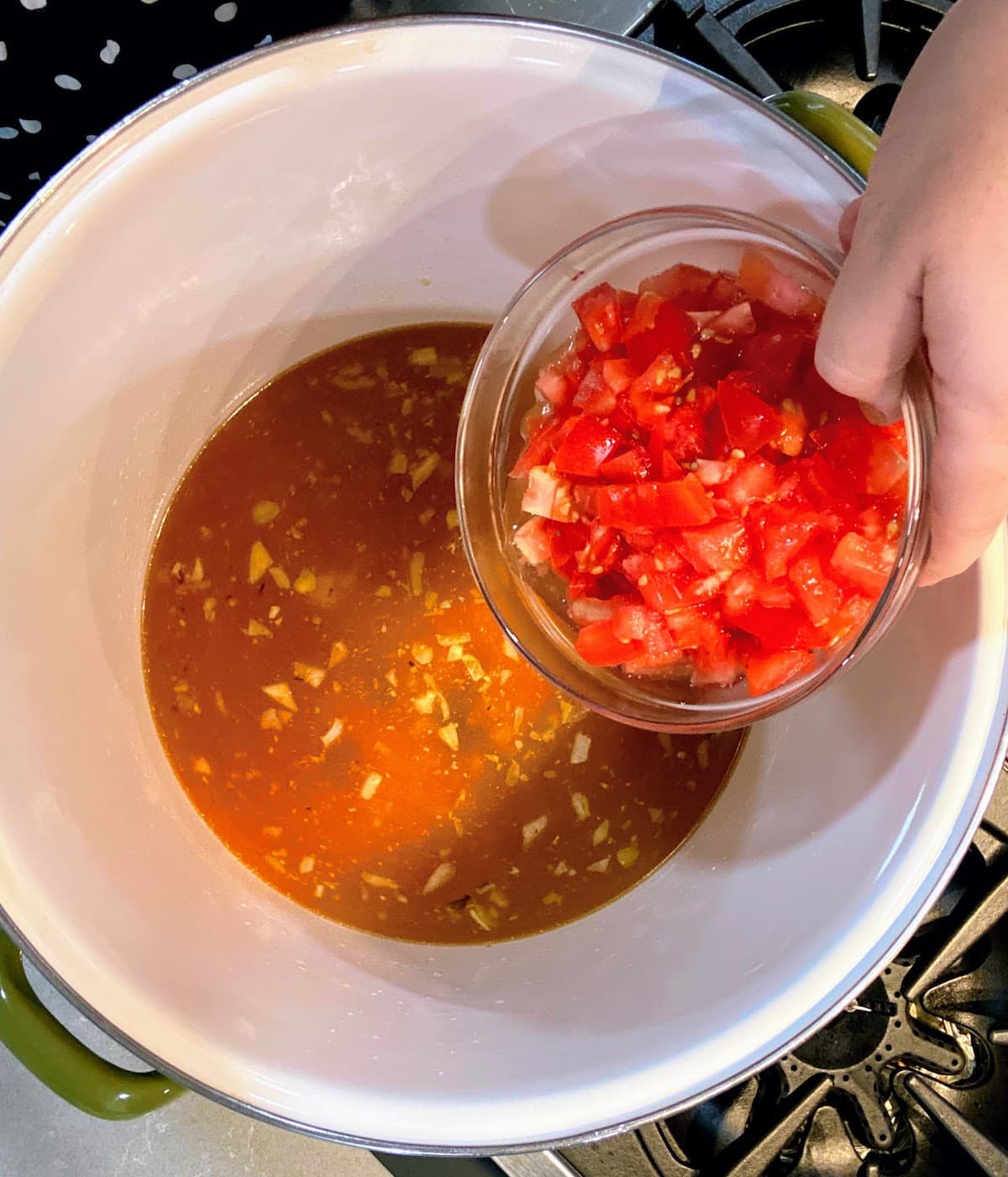 Step 3: Add beans and simmer.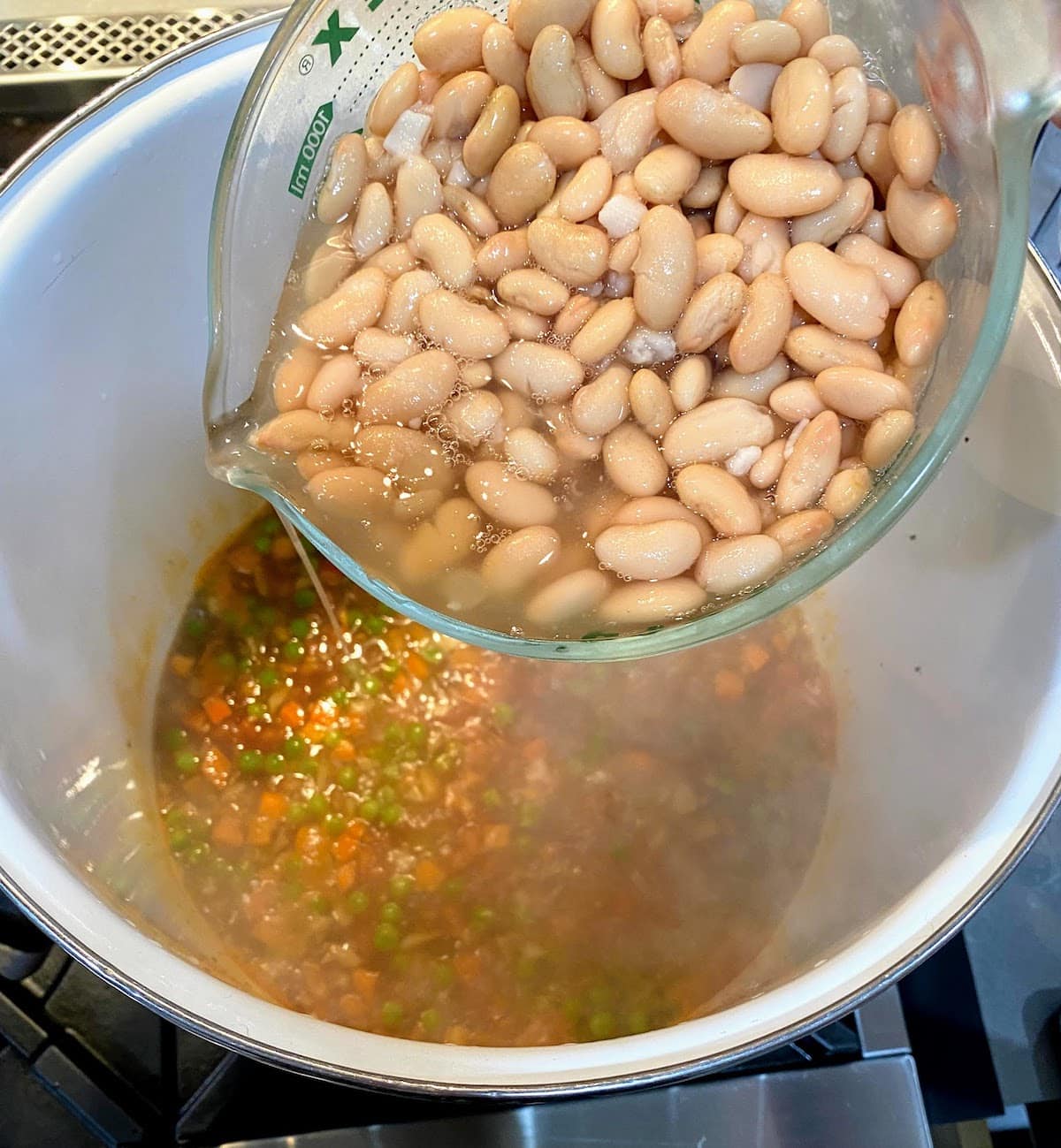 Step 4: Puree 3 scoops of soup and pour into pot.
🥄 Kids Step: Trust your kid to use the blender. Even if it's just pushing the buttons, they will feel very involved and accomplished.
Step 5: Stir in spinach and vinegar and top with cheese!
🥄 Kids Step: More measuring! They just need their hands for the spinach and a teaspoon for the vinegar. Point out how fast the spinach cooks down. It's pretty cool.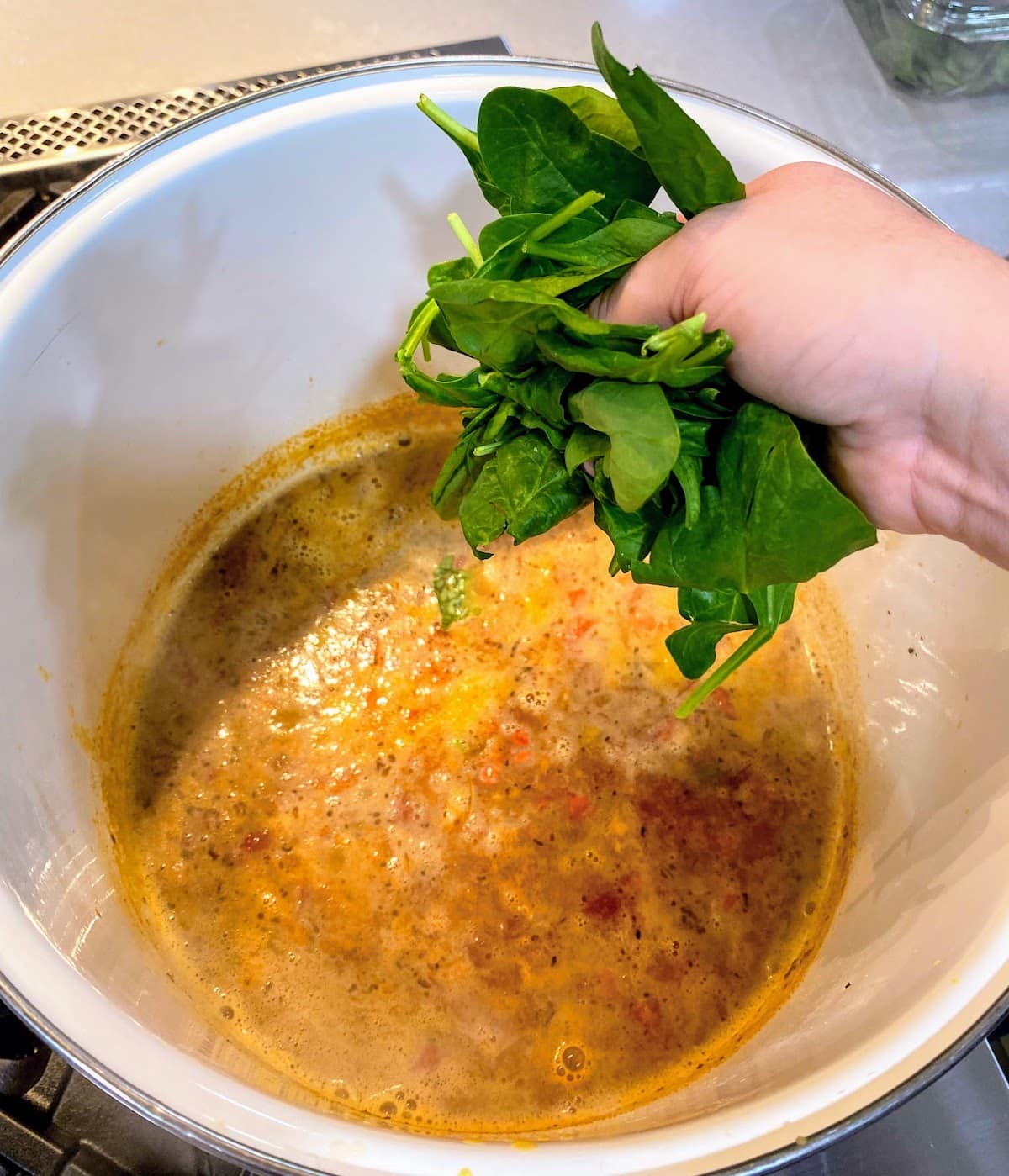 🍞Side Suggestions
If you want to round out the meal, here are some delicious sides to consider: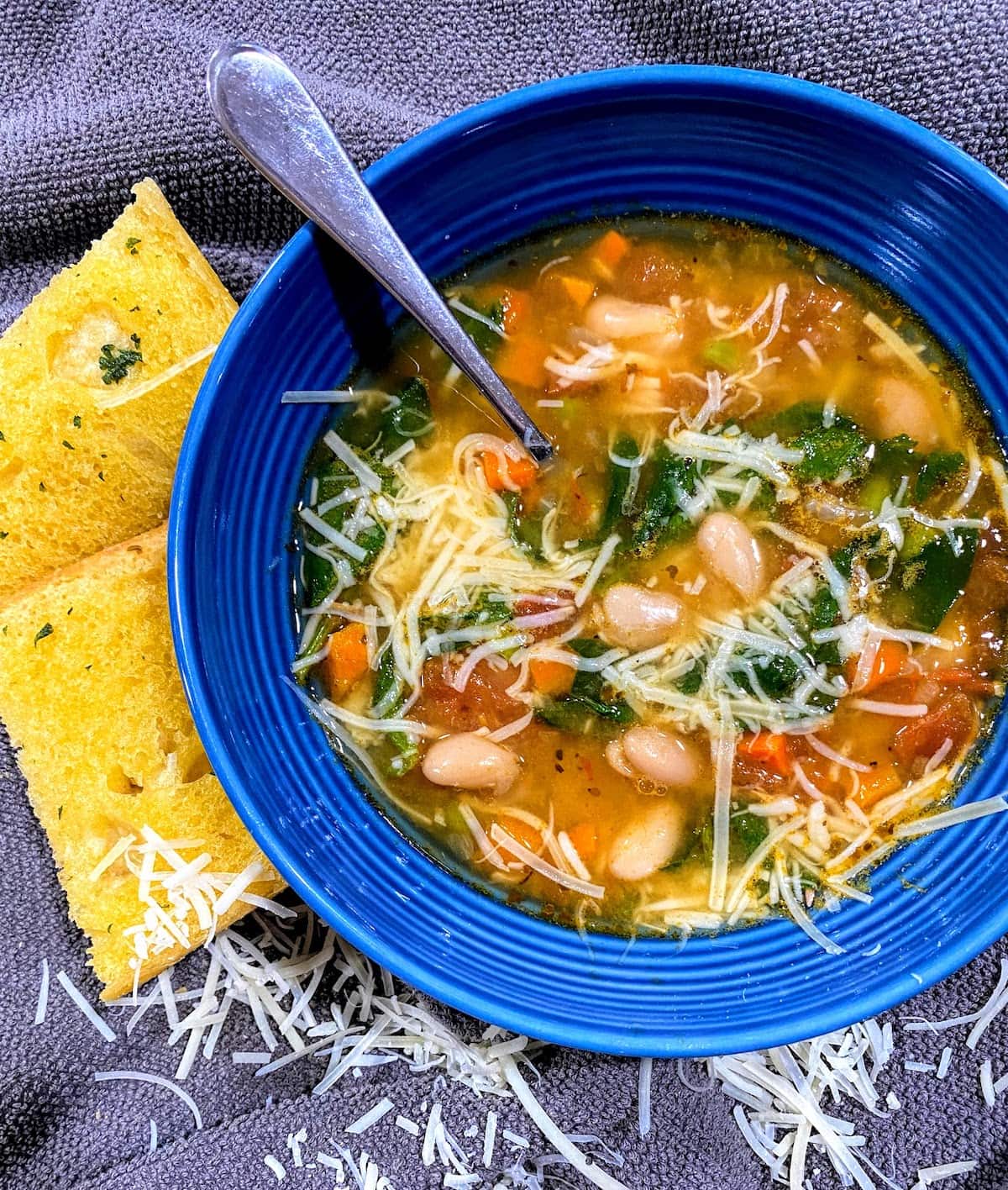 ❓FAQ
What if I can't find cannellini beans?
If you see a can of "white kidney beans," that's the same as cannellini beans. If you can't find either, Great Northern beans or navy beans will work just fine.
What can I do to thicken the soup?
We like the puree method, which I discovered from my always go-to book, The Food Lab, by J. Kenji López-Alt. You just take a couple scoops of the soup out of the pot, puree it in a Vitamix or blender, and then stir it back into the soup (p.203). Other thickening techniques: (1) Run an immersion blender briefly in the soup. (2) Mash some of the beans against the side of the pot. (3) Add potatoes. (4) Add cream or a non-dairy milk towards the end of cooking.
How can I make this vegan?
This white bean soup is already vegetarian. To make it vegan, just eliminate the cheese and add in a couple tablespoons of nutritional yeast. Also, double check that your broth or vegetable base is vegan.
How do you store the soup?
The soup reheats really well. Keep in fridge for around 4 days. Or freeze in 2 serving-size bags for the future.
🧂Customize this Soup
Make it vegan and dairy free! Eliminate the cheese and add in a couple tablespoons of nutritional yeast.
Make it meaty! The vegetable base can be switched out with chicken or beef base, and you can easily add in sausage or bacon.
Change the veggies! Almost any veggie will work in this soup. Add in whatever you like or use up the veggies in your fridge. Good options that I didn't include: celery, zucchini, cabbage, kale, fennel, potatoes & cauliflower. And note - it's okay to use canned or frozen veggies.
👶 Tips for Picky Eaters
Kids pick the veggies! Most veggies will work in this soup, so long as they don't take an epic amount of time to cook. Softer veggies work best.
Ice cubes to the rescue! My kids are always overly dramatic about food being too hot. Lol. If your kids are the same, let them drop 1-2 ice cubes in the soup and stir them around.
Side dish is key! The garlic bread really eased my kids into eating the soup. I highly recommend a bread-y side.
💀 Fun Food Craft
While you're making our Italian White Bean Soup, your kids can get creative. Use raw veggies to make this spooky skeleton or an adorable veggie monster! This Skeleton Veggie Tray doubles as a craft and a healthy snack, so win-win. All you need are vegetables, some toothpicks, and maybe a knife.
🥄Other Soups to Try
Follow Platein28 on Pinterest, Instagram and Facebook and Sign up for our newsletter for all the latest recipes and crafts!
🥣 Italian Vegetable White Bean Soup
Craving a delicious, filling Fall-time soup?! Look no further. This Italian white bean soup is quick, uses only 1 pot and a blender, and is chock full of veggies!
Ingredients
1-2

Tablespoon

olive oil

½

large yellow onion, chopped

2-3

cloves

garlic, minced

6

cups

vegetable broth

16

ounce

chopped tomatoes, canned

(or 2 cups fresh tomatoes, chopped)

16

ounce

bag of frozen veggie mix

(i.e. carrots, corn, peas, green beans, lima beans)

1

Teaspoon

Italian seasoning

1

Teaspoon

salt

½

Teaspoon

black pepper

45

ounce

cannellini beans, canned with the liquid

(3 x 15oz cans)

3

handfuls

spinach

1

Teaspoon

sherry vinegar

1+

cup

shredded parmesan cheese
Instructions
Heat olive oil in large pot on low-medium. Once heated, add onion and garlic. Cook for 3 mins, stirring frequently.

Add broth, tomatoes, frozen veggies, and seasonings. Bring to boil.

Once boiling, turn heat to low, add beans, and simmer for 3 mins.

Scoop 3 cups of the soup from the pot and put in blender/Vitamix. Blend until pureed (like 15 seconds), return the puree to the soup and stir.

Add in spinach and sherry vinegar. Cook until spinach has shrunk down (less than 1 minute). Remove from heat. Serve in bowls, with shredded parmesan on top.
Notes
🍲 To serve...scoop soup into bowls, with some parmesan sprinkled atop. Garlic bread is our favorite side. 🍲 To store...keep in fridge for around 4 days. Or freeze in 2 serving-size bags for the future. 🍲 Some ingredient swaps: spinach can be replaced with kale, almost any white bean will work, and sherry vinegar can be swapped with lemon juice or red wine vinegar. Whether they are frozen, canned or fresh, almost any veggie will work in this soup. 🍲 You can put a lid on your pot to speed up the boiling process. Simmer the soup as long as you like, to get the veggie softness and soup consistency just how you like it. 🍲 Other ways to thicken the soup: use an immersion blender, add in potatoes, mash the beans against the side of the pot, or add in cream or a non-dairy milk towards the end of cooking.
Nutrition
Serving:
1
serving
Calories:
311
kcal
(16%)
Carbohydrates:
47
g
(16%)
Protein:
20
g
(40%)
Fat:
6
g
(9%)
Saturated Fat:
2
g
(13%)
Polyunsaturated Fat:
1
g
Monounsaturated Fat:
2
g
Cholesterol:
9
mg
(3%)
Sodium:
991
mg
(43%)
Potassium:
1043
mg
(30%)
Fiber:
11
g
(46%)
Sugar:
2
g
(2%)
Vitamin A:
4103
IU
(82%)
Vitamin C:
15
mg
(18%)
Calcium:
315
mg
(32%)
Iron:
6
mg
(33%)
*Percent Daily Values are based on a 2000 calorie diet. While we are not certified nutritionists, we work with a WordPress-integrated nutrition API to calculate our recipes' ingredient values.
Want more 28-minute recipes? Sign up and get recipes straight to your inbox!