We've been on a belly-warming, Fall season, don't-leave-the-house meal kinda kick. And this Creamy Butternut Squash Soup recipe fits the bill. Lol. I got excited about all the gourds we were seeing at the grocery store. And after toasting pumpkin seeds around Halloween, I was inspired to cook something with actual squash meat AND using our beloved Vitamix. Hence, our Creamy Butternut Squash Soup!
Note: This post contains affiliate links
---
MAKE BUTTERNUT SQUASH SOUP FROM SCRATCH!
Butternut Squash soup is simple to make from scratch! I will say that the prepping of the squash can be time consuming...the deseeding, peeling and chopping. But if you have a Cuisinart or food processor, take advantage of it! I don't. So, I had to do it by hand, the old fashioned way. If you're willing to spend a bit more money, you can also buy the squash precut, and that saves loads of time. Regardless, the whole recipe can be made in 28 minutes!
And the soup is totally doable without roasting squash in advance. In our case, we decided to boil the squash before blending in the Vitamix, which is way faster. When you boil it in veggie broth, it adds a flavor that makes for the best butternut squash soup!
Note: While butternut squash skins are edible, we recommend peeling off the skins for a softer and less stringy texture. Bon Appetit has a great article on the pros and cons of eating squash skins.
---
IS BUTTERNUT SQUASH SOUP HEALTHY?
Not only is butternut squash soup extremely tasty, but it also has lots of health benefits! Butternut squash is packed with nutrients, like fiber and Vitamin A and C.
Kids will also get a healthy portion of veggies when eating this meal. Although botanically butternut squash is considered a fruit (since it has seeds and develops from the flower-producing part of a plant), it is prepared and served as a vegetable. 
To make this recipe even healthier, consider limiting the amount of sugar and cream you add to your soup.
---
STEPS FOR SUCCESS:
For smooth sailing, we recommend following these steps while making your Creamy Butternut Squash Soup.
>STEP 1: BRING BROTH TO A BOIL
First, start your broth. Or water + base. We love Better than Bouillon, FYI!

>STEP 2: PREP AND COOK SQUASH
Next, cut your squash. We recommend chopping squash into 1" cubes. Note: You can also buy the squash precut, and that saves loads of time.
>STEP 3: COOK VEGGIES
Then, cook your shallot and garlic for about 5 mins!
>STEP 4: BLEND SOUP INGREDIENTS IN VITAMIX AND ADD CREAM
Finally, blend away!!! And add cream once the soup is back in the pot.

---
PLAY WITH YOUR SOUP'S FLAVOR
I think the key to your kids liking this soup is the sweetness. The first batch I made had more salt, minus all the typical, seasonal spices and sugar. Result: my kids were very ambivalent (bordering dislike) about it. Then my boyfriend (who's a chef, and who thankfully corrects all my kitchen missteps) came home, doctored up the soup with spices, brown sugar and sherry vinegar, and served it to the kids. Totally different reaction. They loved it! With a few small changes, subsequently, they were completely different soups. In other words, feel free to play with the ingredients and their amounts to get the soup just how you like it.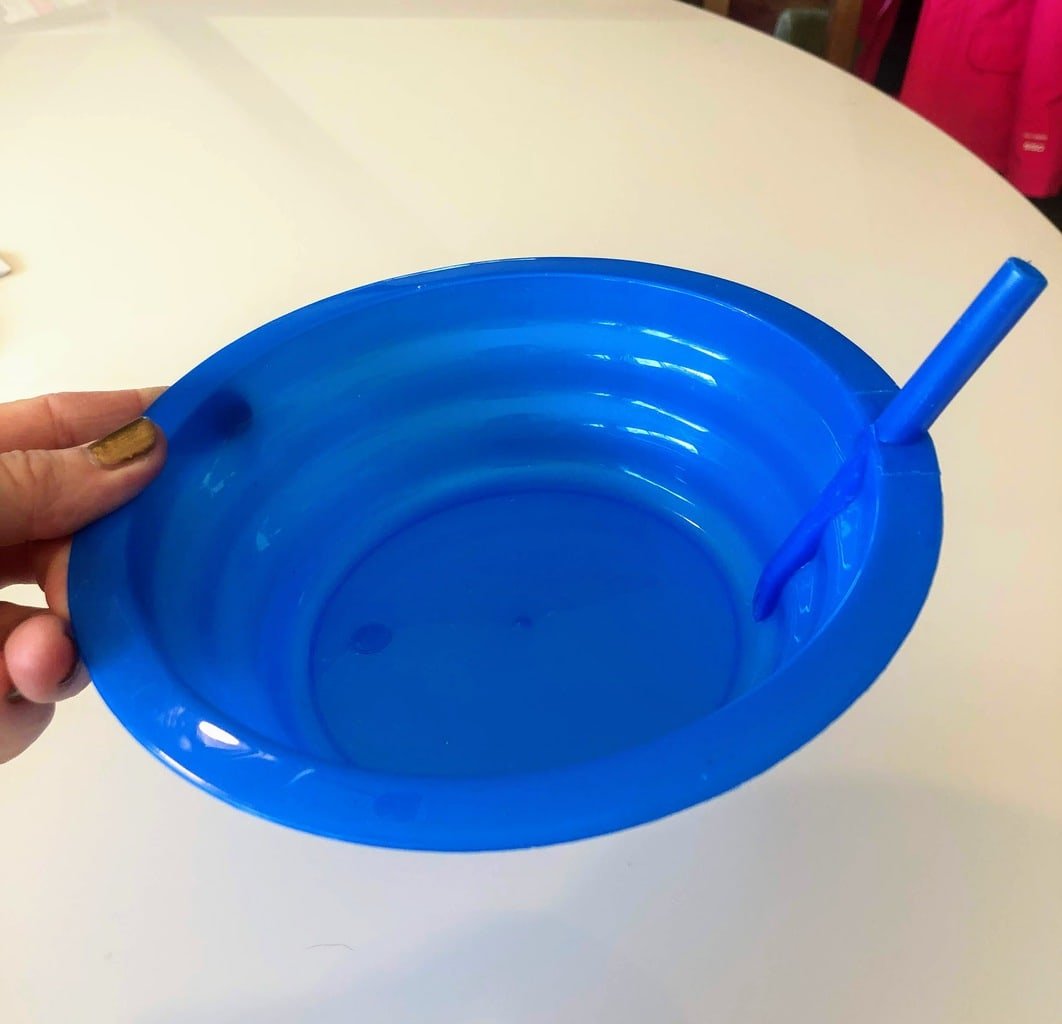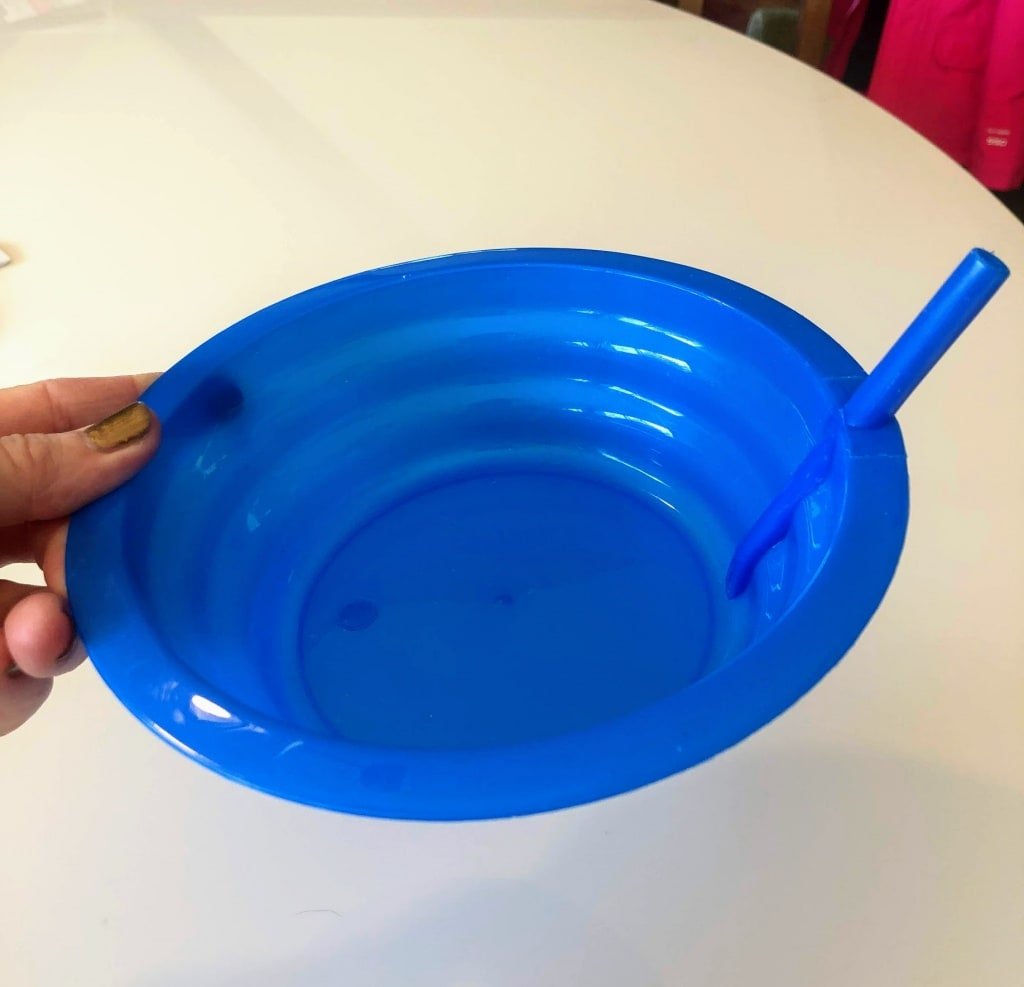 ---
---
MODIFY THIS BUTTERNUT SQUASH SOUP
🍅Make it Vegan! (1) Make sure your veggie broth is vegan. This Better than Bouillon Vegetable Base is a great option. (2) Swap the cream for coconut milk. (3) Use cooking oil or a non-dairy butter, like Earth Balance, to cook the veggies.
🍅Make it Dairy Free! Same as above. Replace the cream with coconut milk, and then, use an oil or non-dairy butter to cook the veggies.
Note: This post contains affiliate links.
---
WHAT CAN YOU SERVE WITH BUTTERNUT SQUASH SOUP?
While our Creamy Butternut Squash Soup is definitely hearty enough on its own, you might want to pair your soup with a side dish. Check out these options:
BREAD!
A French baguette or Pillsbury Biscuit Grands would work great as a side dish and for dipping!
ROASTED VEGGIES AND/OR SIDE SALAD
Glazed carrots or a potato side dish would be a tasty addition to this meal! A light and refreshing salad would also do the trick.
A SANDWICH OR PANINI
If you'd prefer your soup to be a side dish, consider pairing it with a simple wrap or sandwich, like our Sweet Potato, Kale & Feta Wrap  or our Crispy Tomato, Pesto & Mozzarella Panini.
AND DON'T FORGET ABOUT TOPPINGS!
We put Oyster crackers on top of the soup. You can use other crackers, as well: for example, Ritz crackers or Keebler Clubhouse crackers or even croutons.
---
HAVE A FAMILY COOKING SESSION:
Worth considering is how this might be the perfect time to invite kids to help out in the kitchen (above all, assuming everyone is healthy and properly washing their hands!). We are all spending so much time together at home these days. So, why not make cooking a family activity?! Not only will cooking together help pass the time, but cooking with your kids has some real educational benefits. For example, cooking with kids can boost self-esteem and foster healthy eating habits.
---
HOW KIDS CAN HELP MAKE THIS SOUP:
This recipe involves many kid-friendly tasks. Here are some ways for your lil' sous chefs to help out:
Measure water/broth. This is a great chance to explain measurements. 8 cups = 64 oz = 4pt = 2 qt = 1/2 gallon. Then, compare the amount of liquid to beverages in your fridge. We used this 4-cup Pyrex Measuring Cup to measure/pour the broth.
Scoop out the squash seeds. After an adult has cut the squash in half, use a spoon to scoop out the seeds and guts from each side.
Chop the squash*. This proved to be a hard task for my youngest because the squash is so hard. But let them give it a try. For chopping, our fave kids knives right now are: Opinel Knife, Made for Me Beginner's Knife, & Curious Chef Knife Set (pictured below).
Melt butter in pan. In addition, use a long wooden spatula, like this OXO Wooden Turner, to keep little hands away from splattering butter.
Blend ingredients. We're obsessed with Vitamix for doing everything!
*Note: For toddlers especially, these tasks require adult supervision and/or assistance, as items may be sharp, hot or otherwise dangerous.

---
MIMI'S COOKING TIPS & SHORTCUTS:

🍅Time Saver. It will cost extra, but buying pre-cut squash will save you a heck of a lot of time. Also, jarred minced garlic may be used instead of fresh.
🍅Tweak amount of sugar. We all had different opinions on how sweet the soup should be. Start with 2 or 3 T of brown sugar, blend, taste, and add more as needed.
🍅Protect little eyes. Tell your kids they can wear swim goggles as they chop shallot. A shallot is definitely not as bad as an onion in terms of eye-watering-ness. However, your kids will love to wear the goggles like a costume!
---
OUR "KIDIFY" TIPS FOR PICKY EATERS:

🍅Showcase the sugar! If your kids help you cook or are at least watching you cook, show them all the brown sugar that goes into the soup. It will interest them and increase the odds of soup consumption. Fact. Lol!
🍅Use a straw bowl! Sometimes, actually all the time, my kids are more excited to eat a soup when they can use their straw bowl. I bought mine for soooo cheap at the grocery store. And the same exact bowls are also on Amazon: see here. Just make sure they don't go crazy with the slurping.
🍅Add some carbs! As long as you monitor their intake (lol), kids will be more amped about the meal if it comes with crackers and/or bread. For example, we put Oyster crackers on top of the soup and had Pillsbury Biscuit Grands on the side. You can also crumble Ritz crackers orKeebler Clubhouse crackers on top of the soup, or even croutons. All work! [Of course, the meal will not longer be gluten free].

---
Vitamix Butternut Squash Soup
This is truly the best creamy butternut squash soup ever. We can't stop eating it, slurping it, dipping in it! Make it in your Vitamix today!
Instructions
Start heating broth in a large/5Qt pot and bring to a boil.

Meanwhile, prepare the squash. Cut squash in half, scoop out the seeds and peel. [Leave the cutting & peeling to adults]. Chop squash into 1" cubes. Place squash in boiling broth and cook for 8 mins (or when squash is soft). When done, strain but save 2 cups of the broth for later.

In a medium pan on medium heat, melt the butter and cook the shallot and garlic for about 5 mins.

In your Vitamix or blender, add squash, 2 cups of the vegetable broth, cooked veggies, sugar, vinegar, and spices. Blend. Put mixture back in the large pot and stir in the cream. Scoop soup into bowls. Serve with crackers or croutons atop, and biscuits on the side.
Notes
To save time, buy pre-cut squash.
Squash is done boiling when it is soft in the center. Simply use a fork or pairing knife to assess the squash's tenderness.
Nutrition
Calories:
261
kcal
(13%)
Carbohydrates:
32
g
(11%)
Protein:
3
g
(6%)
Fat:
14
g
(22%)
Saturated Fat:
9
g
(56%)
Polyunsaturated Fat:
1
g
Monounsaturated Fat:
4
g
Cholesterol:
48
mg
(16%)
Sodium:
2609
mg
(113%)
Potassium:
718
mg
(21%)
Fiber:
4
g
(17%)
Sugar:
10
g
(11%)
Vitamin A:
20458
IU
(409%)
Vitamin C:
40
mg
(48%)
Calcium:
120
mg
(12%)
Iron:
1
mg
(6%)
*Percent Daily Values are based on a 2000 calorie diet. While we are not certified nutritionists, we work with a Wordpress-integrated nutrition API to calculate our recipes' ingredient values.
---
WHAT CAN KIDS DO WHILE GROWN-UPS COOK?
---
CRAFT FOR THIS RECIPE
Felt Turkey Craft with Squash!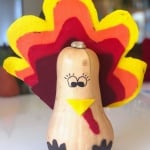 Make an adorable felt turkey for the holidays! No carving, scooping, or big messes. All you need is squash, a few art supplies, and creativity!
---
OTHER BELLY WARMING SOUPS YOU MIGHT LIKE:
🍅 Italian Wedding Soup


🍅 Potato Leek Soup
🍅 Yummy White Bean & Vegetable Soup
---