Recently, I've noticed my daughter talking to her food. She makes her tomatoes talk to her noodles and makes her bread talk to her chicken. She develops characters and detailed storylines with her meal and is completely content doing so, to my amazement. So tonight, I decided to nurture her imagination and literally tell her and her brother to "play" with their food.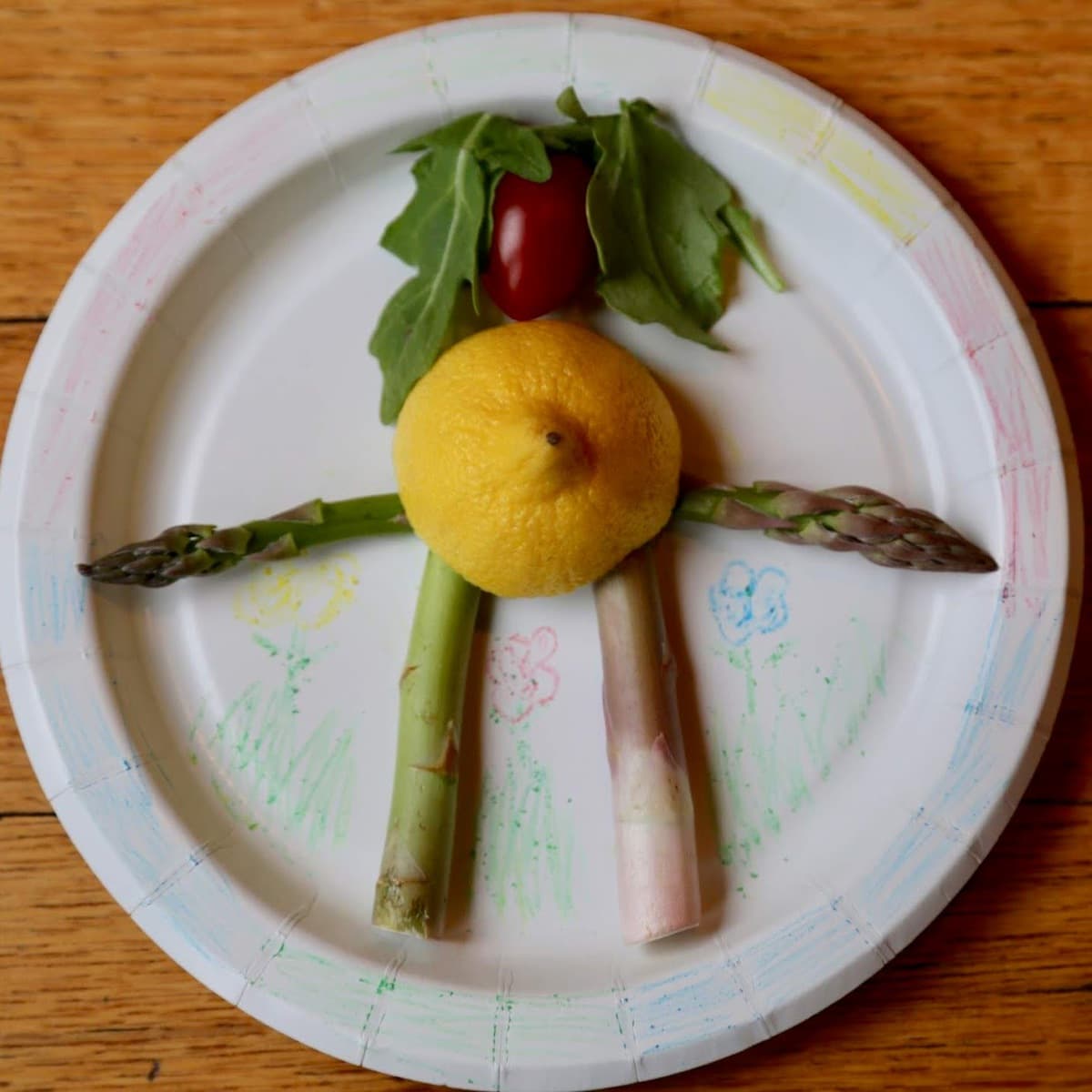 This vegetable craft uses many of the ingredients (and some scraps) from the Summer Asparagus Pasta. Just remember to put those items aside while cooking. And the best part about this vegetable craft is that it can be eaten as a side dish (minus the lemon skin of course).
This craft also provides a great opportunity to share some fun facts about this meal's featured ingredient:
Read more...
You can also easily substitute many of the ingredients for other similar veggies or fruits (e.g., green beans for asparagus, grapes for tomatoes), so keep this craft in mind whenever you want to add some imaginative play to mealtime.

💡Overview💡

Featured Ingredient: Asparagus

Corresponding Recipe: Summer Asparagus Pasta

Skills supported: Fine motor (coloring, cutting), following instructions

✂Supplies✂

Plate (paper if kids want to draw on it)
1-2 stalks of steamed asparagus
Scissors (kid-friendly scissors or kitchen shears)
1 lemon skin
1 grape/cherry tomato
Small handful of arugula
Crayons or markers (optional)

📝Instructions📝

Consider setting up the craft before you start cooking so that your kids can get to work right away.

1. If using a paper plate, color a background as desired (e.g., garden scene, house, playground, etc).

2. Place half of a juiced lemon peel in the middle of the plate with the skin side facing up. This will be the person's body.

3. Cut 2 pieces of asparagus in half.*

4. Place the end halves of asparagus under the lemon peel, as legs. Next, place the top halves of the asparagus on the sides of the lemon peel, as arms. Then, place a tomato above the lemon peel, as the head.

5. Add arugula to the top of the tomato to create hair. Arugula may also be used to create clothes or accessories for the person.

6. Eat your person as a vegetable side dish with your meal (but don't eat the lemon peel!)

Note: *For toddlers especially, these tasks may require adult supervision and/or assistance.

Back to Summer Asparagus Pasta