Folks, our rotisserie chicken salad recipe is not messing around. Not only will it hit the spot; it will leave you wanting more! This chicken salad is both sweet and savory, creamy and crunchy, and most importantly - sooooo freakin' good!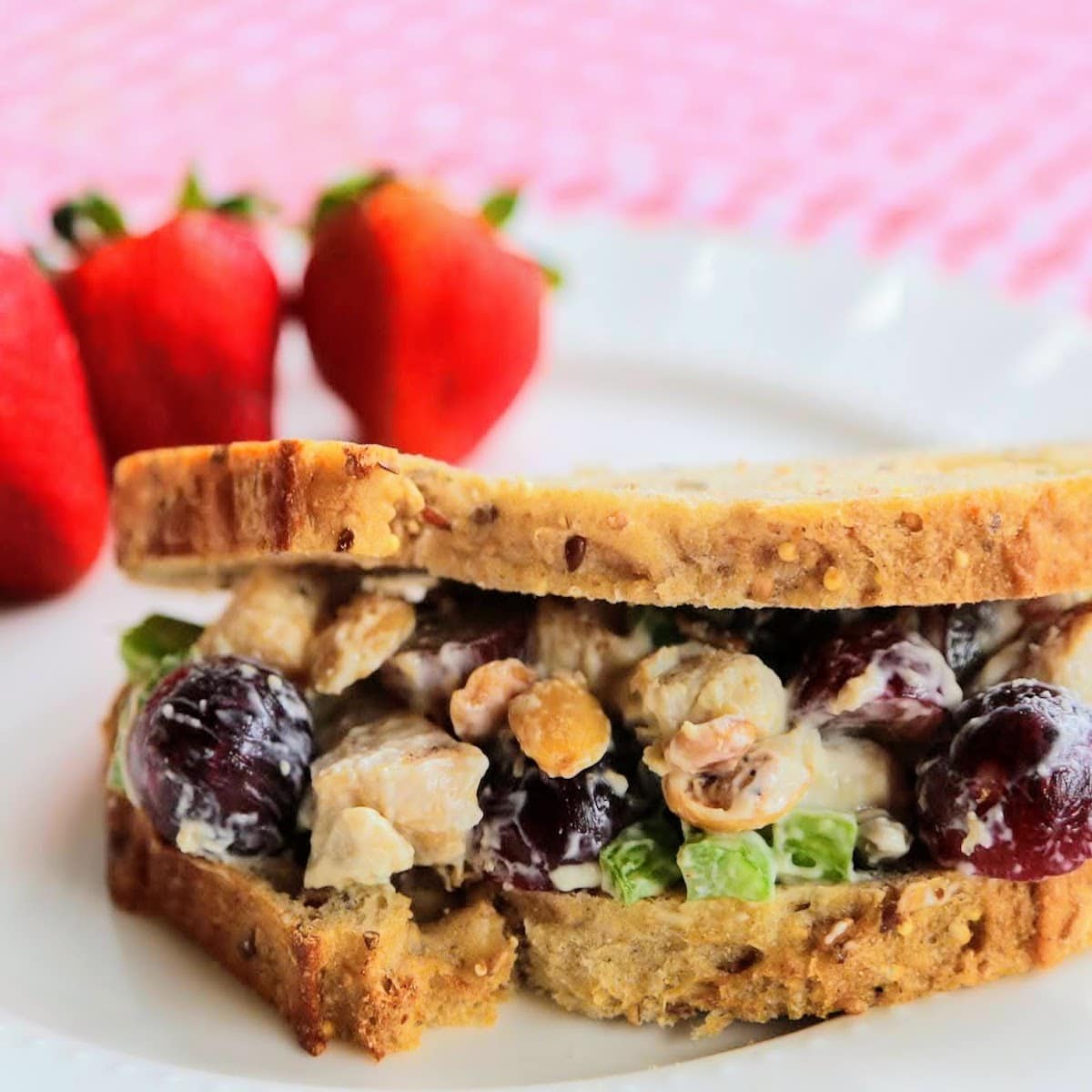 Summer is here in Portland! Along with the seasonal change comes what I like to call: cooking lethargy...or cooking fatigue. Lol. Basically, when the weather gets warm, I don't want to cook. I just want to eat fresh fruits and veggies, food on sticks, salami/cheese platters, etc. So, this no-cook chicken salad sandwich is the perfect thing to drum up (no pun intended)!
Jump to:
❤️ Why We Love This Sandwich
Stupid easy - Seriously, all you do is mix things together and put them on bread. The ingredients are minimal and basic, and you don't need any specific equipment. That's a win in my book!
No cook - No cooking required. Just buy a pre-cooked, rotisserie chicken from the store.
No commitment - You can use our recipe as a template and then make this salad whatever you want it to be. There are so many ingredient variations and substitutions (see Ingredient section below). This makes it very family-friendly!
Perfect to-go food - Bring this sandwich to a picnic, make a big batch for a potluck, pack it in your kids' lunch, etc. This is great for meal prep!
🛒 Ingredients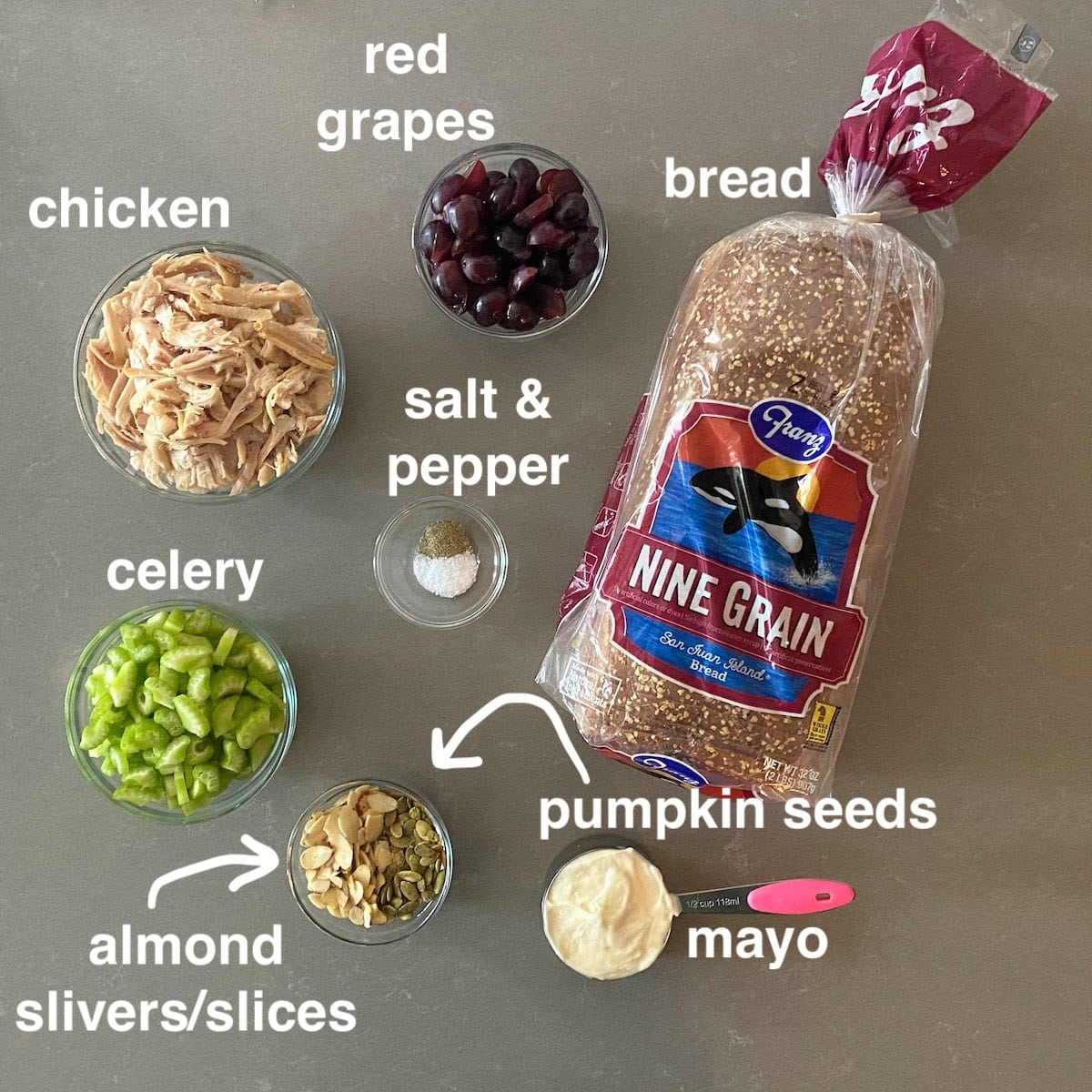 See recipe card below for ingredient quantities.
Notes & Substitutions
Chicken - Get a store-bought rotisserie chicken. It can be oven-baked, honey roasted or even lemon/garlic roasted. Pull off all the meat while the chicken is still warm - it's wayyyy easier than post-refrigeration, trust! Note that you will likely have extra chicken. If you don't have much time, some stores also have pre-shredded chicken available.
Grapes - The grapes give our rotisserie chicken salad recipe a bit of a Waldorf vibe, which is awesome. For the fruity/sweet flavor pop, you can also use chopped apples, (also Waldorf-y), dried cranberries or raisins.
Celery - For crunch! You can also add finely chopped onions (red or green) or chives.
Pumpkin seeds & almond slivers - I LOVE this combo, but you can sub them easily with pecans or walnuts.
Mayo - Swap half with greek yogurt for a lighter taste or sour cream for more tang. I'm a midwestern kid, so I went with full mayo. Lol.
Salt & pepper - You can't beat the basics. But the seasoning options really do run the gamut: curry powder, garlic powder, ranch seasoning, chipotle seasoning, onion powder, paprika, seasoned salt, Mrs. Dash, or my fave Special Shit seasoning (I know this sounds weird, but trust - it's really good!).
Bread - we like whole wheat/grain bread BUT you can also have this chicken salad on croissants, baguettes, rolls, sourdough or tortilla wraps. For a healthier option, make lettuce cups with this chicken salad (like our Chicken Lettuce Wraps recipe).
Ingredient Add-ons
Here are some additional ingredients to consider:
Protein - crumbled bacon, hard-boiled eggs
Sauce/condiment/dressing - ranch, BBQ, buffalo sauce, relish, mustard
Fruit & veggies - avocado, lemon or lime juice, fresh chopped chives, chopped bell pepper, spinach
Misc. - pickles, (pickled) jalapeños, shredded cheese
🍗 Why Rotisserie Chicken is the Best Choice
I love using a pre-cooked, store-bought rotisserie chicken because (a) it doesn't involve you cooking, (b) it's so easy, and (c) you can't beat the flavor and freshness. Plus, you have the option of including the delicious, crispy skin in the salad.
Bonus: You likely won't need all the chicken for this salad and you can do endless things with the extra.
What to do: Just buy a rotisserie chicken from the store (oven roasted, honey roasted or lemon/garlic roasted). Then (important tip!) pull all the chicken off the bones at home while the chicken is still warm. It's way harder to get the chicken off the carcass when it's cold. You can use your hands or fork/knife to shred the meat.
Alternatives: The easiest, idiot-proof, time-saving option is to buy pre-cooked, pre-shredded chicken at the store. Of course, you can also bake/poach your own chicken or use canned chicken (I wouldn't recommend canned, though).
⏲ Equipment
Bigger stuff 🍳: just 1 medium/big bowl
Measuring stuff 🥣: ¼ teaspoon, ½ teaspoon, 1 Tablespoon, ½ cup, ¾ cup, 1 cup
Smaller tools 🔪: knife, cutting board, spoon [or my fave Thermoworks sturdy silicone spatula] for mixing all the salad ingredients together
For kids in the kitchen 👶: We like the Curious Chefs kids knives for toddlers and Opinel's Le Petit Chef Knife for young kids. These small, colorful cutting boards and also fun for kids.
🧑‍🍳 Instructions
Aside from getting all the chicken meat pulled and shredded, this srsly only requires two steps: mixing and sandwich-assembling!
Step 1: Mix together ingredients
Step 2: Make sandwiches
Kids Can Help!
My 3 year-old daughter was super involved. I think she felt more competent prepping this salad because she could do all the tasks herself....within reason 😆 But I dealt with the chicken itself because I didn't feel confident my daughter could properly remove all the bones and cartilage herself. Plus, she was kinda grossed out by it, haha. However, she totally chopped the celery herself, and helped measure out all the other ingredients.
❓FAQs
How can you serve chicken salad?
A million different ways! You can have chicken salad on bread as a sandwich (sliced bread, croissants, sourdough, baguette, rolls, pita bread, etc), with crackers or in a tortilla as a wrap. Or ditch the gluten and serve in salad cups (like our P.F. Chang's Copycat Chicken Lettuce Wraps recipe) or on top of fresh greens.
What should you serve with chicken salad?
Rotisserie chicken salad goes really well with fresh veggies (like carrot sticks or sliced cucumber) or cut fruit (like watermelon or strawberries). To make it a more complete meal, you can serve it with a potato side dish, pasta salad or any fresh salad.

If you totally don't want to cook, here are some awesome ideas for quick, no-cook sides and summertime, no-cook sides. Because chicken salad is such a summertime dish, it will go well with anything you'd bring to a picnic.
How long does rotisserie chicken salad last in the fridge?
Rotisserie chicken salad can be stored in the fridge 🧊 for roughly 3-5 days in a sealed container. For that time period, it makes for excellent leftovers. I really wouldn't recommend freezing it.
What can I do with leftover rotisserie chicken?
You might have leftover chicken after making our rotisserie chicken salad recipe. If so, this leftover chicken will be perfect for sandwiches, your kids' lunch boxes, making chicken noodle soup or adding it to a pasta (like our Pesto Pasta).
✔️ Expert Tips and Tricks
Prepare the chicken salad ahead! It keeps well in the fridge and might even be tastier after it's had a chance to meld its flavors together. Then it's ready for a lunch box, to-go container or a sandwich when you're hungry.
Pull all the chicken off the bones at home while the chicken is still warm. It's way harder to get the chicken off the carcass when it's cold.
When making the salad, start with less mayo and taste-test after you've mixed everything together. You don't want your salad too wet or too dry, and only you can decide that. You can always add more mayo.
Make the chicken salad lighter by swapping ½ of the mayo for greek yogurt or sour cream. They can even be low-fat.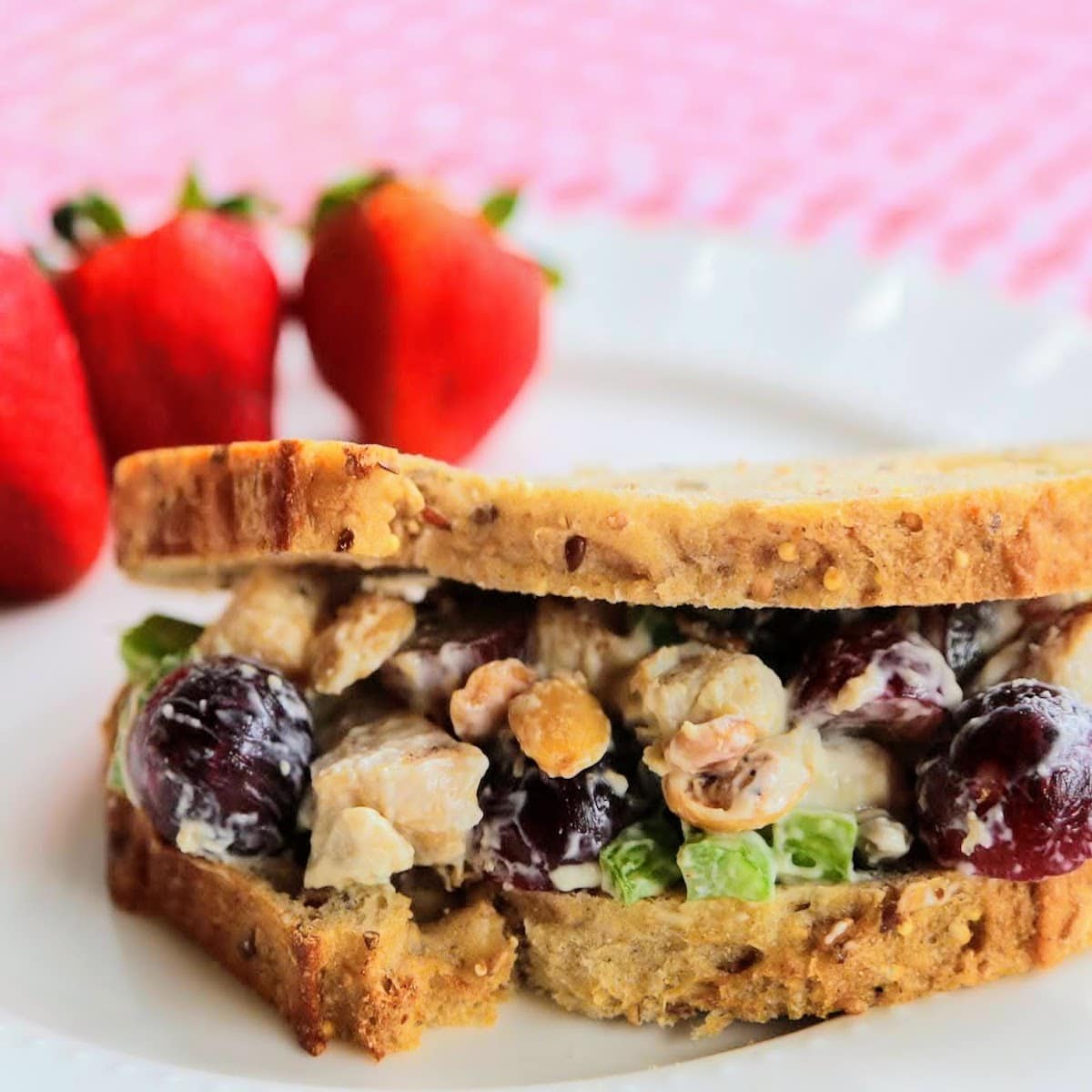 👶 Tips for Picky Eaters
📝 Separate out the ingredients. Mixing foods sometimes freaks kids out. Or some kids hate mayo (like my boyfriend's daughter). So, before you mix the salad together, set aside some plain chicken, grapes, celery, pumpkin seeds and almonds. The kids can just eat the meal like little birds. Lol
📝 Involve your kids. Again, with the mixing of foods! If your kids can't handle it, encourage them to help assemble the salad with you. Seeing what goes into the chicken salad makes the dish way more palatable. Kids can see that they actually like the individual ingredients, and that makes a difference.
📝 Let kids choose. You can eat this as a sandwich, a salad, with crackers, in a wrap, etc. Let your kids pick which version.
🧶 Make a Chicken Head Craft!
While you make our rotisserie chicken salad recipe, your kiddo can make this incredibly Adorable Chicken Craft! All you need is a few basic craft supplies and TP rolls. The coolest part: your cute cardboard chickens can double as napkin rings for your next picnic. Bring on summer!
🍽 Other Sandwiches You'll Love
🙏 Let Us Know!
We'd love it if you'd test out the recipe and see what your kids think. Let us know! Leave a comment below or shoot us an email at [email protected]. Having grapes in the dish really tipped the scales (in a positive direction) for my kids.
For our collective five kids: 2 loved it (but only as a salad), 1 liked it (but only without mayo...so very dry, lol), 1 was 'eh' about it and 1 was a hard 'no.' Ah, the range of young palettes! 🤣
Follow Platein28 on Pinterest, Instagram and Facebook and Sign up for our newsletter for all the latest recipes and crafts!
🐓 Rotisserie Chicken Salad Sandwich Recipe
Craving the perfect picnic food for this warmer weather? Our no-cook, Rotisserie Chicken Salad Sandwich is delicious, light and soooo easy.
Ingredients
2

cups

chicken

pre-cooked & shredded

¾

cup

red grapes

halved

3

stalks

celery

chopped

2

Tablespoons

pumpkin seeds

2

Tablespoons

almond slivers

½

cup

mayo

¼ - ½

teaspoon

salt

¼

teaspoon

black pepper

8

slices

bread

your choice
Instructions
Mix all ingredients (except bread) together in large bowl.

Spread chicken salad mix over bread to make sandwiches.
Notes
Note on time: this recipe takes 15 minutes, but does not include the time it takes to remove and shred the chicken meat.
Feel free to make ahead because the salad keeps well in the fridge. Then it'll be ready when you're hungry!
Pull chicken off the bones while the chicken is still warm. It's way harder to get the chicken off the carcass when it's cold.
When making the salad, start with less mayo and taste-test. You can always add more later.
Make the chicken salad lighter by swapping ½ of the mayo for (low-fat) greek yogurt or sour cream. 
Nutrition
Serving:
1
sandwich
Calories:
499.1
kcal
(25%)
Carbohydrates:
32
g
(11%)
Protein:
26.1
g
(52%)
Fat:
29.9
g
(46%)
Saturated Fat:
4.8
g
(30%)
Polyunsaturated Fat:
15.4
g
Monounsaturated Fat:
8
g
Trans Fat:
0.1
g
Cholesterol:
59.8
mg
(20%)
Sodium:
977.8
mg
(43%)
Potassium:
634
mg
(18%)
Fiber:
5.1
g
(21%)
Sugar:
7.7
g
(9%)
Vitamin A:
197.3
IU
(4%)
Vitamin C:
2.8
mg
(3%)
Calcium:
128.7
mg
(13%)
Iron:
2.6
mg
(14%)
*Percent Daily Values are based on a 2000 calorie diet. While we are not certified nutritionists, we work with a WordPress-integrated nutrition API to calculate our recipes' ingredient values.
Want more 28-minute recipes? Sign up and get recipes straight to your inbox!