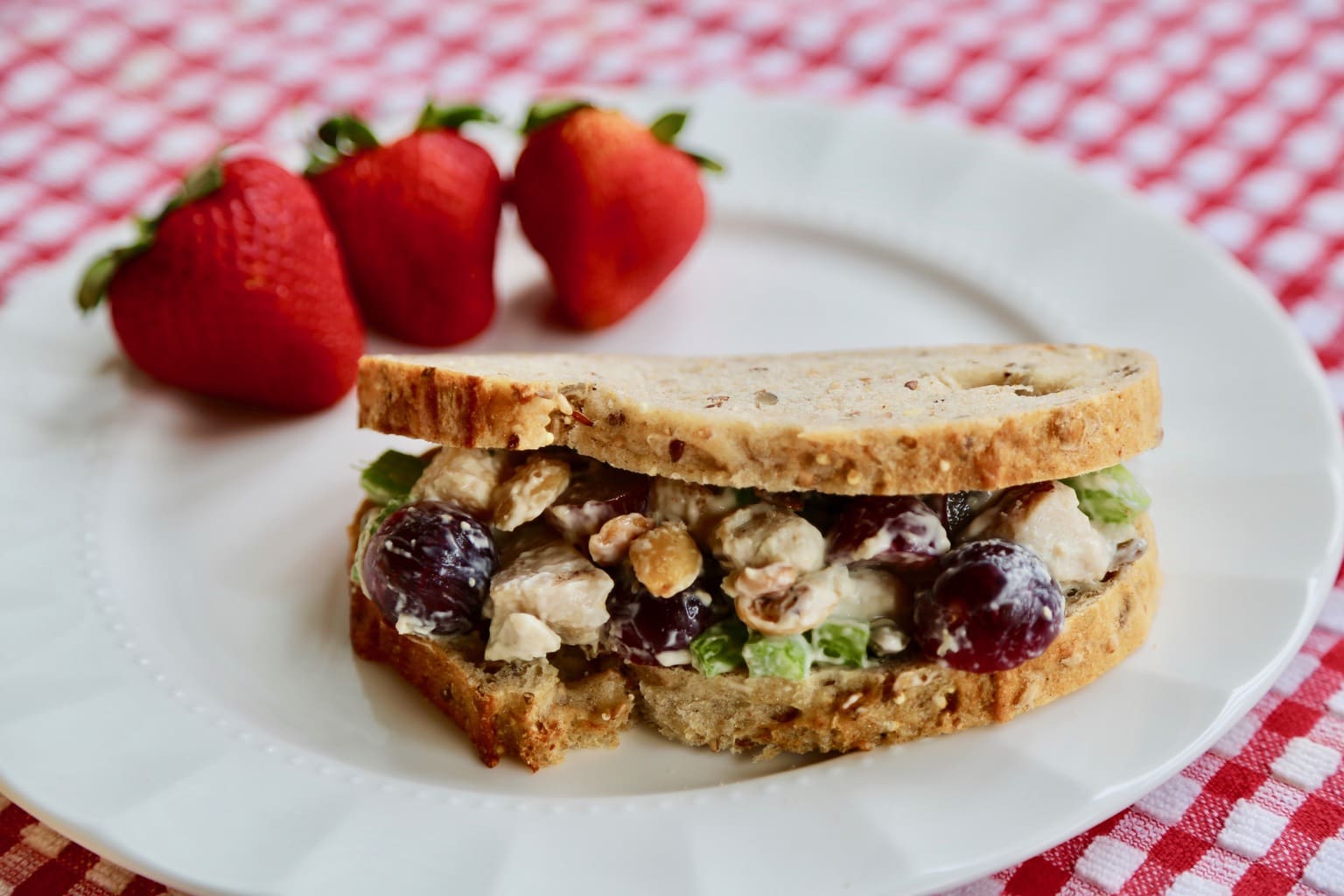 Summer is definitely here in Portland! Along with the seasonal change comes what I like to call: cooking lethargy...or cooking fatigue. Lol. Basically, when the weather gets warm, I don't want to cook. I just want to eat fresh fruits and veggies, food on sticks, salami/cheese platters, etc. So, this chicken salad sandwich was the perfect thing to drum up (no pun intended)!
Seriously, all you do is mix things together. The task that takes the longest is chopping, and even that takes very little time. Chop - Measure - Mix. Complete! Granted, this is only true if you're not cooking chicken. To avoid this, I bought a rotisserie chicken from the grocery store, and it really was the best decision ever. You don't need all the chicken for this salad, but you can do endless things with the extra. I made a big batch of chicken noodle soup, even though it was hot outside (I caught an annoying summer cold). And I froze half of it. I also put some of the chicken in my kids' lunch box.
My 3yo daughter was super involved. I think she felt more competent prepping this salad because she could do all the tasks herself....within reason 😆 But I dealt with the chicken because I didn't feel confident my daughter could properly remove all the bones and cartilage herself. Plus, she was kinda grossed out by some parts of the chicken. However, she totally chopped the celery herself, and helped measure out all the other ingredients.
I gathered some ideas for side dishes. For one, you can just eat the chicken salad with cut fruit. You can also serve it with one of our potato side dishes. If you totally don't want to cook, here are some awesome ideas for no-cook sides. These no-cook sides also look incredible. Lots of fresh tomatoes!
Kid Approval Rating
The kid approval rating was mixed, but generally positive. My 5yo son was super reluctant to try the salad. When I first made this dish, I served it as a salad (not sandwich). When he tried it, he loved it and told me it would be even better as a sandwich. So, I made it as a sandwich and put it in his lunchbox the next day. Turns out he didn't touch it, saying he changed his mind and liked it better as a salad. Arg! My daughter really liked it, but not as a sandwich.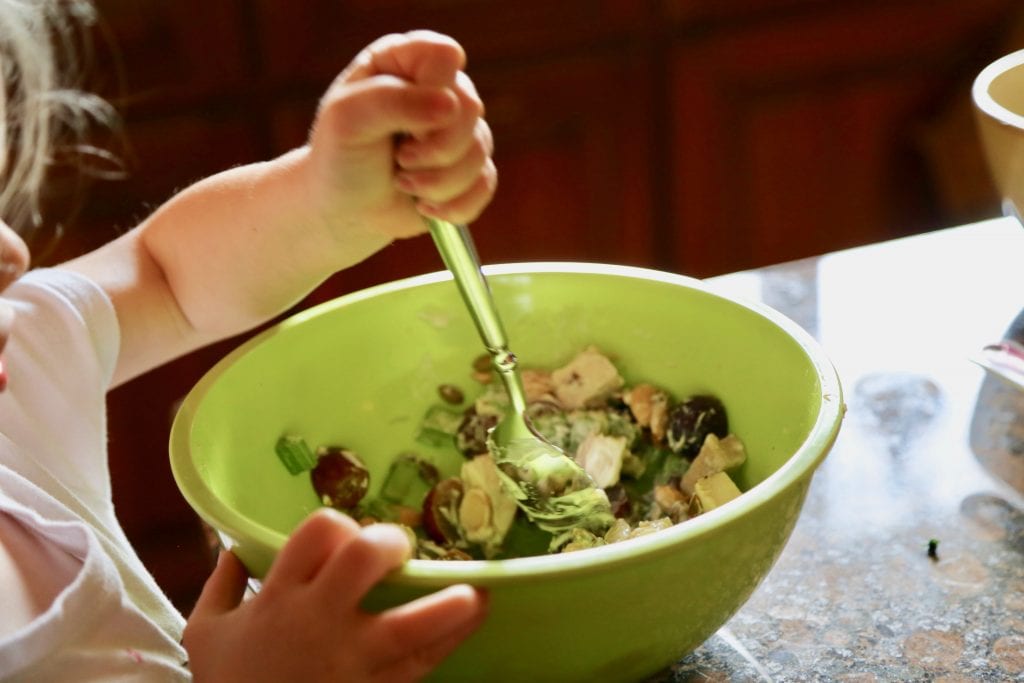 As for my sister's kids, one wouldn't touch the salad, and the other reluctantly took a few bites. But it's worth noting that my sister's kids tend to be pickier eaters. Anyway, how on earth can we keep up with all the nuanced eating preferences?! LOL.
We'd love it if you'd test out the recipe and see what your kids think. Let us know! Having grapes in the dish really tipped the scales (in a positive direction) for my kids.
Adult Approval Rating
High scores, across the board! Even my boyfriend, a chef with relentless high standards, was into the chicken salad.
🌈 
Kidify the Meal 🌈
Have picky eaters? Read More...
🍅Separate out the ingredients. Mixing foods sometimes freaks kids out. Or some kids hate mayo (like my boyfriend's daughter). So, before you mix the salad together, set aside some plain chicken, grapes, celery, pumpkin seeds and almonds. The kids can just eat the meal like little birds. Lol
🍅Let kids choose. You can eat this as a sandwich or a salad. Let your kids pick which version.
🍅Involve your kids. Again, with the mixing of foods! If your kids can't handle it, encourage them to help assemble the salad with you. Seeing what goes into the chicken salad makes the dish way more palatable. Kids can see that they actually like the individual ingredients, and that makes a difference.
🍴 
Modify the Meal🍴
🍅Swap out the bread with your fave gluten free bread. 
🍅Eat the chicken salad as a salad.
🍅Serve the chicken salad atop lettuce.
Note: This post contains affiliate links.
Perfect Picnic Chicken Salad Sandwich
Looking for the easiest, portable, no-cook summer dish? Behold our Perfect Picnic Chicken Salad Sandwich! Only 2 steps, and no oven/stovetop required.
Ingredients
2

cups

chicken

pre-cooked, chopped or hand separated

¾

cup

red grapes

halved

3

stalks

celery

chopped

2

Tablespoon

pumpkin seeds

2

Tablespoon

almond slivers

½

cup

mayo

¼ - ½

teaspoon

salt

¼

teaspoon

black pepper

8

slices

bread

your choice
Instructions
Mix all ingredients (except bread) together in large bowl.

Spread chicken salad mix over bread to make sandwiches
Notes
Serve sandwiches with a side of fruit...or one of our potato side dishes...or anything you want! You can also eat the chicken salad just as a salad.
Nutrition
Calories:
508
kcal
(25%)
Carbohydrates:
36
g
(12%)
Protein:
25
g
(50%)
Fat:
30
g
(46%)
Saturated Fat:
5
g
(31%)
Polyunsaturated Fat:
15
g
Monounsaturated Fat:
8
g
Cholesterol:
60
mg
(20%)
Sodium:
1016
mg
(44%)
Potassium:
595
mg
(17%)
Fiber:
4
g
(17%)
Sugar:
9
g
(10%)
Vitamin A:
197
IU
(4%)
Vitamin C:
3
mg
(4%)
Calcium:
114
mg
(11%)
Iron:
3
mg
(17%)
*Percent Daily Values are based on a 2000 calorie diet. While we are not certified nutritionists, we work with a Wordpress-integrated nutrition API to calculate our recipes' ingredient values.
Choose an Activity