So....I did the Egg Yolk Craft with the kids last night, and I'm gonna be real here. What a freakin' mess! I sketched out some things so they had a variety to chose from: a flower, funny face, whale, and cup of coffee. They each picked one and got super amped to paint. My 4 ½ yo cracked the eggs for me and I separated the yolks with my hands actually (cause I like oozy gunk like that). My 2 yo constantly tried to put the egg yolks in her mouth at first, but after several stern warnings, she stopped.
They totally loved squeezing and mixing the
washable finger paint
into the yolks. Once they started painting, it became abundantly clear that sketching ahead of time on the paper was not worth the effort. They just painted like wild animals all over the paper. I think older and calmer, more focused kids could actually paint within the lines and not mix all the colors together on the paper. But not my kids!  Hence, this: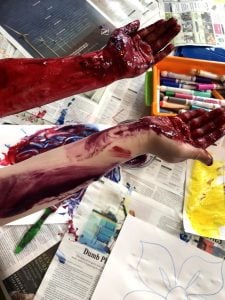 Towards the end, the kids were painting their bodies more than the paper, which was hilarious, but messy as hell. Here were the ambiguous results (originally a cup of coffee, funny face and flower):
I think this is a great 
craft
 for the
Catchall Frittata Recipe 
because the frittata is so easy and non-time-consuming that you can pay attention to the kids' painting while you cook more than with other recipes. And if you don't mind taking the time to wash them up before dinner, it's all good. If you're not one for the mess, seriously skip this. Lol.
🍾 Cheers, Julie 🍾