It definitely feels like spring around here. When we aren't inside doing "school" or screen time, we are most definitely outside enjoying the spring weather! And this week, we made these adorable DIY candy dishes!
Save those empty cans for DIY Candy Dishes!
Easter is also around the corner, so we thought it fitting to make something festive. A bunny craft! We LOVE repurposing our recyclables, so we came up with an idea to make adorable DIY candy dishes out of our empty tuna cans. 
Of course, the most important step when making this bunny craft is to properly clean out your tuna cans. We used dish soap to clean our cans and we even soaked them in soapy water for a few minutes, which seemed to do the trick.
Give kids creative AUTONOMY!
This was a very simple craft that my kids were able to do almost completely on their own. They loved picking out the color of paint for their bunny dish as well as the color of paper for their bunny's ears. The only time I needed to get involved was when it came time to use the hot glue gun. And their favorite part was filling the cans with their candy of choice: jelly beans!
BUNNY CRAFT CUTENESS 
I mean, who wouldn't love these? adorable candy dishes!
While crafting, you and your kids might want to take a moment to learn some fun facts about this meal's featured ingredient:
🍴Canned Tuna Fish

🍴

Tuna canning began over 100 years ago, and canned tuna is now one of the most popular seafood products in the United States.
Canned tuna is low in calories and high in protein. Foods with protein serve as building blocks for our bodies (e.g., our bones, muscles, cartilage, skin and blood).
Tuna is also high in omega-3 fatty acids, which supports brain function. 
Some tuna varieties may be high in mercury, so it's important to eat tuna fish in moderation. 
💡Overview💡
Ingredient: Canned Tuna Fish
Corresponding Recipe:  Stovetop Tuna Casserole 
Skills supported: Fine motor (painting, drawing, tracing, cutting, gluing), following instructions
✂supplies✂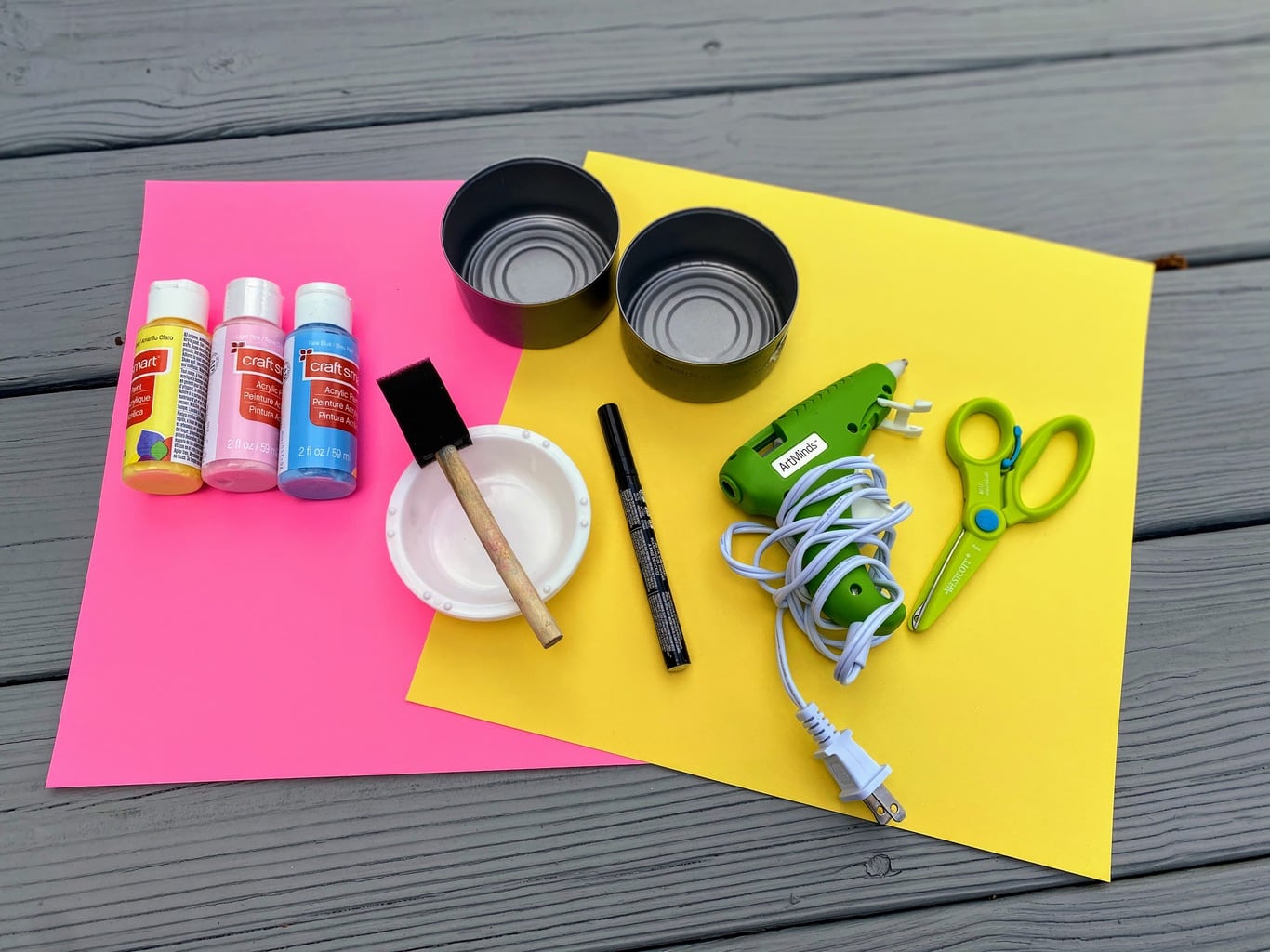 Note: This post contains affiliate links.
SEE HOW TO MAKE our spring bunny DIY candy dishes 
📝instructions for DIY Candy Dishes📝
Consider setting up the craft before cooking so that your kids can get to work right away.
Let's get this bunny craft started! Remove label, clean and dry empty tuna can. Paint your tuna can. We used this Acrylic paint which worked great! Set aside to dry.
Draw and cut out two bunny ears from construction paper. Cut out two smaller ear-shaped pieces of a different color. Glue the smaller pieces on top of the larger cutout ears.
Once your painted can is dry, paint a small round circle (your bunny's nose!) in the middle of the front of your painted can.
Using a black permanent marker, draw your bunny's eyes, whiskers and mouth.
Using your hot glue gun, glue ears to the backside of your can.*
Now fill your bunny with a candy of choice!
*For toddlers especially, these tasks may require adult supervision and/or assistance.