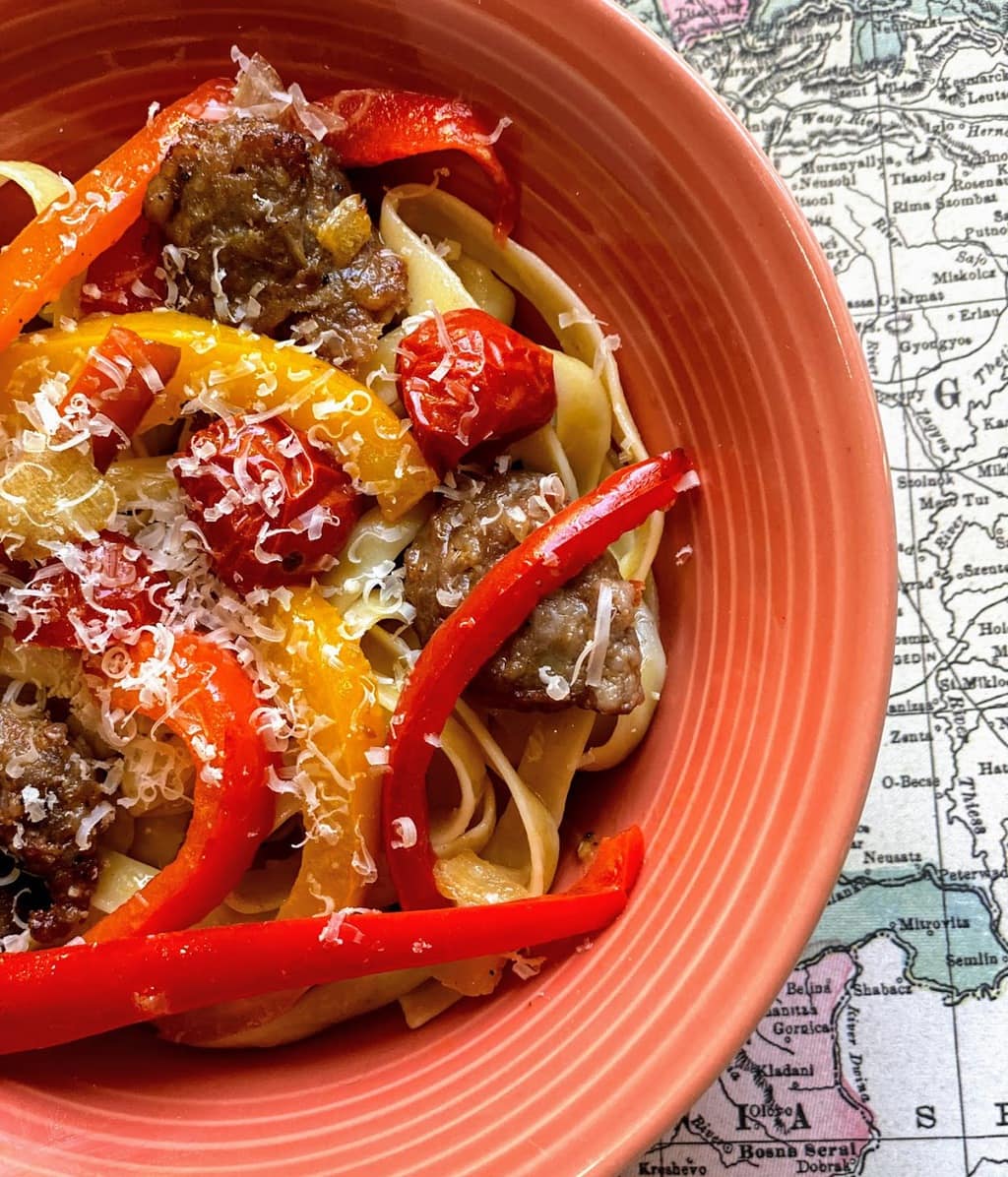 We have been on a pasta kick recently in our house, and tonight we spiced things up and made this incredible Oven Roasted Sausage & Veggies over Pasta.
Recently, my job title as mom blogger has been promoted to mom blogger and homeschooler. We are all adapting to our new normal, but it certainly comes with new challenges and frustrations. For example, not having enough hours in the day! In addition, coming up with ideas for quick, delicious meals has become more important than ever!
Our pasta kick may have to do with the fact that we have a limited supply of fresh grocery items at our fingertips. But it also might be that the one thing we KNOW our kids will eat is pasta! It's truly the little things that carry us through these tough times!
---
Oven Roasted Sausage for the win!
Sausage always goes over pretty well in our house. It's not something we have too terribly often, so it's a bit of a treat when we do!
We typically cook sausage on the stove, but this time we oven roasted sausage with some veggies, and it was a lot easier. Here's how it played out:
Step 1: Preheat oven & slice, slice, slice!
First, set your oven temperature to 425 degrees. Slice onion, peppers, tomatoes and sausage.
Note: Slice sausage into thin, quarter-sized pieces so they cook faster.
Step 2: TOSS WITH OIL & SEASONINGS IN BOWL
Then, in a big bowl, combine veggies, sausage, oil and seasonings. Mix together.
Step 3: Prep your tray of veggies & sausage!
Spread your veggies and sausage on a foil- lined and greased pan. Bake for 20 minutes, flipping halfway through!
Step 4: Prep your pasta
Next, fill a pot with water, add salt, and bring to boil. Cook pasta. Drain pasta, return to pot, and toss with oil.
Step 5: REMOVE PAN FROM OVEN AND SERVE VEGGIES/SAUSAGE OVER PASTA
Finally, remove pan from oven. Scoop some oven roasted sausage & veggies over your pasta.
As a finishing touch, top your dish with some freshly grated parmesan!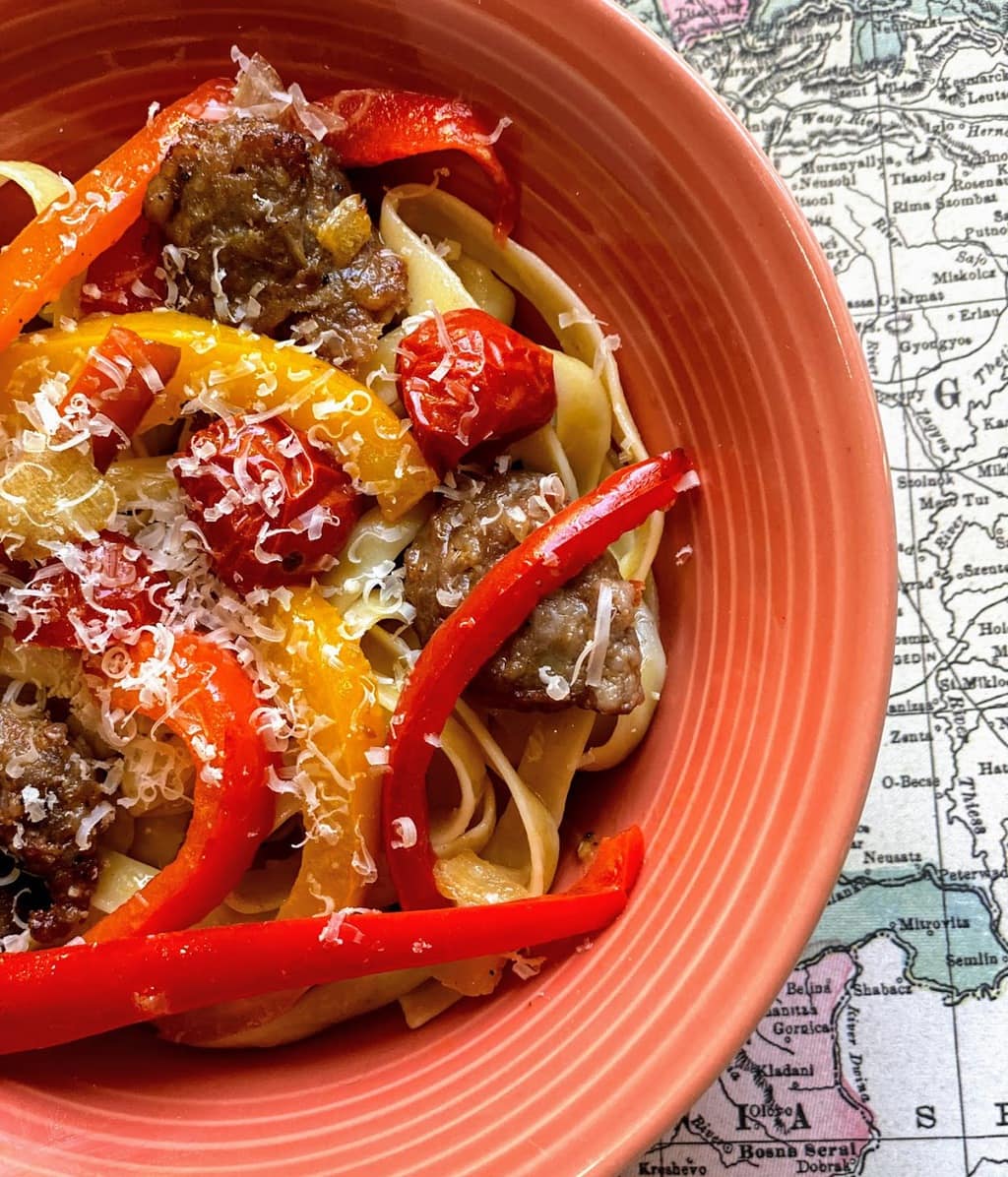 ---
have a family cooking session
Worth considering is how this might be the perfect time to invite kids to help out in the kitchen (most importantly, assuming everyone is healthy and properly washing their hands!). We are all spending so much time together at home these days. So, why not make cooking a family activity?! Not only will cooking together help pass the time, but cooking with your kids has some real educational benefits. For example, cooking with kids can boost self-esteem and foster healthy eating habits.
---
How kids can help make this Oven Roasted Sausage Dish:
This dish involves many kid-friendly tasks. Here are some ways for your lil' sous chefs to help out:
Chop! Kids can help chop the veggies for this dish. We're big fans of these Curious Chef kid-safe knives.

Because of them, our kids can actually help out without us worrying about them cutting their fingers.

Season! Measuring out the salt & pepper is a great, easy task for kids to take on.
Taste! Ask kids to taste the noodles to check and see if they're done cooking.
Note: This post contains affiliate links.
---
Final Tips To ensure smooth sailing!
Roasted Sausage & Veggies Over Pasta
Ingredients
1

yellow bell pepper

(sliced)

1

red bell pepper

(sliced)

1/2

onion

(sliced or chopped)

1

cup

grape or cherry tomatoes, halved

4-6

mild Italian sausage links

(sliced into "coins")

2

T

olive oil

(divided)

1 1/2

t

salt

(divided)

1/2

t

black pepper

7-8

oz

linguine noodles

parmesan cheese

(grated or shredded)
Instructions
Preheat oven to 425 degrees. While heating, cut veggies and sausage.

Place chopped veggies and sausage in a large bowl. Pour 1 T of the olive oil, 1 t of the salt, and full pepper over the bowl contents. Mix until evenly coated.

Line a cooking sheet with tinfoil and coat lightly with cooking spray. Spread sausage and veggies evenly over cooking sheet. Bake for 20 minutes, flipping sausage and veggies over halfway through. [Make sure sausage is cooked through and veggies are soft].

Meanwhile, fill a large pot with water, add the remaining 1/2 t of salt, and bring to a boil. Cook pasta according to directions on package. Drain pasta, return to pot and coat/toss with remaining 1 T olive oil.

Plate noodles with sausage & veggie mix atop, sprinkled with parmesan cheese.
Notes
Serve roasted sausage and veggie mix over the pasta, with parmesan sprinkled atop.
We recommend all meals for children be served with milk.
*Percent Daily Values are based on a 2000 calorie diet. While we are not certified nutritionists, we work with a Wordpress-integrated nutrition API to calculate our recipes' ingredient values.
---
What Can Kids do While Grown-ups Cook?
---
CRAFT FOR THIS RECIPE:
Tissue Box Piggy Banks! Your kids can make this Tissue Box Piggy Banks Craft while you prepare our Oven Roasted Sausage & Veggies over Pasta dish. Recycle your tissue box into a piggy bank! Extra awesome is that this DIY piggy bank can be done with things you probably already have around the house! So, why not turn your trash into something useful?
---
Other sausage Dishes you might like:
🍅 One Pot Chicken Sausage Pasta
🍅 One Pot Fall Pasta with Veggies & Chicken Apple Sausage
---