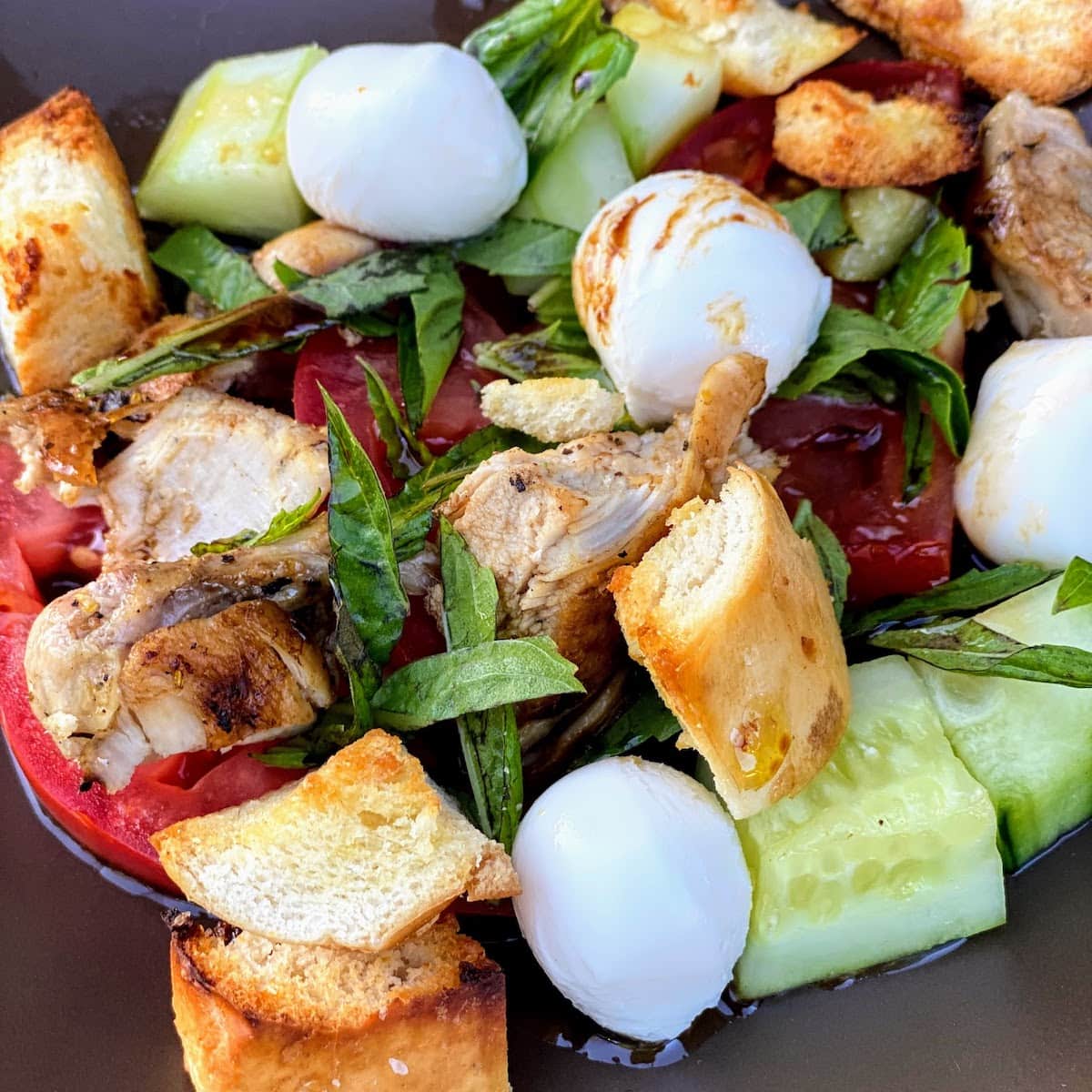 I'm a big fan of Caprese salads, but wanted to do something a little different this time. This recipe has all the usual suspects: tomatoes, mozzarella, basil, olive oil and balsamic vinegar. But it also has chicken, red onions, and homemade croutons!
History of Panzanella Salad
Okay, so technically, a panzanella salad is nothing like a caprese salad. It's an Italian dish, yes. It has tomatoes, yes. But a very traditional panzanella, from what I understand, is a salad of bread, olive oil, and onions. In Italian the word 'panzanella' is a combo of the words for 'bread' and 'deep dish.' So, this is very much a bread salad. In the 20th century, tomatoes were added into the mix.
A modern panzanella salad typically has these as a base: bread, olive oil, onion & tomato. And then you perhaps add some cucumber, fruit, cheese (mozzarella, feta or parmesan), capers, basil, parsley, roasted peppers, olives, sturdy greens, vinegar, etc. I feel like we live in more culinarily irreverent times. So, it seems like you can make this salad whatever you want, as long as it still has the delicious croutons!
The Bread
Traditionally, you want to use stale bread for the salad croutons. Pretty much any rustic bread, just not sour dough. The flavor of sour dough doesn't really work for this salad. Stale bread will absorb juices better than fresh bread, and without falling apart, but for this recipe, we operate under the assumption that you haven't planned ahead in the week to let bread grow stale. So, our instructions are to put cubed fresh bread in the oven for a bit. Same effect.
Very Customizable
Like many of our recipes, this recipe is very customizable. Panzanella salad has some basic key components, but you can make it whatever you want. For instance, think about what your kids like. The second time I made this salad, I added cucumber because my kids love cucumber. And, while it's not very common, we added chicken to the salad. That way the salad could be hearty enough to satisfy stronger appetites, as a strand-alone dinner dish.
As I shared above, you can add almost anything to your panzanella. Here are some popular ingredients: bread, olive oil, onion, tomato, cucumber, fruit, cheese (mozzarella, feta or parmesan), capers, basil, parsley, roasted peppers, olives, sturdy greens, vinegar, etc.
Steps for Success
This really is a simple recipe. In fact, it took my mom only 25 minutes. You basically bake something, grill something, and chop something 🤣 While you can do it however you like, this is the order of steps that I would recommend:
>Step 1: Heat Oven to 400 Degrees
>Step 2: Toss the Chicken
>Step 3: Prep & Bake the Bread
>Step 4: Grill the Chicken
>Step 5: Prep Your Veggies
>Step 6: Plate the Salad
Modify the Panzanella
Make it Dairy Free & Vegetarian: simply eliminate the cheese. The salad is super flavorful without the cheese...and healthier. Lol.
Make it Vegan: take out the mozzarella and chicken, and you'll be left with a delicious and more proper panzanella salad! I don't think you even need any replacements for these ingredients because the flavor is so solid already.
Note: This post contains affiliate links.
Have a Family Cooking Session
Worth considering is how this might be the perfect time to invite kids to help out in the kitchen (assuming everyone is healthy and properly washing their hands!). We are all spending so much time together at home these days. So, why not make cooking a family activity?! Not only will cooking together help pass the time, but cooking with your kids has some real educational benefits. For example, cooking with kids can boost self-esteem and foster healthy eating habits.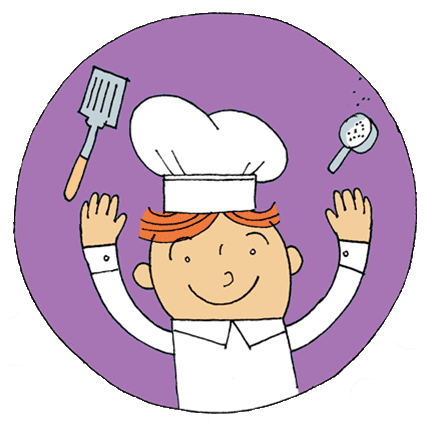 How kids can help make this PANZANELLA:
This salad involves many kid-friendly tasks. Here are some ways for your lil' sous chefs to help out:
Go to a farmers' market together. Summer is the perfect season to grab really fresh produce that is locally sourced. And if you feel it's a safe option for your family, farmers' markets really are the way to go. Due to COVID, we haven't been many places at all, but our local farmer's market has done a great job of keeping the stalls far apart and adhering to social distancing protocols. Above all, stay safe.
Cutting veggies! Kids can use one of these safe, awesome kids kitchen knives to cut the tomatoes or cucumbers while you are doing other things. My son also sneaks a bunch of tomato slices while he's cutting. Lol.
Final Tips To Ensure Smooth Sailing!
Follow Platein28 on Pinterest, Instagram and Facebook and Sign up for our newsletter for all the latest recipes and crafts!
Panzanella Salad with Chicken & Mozzarella
Bread salad?! Yes please! Here's a modern version of the traditional Italian salad: Panzanella. We added some mozzarella and chicken for extra yumm!
Ingredients
2

Tablespoon

salt

(divided)

1

Tablespoon

Italian seasoning

1

small lemon, zested & juiced

1

clove

garlic, minced or zested

1 ½

pounds

boneless, skinless chicken thighs

1

loaf of any rustic bread

(but not sourdough)

¼

cup

olive oil

(divided)

3

heirloom tomatoes, cut into thick slices

½

red onion, thinly sliced

1

cucumber, peeled & chopped

1

cup

fresh basil, cut into strips

6

ounce

mozzarella balls, ciliegine

3

Tablespoon

balsamic vinegar
Notes
Plate the salad individually:

2-4 tomato slices, topped with a few slices of red onion, some cucumber, strips of basil, croutons, and mozzarella. Drizzle 2 t of the oil-vinegar mix atop.
We recommend that young children have milk with all their meals.
Nutrition
Calories:
746
kcal
(37%)
Carbohydrates:
47
g
(16%)
Protein:
34
g
(68%)
Fat:
47
g
(72%)
Saturated Fat:
19
g
(119%)
Polyunsaturated Fat:
7
g
Monounsaturated Fat:
15
g
Cholesterol:
118
mg
(39%)
Sodium:
1184
mg
(51%)
Potassium:
721
mg
(21%)
Fiber:
5
g
(21%)
Sugar:
28
g
(31%)
Vitamin A:
796
IU
(16%)
Vitamin C:
21
mg
(25%)
Calcium:
147
mg
(15%)
Iron:
3
mg
(17%)
*Percent Daily Values are based on a 2000 calorie diet. While we are not certified nutritionists, we work with a WordPress-integrated nutrition API to calculate our recipes' ingredient values.
Want more 28-minute recipes? Sign up and get recipes straight to your inbox!
What Can Kids do While Grown-ups Cook?
Craft for this Recipe:
Painted Toast! Your kids can make this Painted Toast Craft while you prepare our Panzanella Salad with Chicken & Mozzarella dish. Even better if you love edible art! With this craft, you turn leftover bread into a bright and colorful snack. Our painted toast craft is sure to brighten your family's day!
Other Salads You Might Like:
🍅 Watermelon Salad with Feta & Cucumber