Let's face it, when it's hot, we want something cool and sweet to eat! This Watermelon Chicken Salad is the perfect summertime meal that will leave you refreshed and satisfied! Bonus: It can be made in under 30 minutes!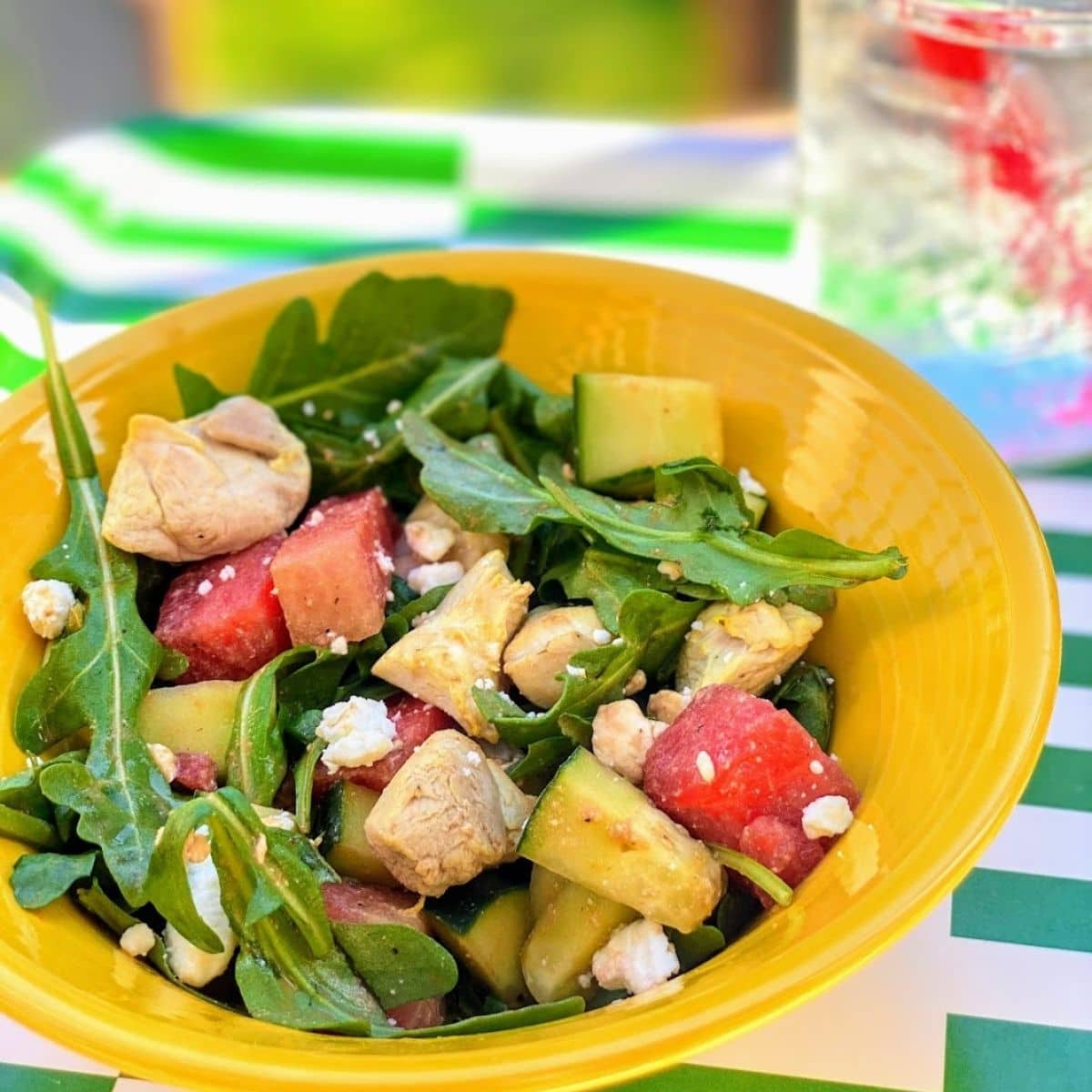 Note: Some of the links in this post are Amazon affiliate links. This means that if you click on an affiliate link and purchase an item, we will receive a commission. However, we genuinely recommend all the products we link.
---
Why this Watermelon Salad Works
It's light, yet filling!- The balsamic dressing, veggies and watermelon make for a very light and refreshing summer dish. And since the salad might not be the most filling on its own, we added some chicken for some extra protein and flavor.
It's sweet AND savory- The combo of the sweetness of watermelon and the saltiness of feta is unparalleled. Add some refreshing cucumber and peppery arugula, and the meal is PERFECT.
It's quick and easy! This salad takes hardly any time to put together. Other than cooking the chicken (which takes up to 20 minutes), this recipe simply requires some light chopping, measuring and tossing! Note: To save time, buy pre-cut watermelon
---
What goes into the dressing?
To make our dressing we kept it simple: balsamic vinegar, olive oil, dijon mustard and a little black pepper. The dijon gives the dressing a pop of flavor without being too overpowering. Just remember to taste taste the dressing before you pour it. If you taste too much vinegar, adjust the ratios. Make it how you want. You can also add salt, ditch the mustard, whatever you like!
---
How to make our Watermelon Chicken Salad
Ingredients
Notes on Ingredients:
Chicken-Cut into bite sized pieces for faster cooking.
Pickle Juice- Now, don't be freaked about by the prospect of pickle juice. The chicken won't taste like pickles. Lol. Rather, you end up with more flavorful, evenly salted, juicy chicken bites in the end.
Instructions
STEP 1: MARINATE THE CHICKEN
Even though it's only for 10 minutes, the marinade really makes a difference. Because the pieces are so small, they are able to soak in the flavor and juiciness of the marinade.
🥄 Kids Step: Measure out pickle juice.We always use our tried and true Pyrex Measuring Cup to measure liquid ingredients.
STEP 2: MAKE THE DRESSING
🥄 Kids Step: Measure and combine dressing ingredients. Showing your kids how to measure ingredients, using spoon and cup fractions, is a bonafide, simple math lesson. We really love our 9 piece Joseph Joseph nesting bowl set because it's rainbow colored, which my daughter loves.
STEP 3: COOK THE CHICKEN
🥄 Kids Step: Set the timer for the chicken. This is a great chance for kids to learn about cooking times.
STEP 4: ASSEMBLE WATERMELON FETA SALAD
🥄 Kids Step: Help chop cucumber and watermelon! We're big fans of these kid-friendly knives.
---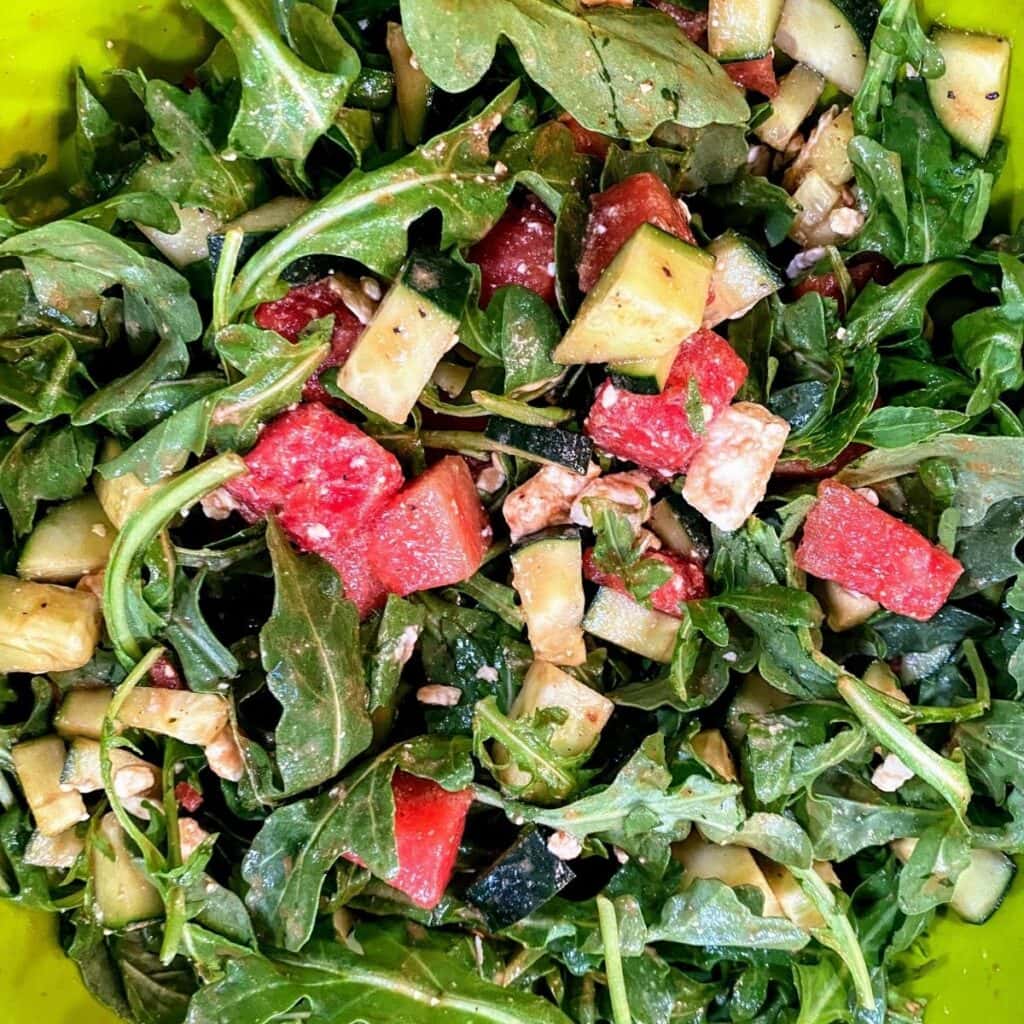 FAQ
Should the chicken be baked or panfried?
Since I have a fast heating oven, I opted to bake the chicken. But either option works. Baking requires preheating the oven, spraying a cooking sheet, and about 10 minutes of cooking. Panfrying requires heating a pan, adding some butter or oil, and cooking for 5 minutes.
What can be used in place of arugula?
Watermelon-cucumber-feta-arugula-chicken is the combo that we love, but this salad would also be delicious swapping or adding spinach, basil, avocado, red onion, green goddess dressing, pepitas, pine nuts, etc.
What can be used in place of feta cheese?
The salty and tangy flavor of feta provides a great contrast to the sweetness of the watermelon. That being said, blue cheese would be a great alternative to feta, offering a similar salty flavor and creamier texture.
How long does watermelon keep once sliced?
According to Kitchn, the best way to store cut watermelon is in an airtight container in the fridge. It's also recommended that watermelon be consumed within 3-4 days of being sliced.
---
Tips for Watermelon Salad
For picky eaters: Separate the parts! My sister's kids ate the salad, but only when the chicken, greens and veggies were separated on their plates. And no dressing.
Be kid-friendly: Learn how to cut cucumbers for kids and jazz up the meal!
Make it vegetarian: Very simple. Just eliminate the chicken.
Taste the dressing before you pour it. If you taste too much vinegar, adjust the ratios. Make it how you want. You can also add salt, ditch the mustard, whatever you like!
To save time: Buy pre-cooked chicken and/or pre-cut watermelon
---
Other Salads you may like
---
CRAFT FOR THIS RECIPE:
Watermelon Yarn Craft! Your kids can make this Watermelon Yarn Craft while you prepare our Watermelon Salad. They will love this new spin on a paper plate craft, using colored yarn instead of markers! Bonus: you can add to your play food collection. Double bonus: the craft helps kids practice their fine motor skills!
---
Watermelon Chicken Salad with Arugula and Feta
This sweet and savory watermelon chicken salad will refresh you on a hot summer day! So grab a cold drink and enjoy the deliciousness!
Ingredients
Instructions
Heat oven to 350. Meanwhile, put your cut chicken into a large bowl. Add marinade ingredients (pickle juice, garlic salt & salt) and mix altogether. Set aside for 10 minutes.

Now make the dressing. In a pyrex measurement cup or small bowl, whisk together balsamic vinegar, olive oil, dijon mustard & pepper. Set aside.

Once the chicken is done marinating, coat a rimmed baking sheet with cooking spray. Remove chicken from bowl, using a slotted spoon, and place on pan, spread out. Bake chicken for 10 minutes (chicken should read as at least 165 degrees in order to be cooked through).

In a large bowl, toss arugula, chopped cucumber, chopped watermelon, feta, and chicken. Then add dressing in slowly, choosing your amount. Toss more, and serve.
Notes
Serve salad in bowls or plates, with extra feta crumbled on top.
Cut chicken into bite sized pieces for faster cooking
Add dressing in slowly to control amount in salad based on preference
Nutrition
Serving:
1
serving
Calories:
325.87
kcal
(16%)
Carbohydrates:
13.8
g
(5%)
Protein:
37.39
g
(75%)
Fat:
12.67
g
(19%)
Saturated Fat:
3.78
g
(24%)
Polyunsaturated Fat:
2.09
g
Monounsaturated Fat:
5.14
g
Trans Fat:
0.03
g
Cholesterol:
181.27
mg
(60%)
Sodium:
3107.1
mg
(135%)
Potassium:
628.87
mg
(18%)
Fiber:
0.78
g
(3%)
Sugar:
5.56
g
(6%)
Vitamin A:
754.87
IU
(15%)
Vitamin C:
7.39
mg
(9%)
Calcium:
104.52
mg
(10%)
Iron:
2.07
mg
(12%)
*Percent Daily Values are based on a 2000 calorie diet. While we are not certified nutritionists, we work with a WordPress-integrated nutrition API to calculate our recipes' ingredient values.