Until a few days ago, it had been unbelievably warm in Portland. As always happens here in June, the cold rain inserted its annoying self into our premature summer groove. Regardless, the couple weeks of heat that we did have got me in the mood for something cold and refreshing to eat, hence this delicious Watermelon Feta Salad!
However, I can't take all the credit for this recipe. My boyfriend (the chef) made a slightly different version of this Watermelon Feta Salad for dinner one night, introducing it as his go-to summer meal. Well, aside from the fact that we accidentally bought fat-free feta and it was absolutely disgusting (lol), the salad was amazing. And he gave me his blessing to share it with y'all, with some of my alterations.
---
WATERMELON FETA SALAD!
Because we have officially entered watermelon season, I'm definitely looking for ways to use watermelon in a mealtime dish. While eating slices of watermelon on a hot day is refreshing and delicious, it's great to find other ways to eat watermelon. Also, because even a small watermelon produces so much, you gotta find other things to go with all that melon! The combo of the sweetness of watermelon and the saltiness of feta is unparalleled, I think. Add some refreshing cucumber and peppery arugula, and the meal is perfect. And since the salad might not be the most filling on its own, we added some protein, as well.
---
DOIN' THE CHICKEN
The way my boyfriend prepares the chicken is to marinate, briefly grill on a grill pan (stovetop), and then bake. While it's nice to get a little browning on the chicken, I thought this might be too many steps for our 28 minute promise. So, our recipe calls for a marinade and bake.
Even though it's only for 10 minutes, the marinade really makes a difference. Because the pieces are so small, they are able to soak in the flavor and juiciness of the marinade. Now, don't be freaked about by the prospect of pickle juice. The chicken won't taste like pickles. Lol. Rather, you end up with more flavorful, evenly salted, juicy chicken bites in the end.
As far as cooking options go, you could either panfry the chicken or oven-bake the chicken. I baked it...not even sure why I chose that route. I actually think it's faster and easier to panfry. My Mom cooked the chicken stovetop in a pan with 2 T of butter, and it took roughly 5 minutes (half the time as baking). Totally your call.
---
STEP 1: MARINATE THE CHICKEN
STEP 2: MAKE THE DRESSING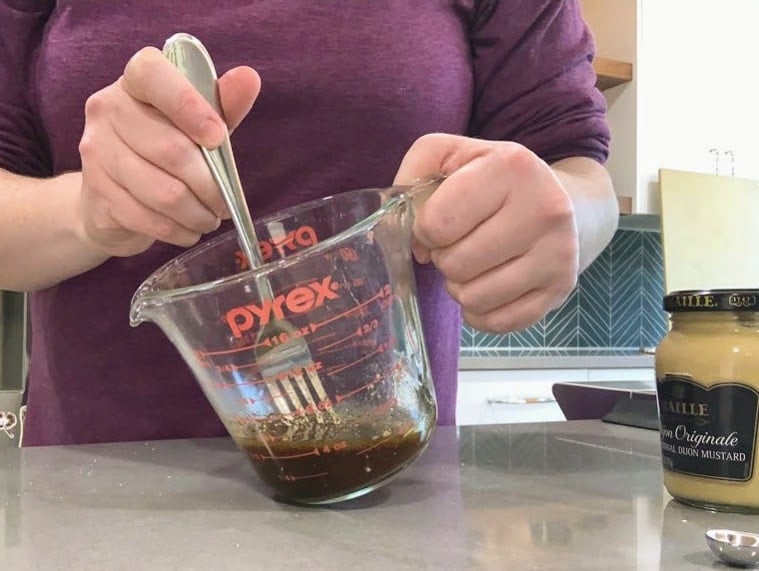 STEP 3: COOK THE CHICKEN
STEP 4: ASSEMBLE WATERMELON FETA SALAD

---
MODIFY THE WATERMELON FETA SALAD
You can make this vegetarian very simply, by just eliminating the chicken. To be honest, for me the chicken was an after thought. I didn't originally intend to include chicken, but I know that some people love to have a protein in their salad. 
Really, the ingredient I was most excited to work with was watermelon. Everything else is whatever you want! Watermelon-cucumber-feta-arugula-chicken is the combo that my boyfriend loves. I can also see this salad being delicious swapping or adding spinach, basil, avocado, red onion, green goddess dressing, pepitas, pine nuts, etc.
Note: This post contains affiliate links.
---
have a family cooking session
Worth considering is how this might be the perfect time to invite kids to help out in the kitchen (assuming everyone is healthy and properly washing their hands!). We are all spending so much time together at home these days. So, why not make cooking a family activity?! Not only will cooking together help pass the time, but cooking with your kids has some real educational benefits. For example, cooking with kids can boost self-esteem and foster healthy eating habits.
---
How kids can help make this WATERMELON FETA SALAD:
This salad involves many kid-friendly tasks. Here are some ways for your lil' sous chefs to help out:
Measuring! Showing your kids how to measure ingredients, using spoon and cup fractions, is a bonafide, simple math lesson. Don't pass up that opportunity. The salad dressing requires the use of T, t, and 1/4 t spoons. Explain what a 1/4 t means, and also the fact that 3t = 1T. Then let your kids do the whole dressing step on their own.


Chop cucumbers and watermelon! We let our kids use a kitchen knife designed for kids, and chop away. An adult should definitely cut the watermelon gourd, but kids can take over once the watermelon is broken down into smaller segments. Here are our fave knives that we always use:


Use colorful measuring tools! I really love our 9 piece Joseph Joseph nesting bowl set because it's rainbow colored, which my daughter loves. And it includes a big bowl, small bowl, bowl with pouring lip, mesh strainer, colander, 1 cup, 1/2 cup, 1/3 cup, and 1 T. [Worth noting: this bowl set is currently double its normal price, so maybe wait until COVID buying panic has subsided a bit].

---
Final Tips To ensure smooth sailing!
Watermelon Salad with Feta & Cucumber
A watermelon salad with feta & cucumber is the most refreshing ease into summertime. Make an icy cold drink, and sit outside with this delicious salad!
BUY IT
MAKE IT
Heat oven to 350. Meanwhile, put your cut chicken into a large bowl. Add marinade ingredients (pickle juice, garlic salt & salt) and mix altogether. Set aside for 10 minutes.

Now make the dressing. In a pyrex measurement cup or small bowl, whisk together balsamic vinegar, olive oil, dijon mustard & pepper. Set aside.

Once the chicken is done marinating, coat a rimmed baking sheet with cooking spray. Remove chicken from bowl, using a slotted spoon, and place on pan, spread out. Bake chicken for 10 minutes (chicken should read as at least 165 degrees in order to be cooked through).

In a large bowl, toss arugula, chopped cucumber, chopped watermelon, feta, and chicken. Then add dressing in slowly, choosing your amount. Toss more, and serve.
PLATE IT
Serve salad in bowls or plates, with extra feta crumbled on top.
We recommend that all meals for young children be served with milk.
What Can Kids do While Grown-ups Cook?
---
CRAFT FOR THIS RECIPE:
Watermelon Yarn Craft! Your kids can make this Watermelon Yarn Craft while you prepare our Watermelon Salad. They will love this new spin on a paper plate craft, using colored yarn instead of markers! Bonus: you can add to your play food collection. Double bonus: the craft helps kids practice their fine motor skills!
---
OTHER Salad DISHES YOU MIGHT LIKE:
---