Winter is coming and it's never been a better time to roast those yummy fall and winter veggies! Tonight we were in the mood for chicken thighs, so we decided to bake them in a sheet pan with two of our favorite seasonal veggies: delicata squash and Brussels sprouts! This was an amazing combination that led to the Best Baked Chicken and Squash Recipe we've ever tasted!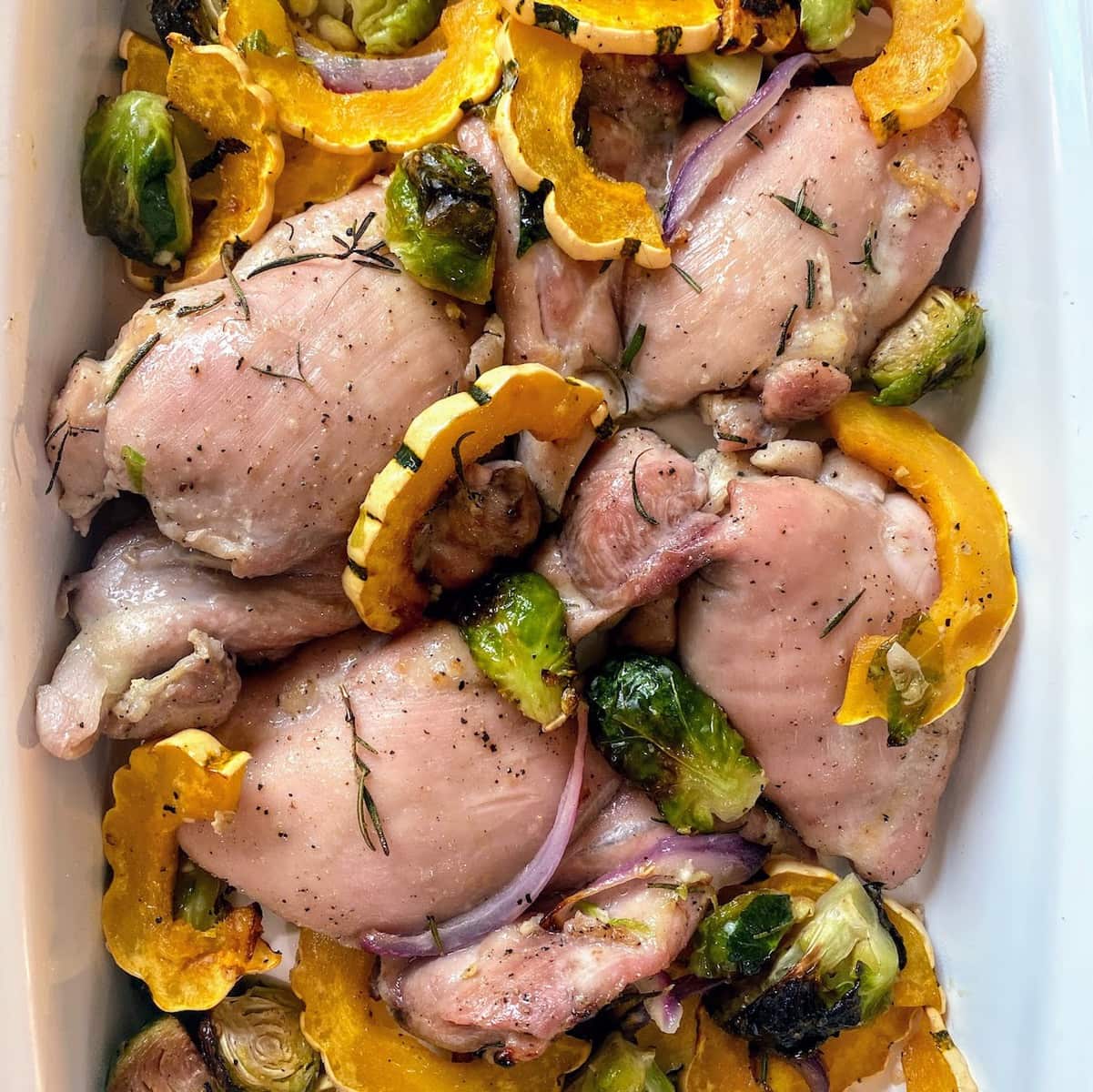 DELICATA SQUASH FOR THE WIN!
As far as squash goes, delicata squash is one of the easier to cut...and it's on the smaller side. So, for a 28 min recipe, it seemed the most realistic. Plus, it's delicious! To prep the squash we (1) cut the squash length-wise, (2) ran a spoon along the middle of each section to scoop out all the seeds and gunk, and (3) sliced squash (skin facing up) into 1/4" cuts.
Delicata squash is not as hard as some other squash. So, it's easier to get a knife through, as long as you do it carefully. We recommend an adult doing the first step (the bigger cutting task). And then a child can do the rest. One of our kids loved using the Curious Chef Kids Knife and the other kids preferred the Opinel Le Petite Chef Knife. Either way, kids can help out.
Note: this post contains affiliate links
---
WHY CHICKEN AND SQUASH ARE THE PERFECT MARRIAGE
This dish is definitely on the healthier side! Often in the late Fall/Winter, we get excited about comfort foods involving heavier fats, sauces, creamy things, etc. I'm talking chicken & mash with gravy, ya know. But here we have something equally hearty and belly-warming, but much cleaner. The ingredients are simple, there are no gravies or heavy sauces, and the chicken is baked. I think sometimes we forget how the simple trio of salt-pepper-oil is all you need for flavor. When roasted, the squash imparts so much flavor, as well. And the Brussels sprouts are best roasted (I think)! FYI, we are big fans of this Carapelli Olive Oil.
---
GO SEASONAL WITH YOUR VEGGIES!
You guys, I can't stress this enough! There are loads of reasons why local produce is best. First, supporting local farmers means supporting your local economy. Second, going local means not spending your dollars on large farming companies that have potentially unsafe/unethical labor practices. Finally, transporting food shorter distances and from smaller facilities means working towards a smaller carbon footprint. Obviously, this is an incredible oversimplification, but I just want to stress the importance of being more ethical in our purchasing choices. And I'll get off my soapbox now 🙂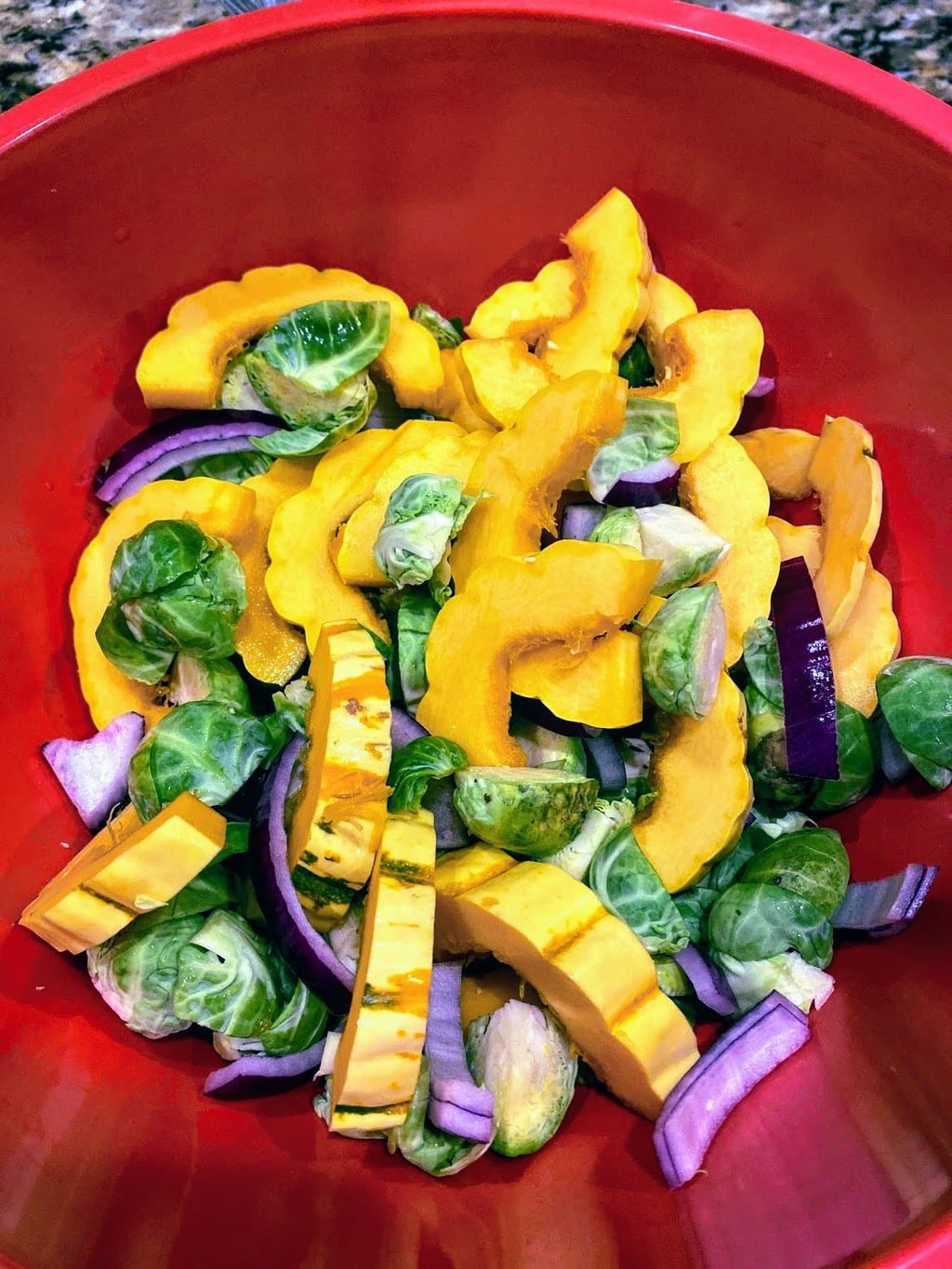 So, this is a great resource I found to help with knowing what foods are in season in your state: Seasonal Food Guide by Grace Communications Foundation. I found it, while concocting recipes, just for the purpose of knowing what was currently being harvested in Oregon. But when I started to dig deeper, I found that Grace Communications does all sorts of awesome things, like: helps you learn your water footprint, helps find sustainable solutions for industrial agriculture, provides healthy recipes, de-stressing techniques, ways to eat less meat, and a lot more. AND they also have a whole Kids Cook Campaign, including recipes and tips. Obviously, we love that!
Anyway, I am neither sponsored by nor know anyone who works with this organization. I just wanted to share with you something cool that I recently discovered.
---
MAKING THIS CHICKEN AND SQUASH RECIPE FAST
Note: this post contains affiliate links
How we saved time: It's really important to heat your oven right away because we allot only 8 mins for prep and 20 mins for baking. Also, because of the short time allotted, it's important to cut the veggies quickly. I got my daughter to rinse and pat dry the veggies. Then she cut the Brussels sprouts while I cut the squash and onion. This task allocation did save a little time, although the Brussels sprouts ended up very interestingly shaped. Lol!
Make it even faster: Use jarred garlic instead of fresh and refrigerated lemon juice instead of juicing a lemon. Buy a bag of pre-rinsed Brussels sprouts. If you have even more helping hands, get someone to prep the chicken while you cut the veggies.
HOW TO BAKE THE CHICKEN
There are many different temperatures and time durations to cook chicken. We decided to use chicken thighs that are boneless in this recipe so they would cook faster. Four boneless chicken thighs can be fully baked at 450 degrees in 20 minutes. All chicken is fully cooked at 165 degrees [check with this great ThermoPro Waterproof Meat Thermometer].
However, here's a little tip: If your meat is anywhere between 155 and 165 degrees, you can take it out of the oven. The chicken will continue to cook a bit once out of the oven, and this will help to prevent your chicken from ending up too dry. Just make sure to do a final temp check with a meat thermometer, and it must read at least 165 degrees.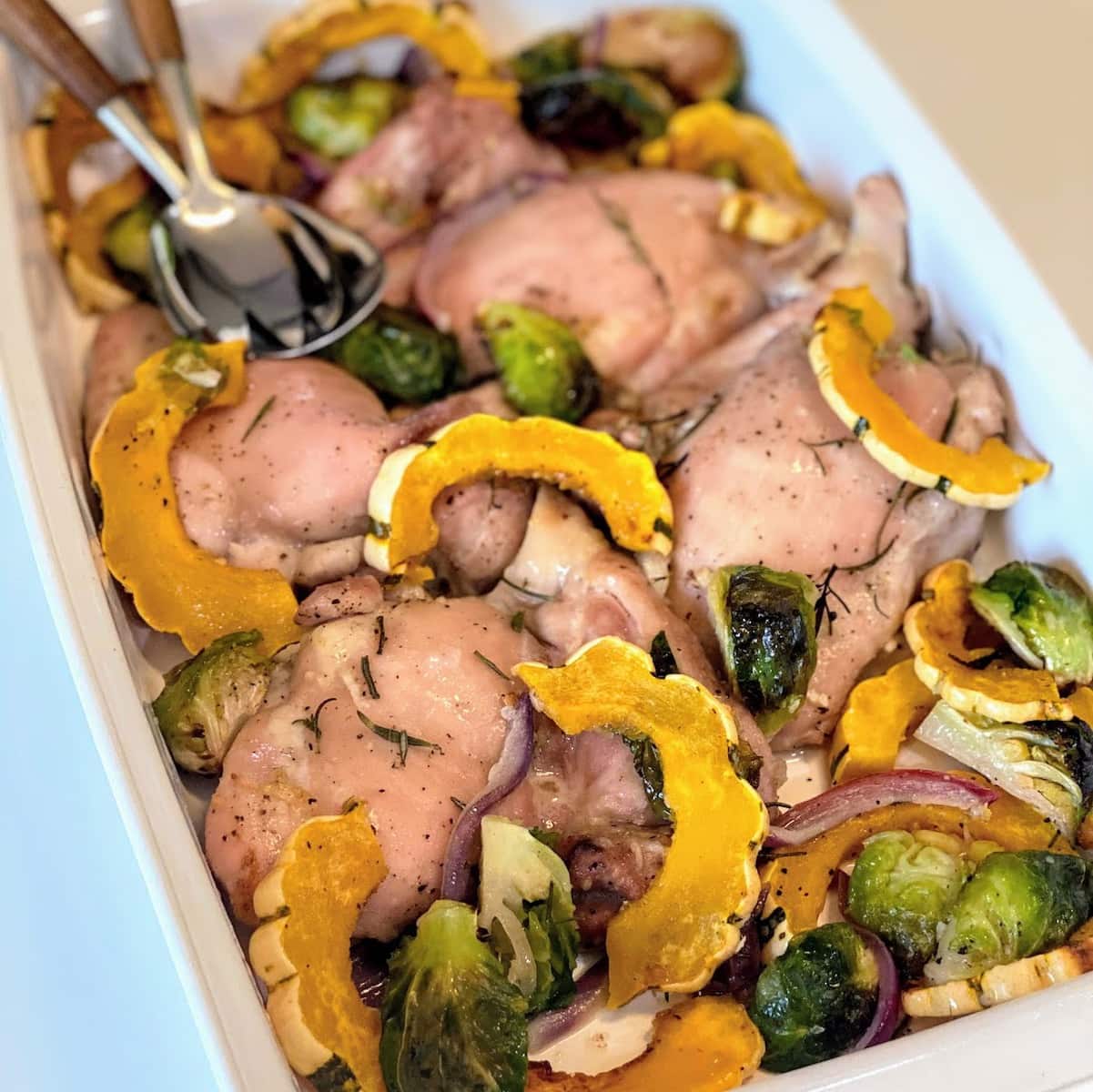 Because we were tailoring our chicken and squash recipe to a 28 minute timeline, we selected a cut that cooks fast. Note that if you are working with a bone-in cut or something thicker than thighs, like a chicken breast, you'll need a longer cook-time.
---
STEPS FOR SUCCESS:
For smooth sailing, we recommend following these steps in order to maximize your time while making the Best Baked Chicken and Squash Recipe.
>STEP 1: HEAT OVEN
>STEP 2: SEASON CHICKEN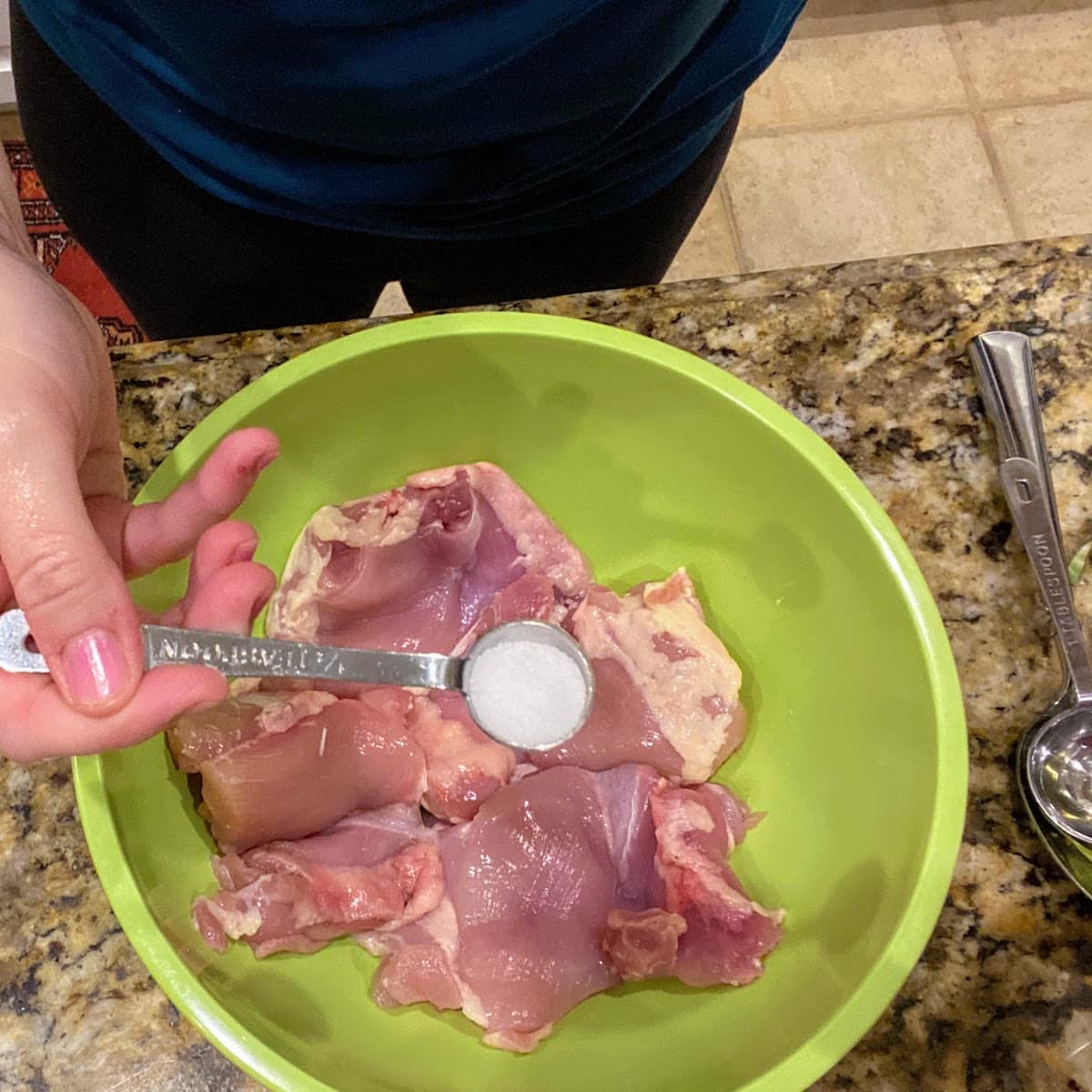 >STEP 3: PREP VEGGIES
>STEP 4: COMBINE TOGETHER, AND BAKE IN PAN
---
VERY

CUSTOMIZABLE
Here are some simple ways to change the vibe of our Best Baked Chicken and Squash Recipe:
🍅 Use different veggies. While we loved the flavor and texture of delicata squash, feel free to roast potatoes, carrots, parsnips, cauliflower or broccoli instead. Just try not to double up on flavor, i.e. potatoes + squash would be too starchy. Or try not to double up on the same nutrients. For instance, broccoli and Brussels sprouts are both cruciferous veggies, high in vitamin C and fiber. So, maybe just roast one of those. Just try to mix it up.
🍅 Decrease the salt. I think this chicken and squash recipe is great as is, but if you're looking to minimize your salt intake, cut a teaspoon out of the veggie prep and add in another seasoning, if you like.
---
HAVE A FAMILY COOKING SESSION:
Worth considering is how this might be the perfect time to invite kids to help out in the kitchen (above all, assuming everyone is healthy and properly washing their hands!). We are all spending so much time together at home these days. So, why not make cooking a family activity?! Not only will cooking together help pass the time, but cooking with your kids has some real educational benefits. For example, cooking with kids can boost self-esteem and foster healthy eating habits.
---
---
MIMI'S COOKING TIPS:

🍅 Buy a small squash. You won't want to cut a big ol' squash.
🍅 If the chicken is a little fatty, use kitchen shears to clip off the excess fat.
---
OUR "KIDIFY" TIPS:

🍅 Use different veggies! Whatever's in season and whatever your kids like. Potatoes, broccoli, cauliflower, parsnips, carrots, etc.
🍅 Make some rice. I don't know why chicken and rice is such a surefire combo for kids. If you're not sure how the kids will take to squash and Brussels sprouts, maybe make some quick rice and frozen peas as a back up.
---
WHAT CAN KIDS DO WHILE GROWN-UPS COOK?
---
CRAFT FOR THIS CHICKEN & SQUASH RECIPE: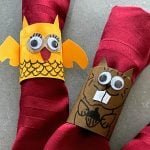 The Most Adorable DIY Napkin Rings! Jazz up your table with these adorable DIY napkin rings! Easy to make, using your old toilet paper rolls. Let kids decorate the holiday table with this festive and sweet craft!
---
SOME OTHER CHICKEN MEALS YOU MIGHT LIKE:
🍅One Pan, Easy Pea-sy Chicken and Rice Recipe
🍅Easy Honey Garlic Chicken Thighs
---