My family can be pretty divided when it comes to flavor. My husband and daughter are drawn to more savory dishes, whereas my son and I crave sweeter foods. That's why we love this Easy Honey Garlic Chicken Thighs Recipe. This dish offers the perfect balance of sweet and savory, ultimately satisfying the whole household!
Note: If you love chicken and rice dishes, be sure to also checkout our delicious Creamy Chicken Pea Skillet with Rice recipe! 
---
Cooking with honey
From time to time we really enjoy cooking with honey. Although we know honey is high in sugar and calories, there are benefits to cooking with honey worth pointing out.
Lets start with the obvious: honey is thick, gooey and delicious! And it's made by honeybees, which is pretty amazing (and your kids will love hearing about it, so check out our DIY Cork Honeybees Craft!). On another note, studies have demonstrated high quality honey contains many important antioxidants which may help lower blood pressure and thus reduce one's risk of heart disease.
It's important to choose your honey carefully. Many honey products out there don't contain the purest forms of honey and may include added ingredients, like high fructose syrup. This article from NDTV Food is pretty informative: How to Check if Your Honey is Pure or Adulterated.
Chicken thighs vs breasts
We wanted a more tender and flavorful piece of chicken for this dish, so we opted for chicken thighs instead of chicken breasts. The truth is that chicken thighs are higher in fat than chicken breasts. That's why chicken thighs are so moist and juicy!
Thankfully, the type of fat that chicken thighs contains, called monounsaturated fat, is actually considered to be a "good" kind of fat. In fact, the American Heart Association says that monounsaturated fat can have beneficial effects on our hearts when consumed in moderation and in place of saturated and trans fats.
---
One Pan Dish for the win!
We love that this dish requires only ONE PAN and is comprised of only FOUR STEPS. Here is how it plays out:
Season the chicken. The first step is to season both sides of your raw chicken.
Cook the chicken. Next, we cooked the chicken for several minutes on both sides until it was nice and brown (and cooked through).
Add the sauce. After combining sauce ingredients, we simply added our honey garlic sauce to the pan of chicken and cooked it down.
Garnish! And finally, we topped our chicken with a pinch of sesame seeds and fresh parsley.
---
Consider serving chicken with rice
We served this chicken with rice. After all, we couldn't possibly let all that extra sauce go to waste! And the sauce-soaked rice truly was delicious. Since our kids are broccoli lovers, we added some fresh, steamed broccoli to our plates. However, many other veggies would go nicely with this dish as well.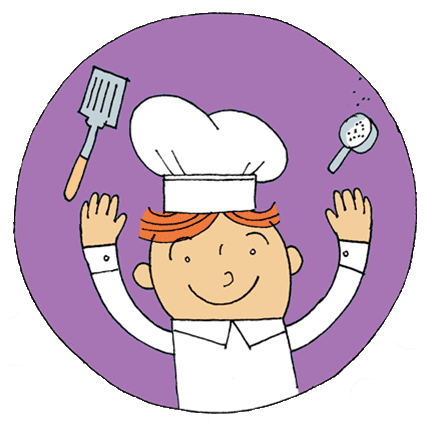 ---
How kids can help make this dish
This dish involves many kid-friendly tasks, like measuring out and mixing ingredients. Here are some ways for your lil' sous chefs to help out:
Chicken:
Paint the pan with oil, using a basting brush.
Measure out seasonings. This is a great chance to teach your kids about measurements. i.e. how 3 t = 1 T.
Show your kids how to use a splatter guard while the chicken cooks.
Honey Garlic Sauce:

Little hands may be too weak to use a mincer, but your kids can help crush and peel the garlic cloves for you.
Measure the sauce ingredients. Again, this is a great chance to teach about measurements. i.e. how 3 t = 1 T and how 16 T = 1 cup. It's kind of fascinating actually.
Note: This post contains affiliate links.
Final Tips To ensure smooth sailing!
Mimi's Tips
SEE HOW TO MAKE Easy Honey Garlic Chicken Thighs

Easy Honey Garlic Chicken Thighs

Holy moly is this delicious!!! This Honey Garlic Chicken is so yummy AND so healthy. Seriously and not to brag, but everyone who has tried it loves it!

Ingredients

Chicken

4-6

chicken thighs

(boneless & skinless)

½

Teaspoon

salt

½

Teaspoon

pepper

½

Teaspoon

onion powder

½

Teaspoon

garlic powder

1-2

Tablespoon

olive oil

Honey Garlic Sauce

¼

cup

chicken broth

¼

cup

honey

1

Tablespoon

soy sauce

1

Tablespoon

lemon juice

1

Tablespoon

brown sugar

5

cloves

garlic, minced

sesame seeds

(as garnish)

parsley

(as garnish)

Instructions

Season chicken thighs with salt, pepper, onion powder, and garlic powder.

Heat oil in large skillet over medium heat. Sear chicken for 6-8 minutes on each side and until cooked through.

Combine sauce ingredients in a small bowl. Pour over chicken, cover pan, and cook on low for 3-5 minutes or until sauce thickens.

Top chicken with a pinch of sesame seeds and parsley.

Notes

To plate...serve chicken with rice, pasta and/or a veggie of choice!
Chicken thighs are more flavorful and cook faster, but you can also use chicken breasts.
When measuring out the honey, coat the measuring cup with a tiny bit of oil before adding the honey. This helps the honey to slide out of the cup more easily when pouring.
If your sauce needs thickening, whisk together 1 T cornstarch and 1 T cold water in a small bowl. Then slowly pour it into your sauce, stirring until thickened enough. 
Consider serving your chicken over rice. Ben's Original Ready Rice is the best, and only takes 90 seconds in the microwave.

Nutrition

Serving:

1

serving

Calories:

250.06

kcal

(13%)

Carbohydrates:

22.01

g

(7%)

Protein:

22.57

g

(45%)

Fat:

8.21

g

(13%)

Saturated Fat:

1.66

g

(10%)

Polyunsaturated Fat:

1.41

g

Monounsaturated Fat:

4.17

g

Trans Fat:

0.02

g

Cholesterol:

107.35

mg

(36%)

Sodium:

698.85

mg

(30%)

Potassium:

332.38

mg

(9%)

Fiber:

0.25

g

(1%)

Sugar:

20.52

g

(23%)

Vitamin A:

29.12

IU

(1%)

Vitamin C:

3.04

mg

(4%)

Calcium:

20.78

mg

(2%)

Iron:

1.26

mg

(7%)

*Percent Daily Values are based on a 2000 calorie diet. While we are not certified nutritionists, we work with a WordPress-integrated nutrition API to calculate our recipes' ingredient values.

---

What Can Kids do While Grown-ups Cook?

Craft for this Recipe:

DIY Cork Honeybees! Your kids can make this adorable DIY Cork Honeybee craft while you prepare our Honey Garlic Chicken dish! I gotta say, these cork honeybees are pretty adorable! You can even make a mobile with them!

---

OTHER CHICKEN DISHES YOU MIGHT LIKE:

Lemon Butter Chicken with Roasted Parmesan Asparagus