Hold onto those empty bottles! We've got an adorable cow-themed centerpiece that your kids will love! Turn your empty container into this adorable tissue paper vase!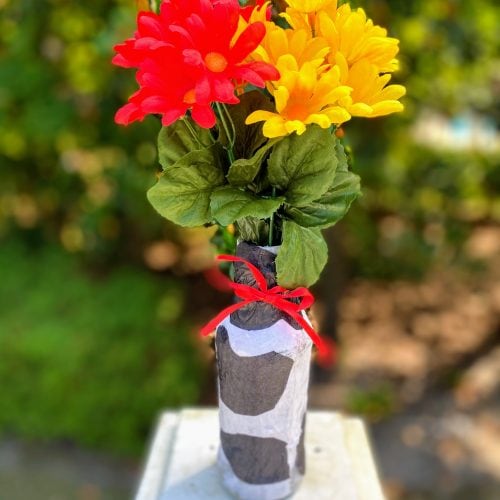 Note: Some of the links in this post are Amazon affiliate links. This means that if you click on an affiliate link and purchase an item, we will receive a commission. However, we genuinely recommend all the products we link.
---
Tissue Paper Vase: An Upcycled Craft
We love transforming our recyclables into new, creative projects. We've turned toilet paper rolls into napkin rings, empty glue bottles into play food, and tin cans into pencil holders and candy dishes! So, we are thrilled to make a vase out of an empty glass bottle.
There are so many benefits to making upcyled crafts. Not only do these crafts encourage kids to think creatively, but they also teach kids the value of conserving resources and caring for the environment. And as a bonus, when we transform used materials into useful items or gifts, we save money!
---
Cover a Glass Bottle with Tissue Paper
Tissue paper is super versatile and can be used with so many different crafts. I almost always have tissue paper in my home, either collected from gift bags or leftover from packages. I tend to set aside tissue paper for crafts and am always grateful I did when it comes time to start a new project!
To decorate our vase, we covered our glass bottle with white squares of tissue paper using Mod Podge. Then we added a handful of black patches of tissue paper to form our cow-like spots. For those of you who don't know, Mod Podge is a glue-like substance that can be used as a glue, sealer, or finish to a craft project. I prefer to use Mod Podge over glue for this project, since it also acts as a sealer and has a stronger "stick" to it than glue.
---
Add Red Ribbon as a Finishing Touch
Once our tissue paper dried, we tied a red ribbon around the neck of our vase. We think the red ribbon offers a great contrast to the black and white tissue paper and gives the vase an elegant finish!
Fill the vase with flowers and you have a beautiful centerpiece or gift for family, friends, or teachers.
---
OTHER COOL, UPCYCLED CRAFTS:
---
How to Make A Tissue Paper Vase
💡Overview💡
Featured Ingredient: Beef
Corresponding Recipes: Classic Beef Stroganoff; Old Fashioned Sloppy Joes
Skills supported: Fine motor (cutting, folding, gluing), following instructions, math (composing shapes)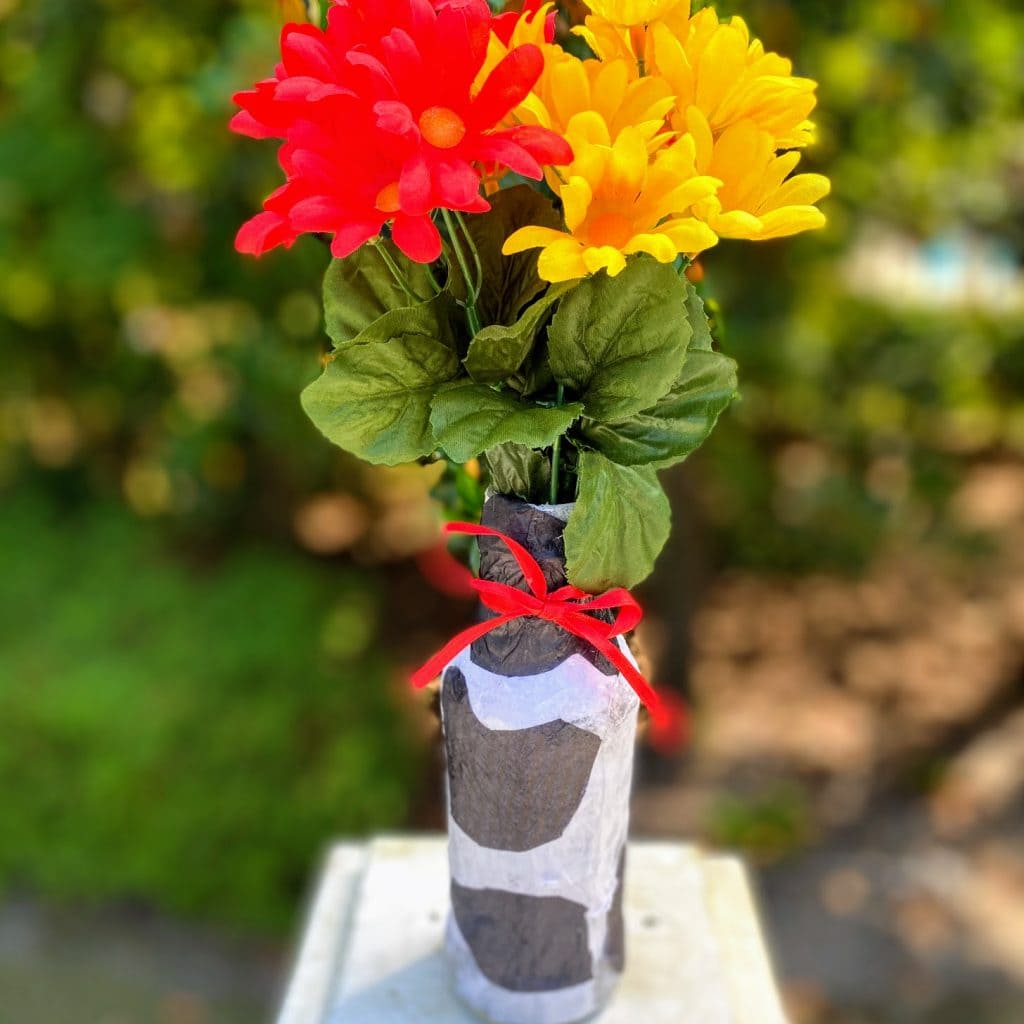 ✂️Supplies✂️
Empty and clean glass bottle
White and black tissue paper
Scissors (kid-friendly scissors)
Paint Containers (optional)
Red ribbon or yarn
📝Instructions📝
Consider setting up the craft before cooking so kids can get to work right away.
1. Cut white tissue paper into several small squares (enough to cover whole bottle, with layers as needed). Cut out 5-10 black "spots" (or misshapen circles) of black tissue paper.
2. Use Mod Podge or glue to cover the bottle with squares of white tissue paper. Layer as much as needed to cover any old labels or markings. Add 5-10 black spots on top of the white tissue paper.
3. Tie red ribbon around the bottle's neck, fill with flowers and enjoy! Your lovely cow bottle recyclable craft can be used as a vase, paper weight, or piggy bank! Anything you want!
*For toddlers especially, these tasks may require adult supervision and/or assistance.
---