If your kids like pretend play, they will love this adorable mushroom craft! Who knew it would be so simple to turn a plastic bowl and paper cup into a mushroom house!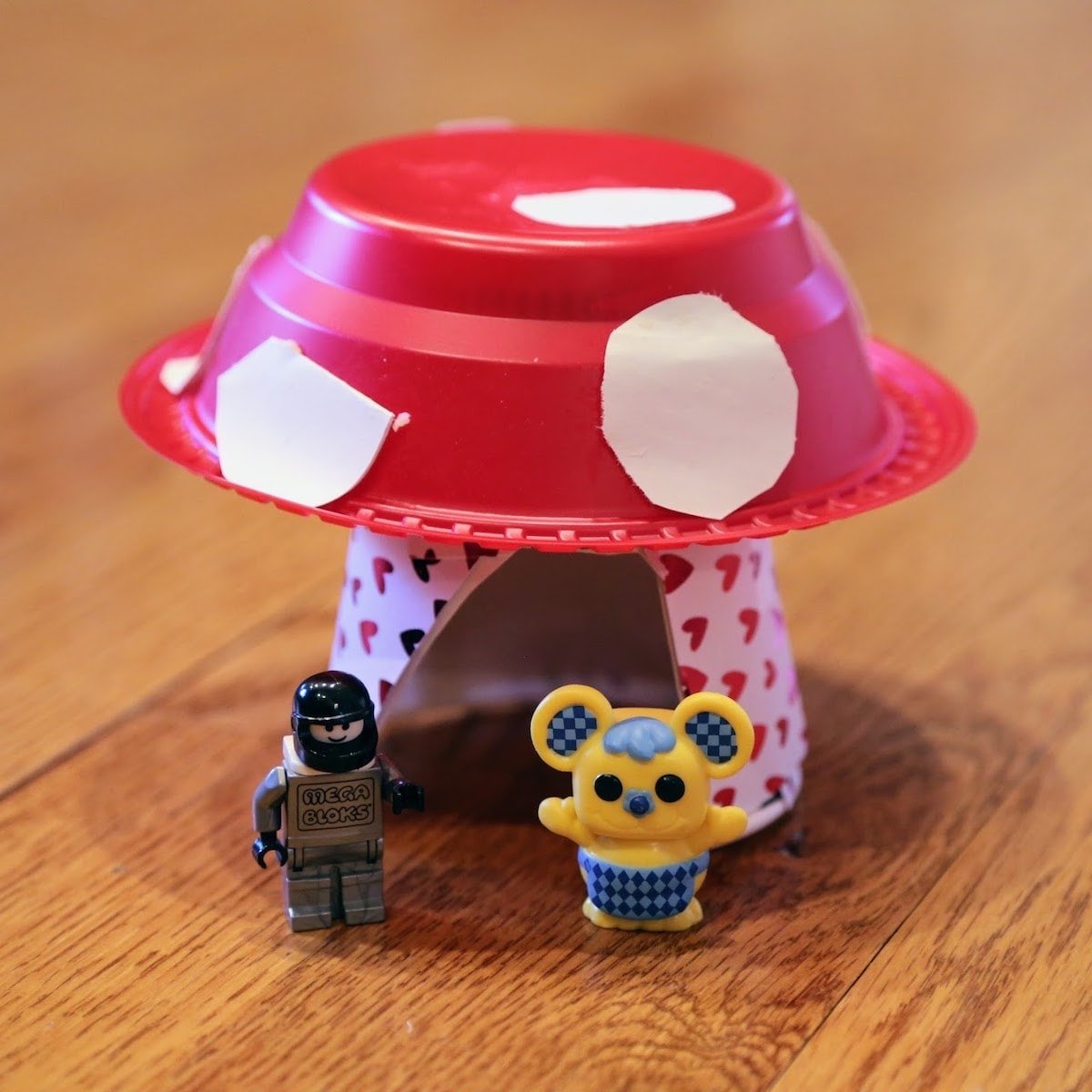 Note: If you love veggie crafts, be sure to check our our Pop-Up Paper Peppers, Play Food Carrots, and Play Food Asparagus crafts!
Jump to:
👌Why We Love this Mushroom Craft
Simple supplies. You will likely have many of these supplies laying around the house already!
Minimal mess. No paint involved here, just some basic cutting, gluing and coloring.
Fine motor skills. Our mushroom craft allows kids to put their developing cutting and coloring skills to good use.
Lots of playtime. We love play food crafts! Once kids create their mushroom houses, they can actually play with them! The mushroom house is the perfect size for little dolls and toys.
Mushroom facts! Take this time to to share some fun mushroom facts with kids, like the fact that mushrooms are actually fungi (and not plants) and that edible mushrooms (i.e., the ones sold in grocery stores) contain important nutrients, like vitamin B and potassium.
🛒 Supplies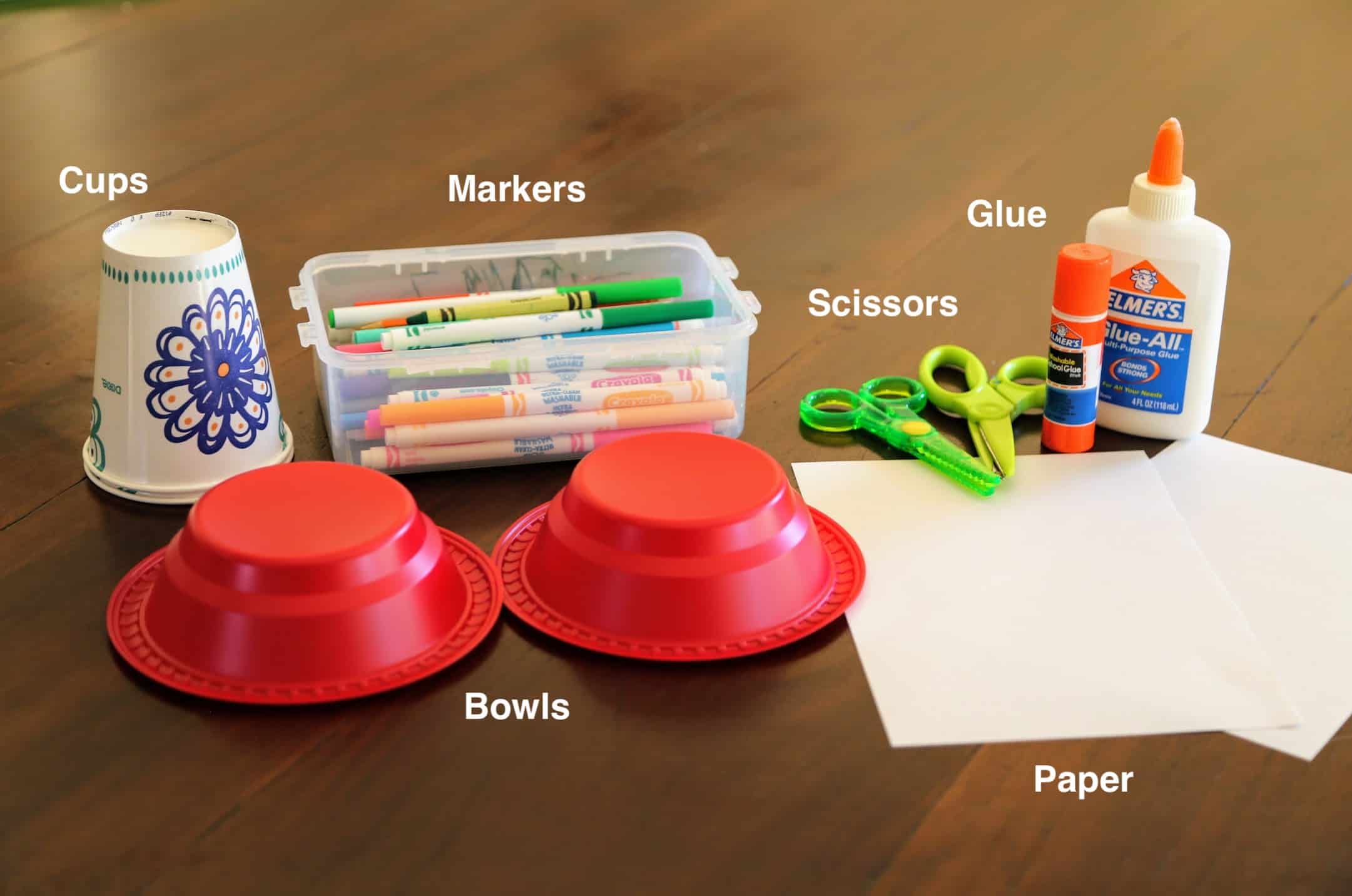 Notes on supplies:
Bowls- plastic or paper will work. If you have a red bowl, we recommend using that!
Scissors- we love these kid-friendly scissors
Cups- paper or plastic work well. Plain white is ideal for decorating.
Decorations- though not pictured, stickers or colored paper are great for decorating your mushroom house craft!
📝 How to Make this Mushroom Craft
Step 1: Make the top: Cover a red paper bowl with cut out white circles to form your mushroom house's top.
Step 2: Make the bottom: Cut a small hole (the door) in your paper cup to form the body of the house.
Step 3: Assemble. Tape or glue the bottom side of your cup to the inside of your bowl to form the mushroom house. Now decorate your mushroom craft with markers, stickers or whatever you've got!
You can get as creative as you want when it comes to decorating the houses. We didn't have any plain white paper cups, so my kids decided to paste scraps of colorful paper onto their cups. We had some leftover Valentine's Day scraps which resulted in a lovely heart-covered mushroom house for my daughter, and a shiny pink mushroom craft for my son.
🧶Other Vegetable Crafts
Follow Platein28 on Pinterest, Instagram and Facebook and Sign up for our newsletter for all the latest recipes and crafts!
🍄 Mushroom Craft for Kids
This mushroom craft is easy to make, doesn't require many supplies, and can keep the kids entertained for hours!
Supplies
Paint, glue or tape

Markers, crayons or paint

Paper/plastic bowl

(red looked pretty cool)

Paper/plastic cup

White paper
Instructions
If your paper/plastic bowl is white, color it red. This will be the top of the mushroom house. Then, cut out small circles of white paper (i.e., the mushroom's white dots) and glue or paste them to the red side of the bowl.*

Turn a paper/plastic cup upside down and cut out a door for the mushroom house.* Decorate the cup with windows, curtains or other features of a house.

Tape or glue the bottom side of the cup to the inside of the bowl. Now it's time to play! Create as many mushroom houses as you'd like. Consider creating a whole village and placing lego people or other small toys inside each home.
Notes
Create as many mushroom houses as you'd like. Consider creating a whole village and placing lego people or other small toys inside each home.
*For toddlers especially, these tasks may require adult supervision and/or assistance.
Want more 28-minute recipes and crafts? Sign up and get recipes straight to your inbox!