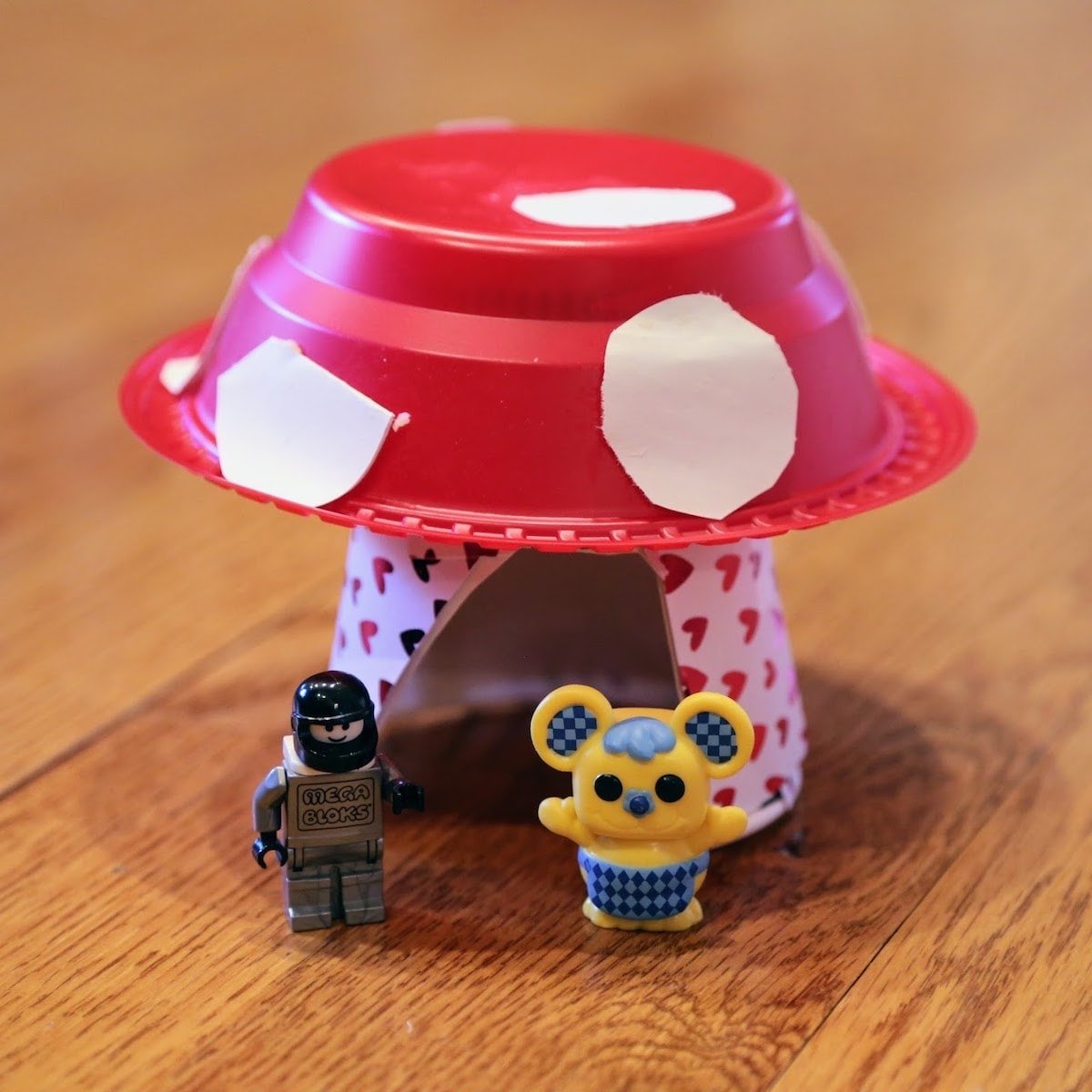 This is an easy, super cute craft. And the best part is, your kids can play with this craft for days. My daughter loves playing with doll houses, and my son loves his legos. So creating a mushroom house that's the perfect size for lego people was a huge hit for both my kids.
This craft also provides a great opportunity to share some fun facts about this meal's featured ingredient:
🍄mushrooms🍄

Mushrooms are actually fungi (and not plants) since they do not require sunlight to grow.

Some mushrooms are unsafe to eat, but edible mushrooms (i.e., the ones sold in grocery stores)

contain important nutrients, like vitamin B and potassium

.

China is the world's largest producer of edible mushrooms.
You can get as creative as you want when it comes to decorating the houses. We didn't have any plain white paper cups, so my kids decided to paste scraps of colorful paper onto their cups. We had some leftover Valentine's Day scraps which resulted in a lovely heart-covered mushroom house for my daughter, and a shiny pink mushroom house for my son.
The nicest part about this craft is that once your kids create their mushroom houses, they can actually play with them! My kids were entertained for a good 15-20 minutes after they completed the craft, which gave me some extra time to finish up cooking. We pair this craft with the Chicken Marsala Recipe.
💡

Overview💡

Featured Ingredient: Mushrooms
Corresponding Recipe: Chicken Marsala
Skills supported: Fine motor (coloring, cutting, gluing/taping), math (composing shapes), following instructions
✂ supplies ✂
2-4 paper/plastic bowls (red looked pretty cool)

Markers, crayons or paint

White paper
Paint, glue or tape  (Elmer's Glue Sticks are our go-to)

2-4 paper/plastic cups

Optional: stickers, colored paper
📝instructions📝
Consider setting up the craft before cooking so your kids can get to work right away.
If your paper/plastic bowl is white, color it red. This will be the top of the mushroom house. 

Cut out small circles of white paper (i.e., the mushroom's white dots) and glue or paste them to the red side of the bowl.*

Turn a paper/plastic cup upside down and cut out a door for the mushroom house.*

Decorate the cup with windows, curtains or other features of a house.

Tape or glue the bottom side of the cup to the inside of the bowl.

Create as many mushrooms homes as you'd like. Consider creating a whole village and placing lego people or other small toys inside each home.
Note: *For toddlers especially, these tasks may require adult supervision and/or assistance.