I don't know about you guys, but I'm depressed. And that's okay.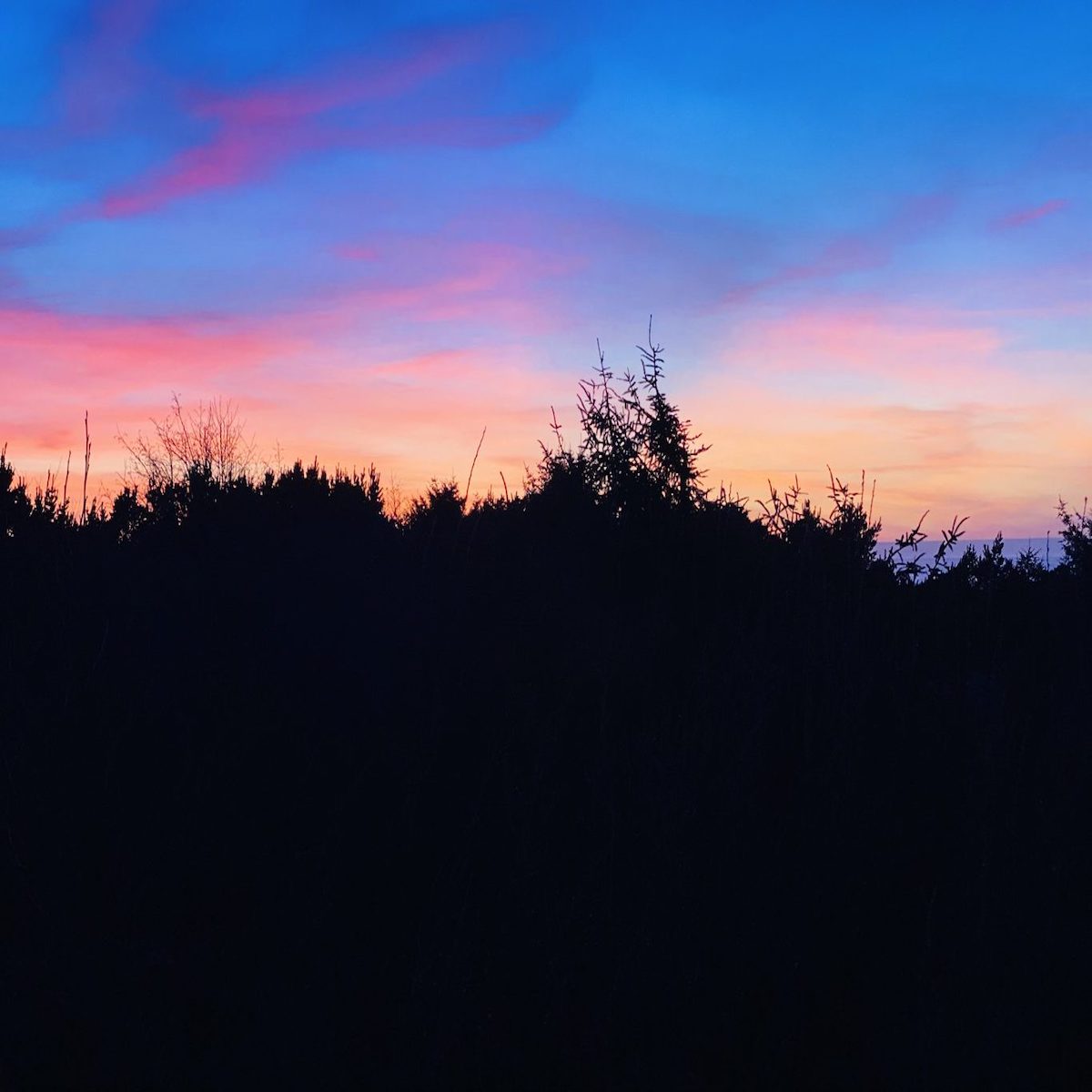 Some of it is due to my chemical wiring. I've always struggled with depression on and off, and have managed it over time with medication and sporadic therapy. Some days I feel exactly like those cheesy, excessive-side-effect pharmaceutical company commercials. It's hard to get out of bed, everything is grey, no joy to be found. Those are the days when every task seems insurmountable and turning off the tv is scary.
But more often, the depression is more mundane, and not necessarily detectable to an outsider. I'm waking up in the single digits and I'm capable of completing tasks (albeit a small number). I connect emotionally with my kids, feed them, make sure they're getting schoolwork done, and do activities together. My depression manifests in a fairly boring way. It's like just going through the motions.
However differently depression can appear for me, the constant is what feeds it: a heaping, hopeless feeling that there's nothing to look forward to, with a side of 'everything is falling apart.' Topping it off - a thin layer of insecurity, a sprinkling of identity issues, and just a pinch of social anxiety. Yay! Doesn't that sound delicious?!
The Many Flavors of Depression
Because we normally write about food, I like to view the layers to my depression as flavors. I start with some Mid-Life 'WTF?!' Seasoning. Turning 40...in 2020. I have never been afraid to age, but I surely didn't expect this middle-age phenomenon of like, constantly reviewing my life: all the choices I've made, what I've accomplished, and more significantly, what I haven't.
There's something about this age that feels like a continuous 'come to Jesus' moment
...where you are invariably taking a hard, honest look at the person you are. You decide what you are proud of, what you can't stand, and what healthy changes you're capable of. And whatever positive sides there are to this milestone, I can't celebrate, thanks to the pandemic.
But for me, what's even more potent than mid-life stressors, is the Flavoring of 'Am I a Good Mom?' With three kids, I worry all the time about things like: am I raising my kids to be kind, empathetic people? Am I providing my kids with enough experiences? Is my lifestyle not healthy or active enough to be a good influence? Am I teaching the kids enough about privilege and inequality? Are they learning to respect boundaries, me, and my decisions? Am I fostering their interests enough? Ugh. I could talk about this ALL day. Luckily, kids don't wait for you to figure everything out; so the potential paralysis that this anxiety could engender doesn't have time to manifest. Having young kids keeps you in constant motion.
Now, to keep up with the times, let's add the new, bold Essence of Quarantine to my depression. Needless to say, it's not natural to be so isolated, to be immobile, to have so many of our experiences through a computer screen. But you'd better believe, having been raised in a semi-hypochondriac family, that I am taking this pandemic super seriously and isolating as much as possible. My kids have been very good sports about not going to school and they totally understand the gravity of COVID (as much as kids can). But the teen misses her best friends, all the 5 yo wants is to be in a dance class, and the 7 yo yearns to run around with his buddies and strategize Minecraft moves.
As a family, we can't do a lot of our favorite pastimes like going to the movies, playgrounds, or community events. It has meant a TON of time at home, especially now that Portland's rainy winter is in full swing and unusual snowstorms have left much of our city housebound, yet without power. No socializing outside anymore. In sum, it's really easy to feel like a shitty parent when you can't provide many new experiences for your kids outside the home.
Finally, we add the last, macro ingredient to the depression: The 2020 'Am-I-in-Hell?' Super Spicy Sauce. 2020 has bestowed many "gifts" upon us, as a community and as a people. Last year (in all its frightening, happiness-and-stability-razing glory) easily managed to increase depression levels, both psychological and economic. If I were to list some of my (stubbornly opinionated) faves of 2020's gifts, they would be: (1) COVID COVID COVID, (2) our divisive administration and all the sub-crises therein, (3) BLM Movement, (4) massive economic hardship, (5) CA & PNW Wildfires, and (6) the breakdown of our democracy.
My anger is piqued by all the people ignoring the seriousness of this pandemic by not wearing masks, having parties and flying fun places for vacations. I'm furious about the recent denigration of our democracy and voting practices. I'm livid about all the Black lives lost due to police brutality. There is much ranting I could do here, but that gets us off track. I say all of this in very broad strokes, perhaps illustrating the point that too many horrific things happened last year for any kind of proper summation. Add all of that fallout to whatever baggage you came into 2020 with, and tell me how anybody gets up in the morning! Seriously.
Depression is Totally Okay
So, getting back to my original point...it's okay to be depressed. And it's really okay to be really depressed right now.
I know everyone has experienced this past year differently, with widely varying struggles. And damn...all of it is depressing! While some people had to worry about losing their jobs, others worried about losing their homes. While older folks like my Grandma never left their house for fear of contracting COVID at her age, many BIPOC felt unsafe leaving their house because of police brutality and the lifted veil of systemic racism. Parents worry their kids are missing out on life, as kids are kept away from their schools and friends. There are the people who've been putting their own lives at risk to help sick folks and those left house-less by wildfires or job loss. And there are the activists who've stood with their community night after night, peacefully protesting injustice.
For me, what 2020 has done is swallowed up all of my normal, intermittent depression and anxiety and pooped out some kind of horrific composite. It's like everything that I worried about before is now taken to the 'nth' degree. And the result is that everything is harder. Momming is harder. Motivation is harder. Believing in things is harder. Ummmm, also, finding clothes that fit is harder.
I'm not necessarily on a mission to de-stigmatize mental illness here. Neither am I trying to shove my personal experiences or politics down anyone's throat. It's just, through this writing, I feel compelled to relay the honest reality that - as cliché as it sounds - you are not alone. We've had some serious shit to wade through in 2020, as parents, as people. And even beyond 2020, life is hard. But I believe that when people acknowledge their depression and unhappiness out loud and really listen to others', it collectively lifts some of the burden of that depression. It normalizes something that's supposedly abnormal. And because nothing is normal right now, we can normalize whatever the hell we want. Lol.
Let's Just Sit With It
For any of us who experienced any kind of loss, sadness, depression, anger or fear in 2020, all I can say is...let's just sit with it. Allow ourselves to accept life for what it is right now, lower our expectations and cut ourselves some slack.
I'm trying very hard to accept all the crap instead of panicking over all the crap, if that makes sense.
Acceptance may sound defeatist, but it's definitely not. It's the understanding that you can't make change without radically accepting your lack of control over the way things are right now. And boy, have I felt powerless lately...especially when watching the news! In order to enact the positive change that's usually imminent during tough times like these, we need all our energy reserves....because change is a long haul. As the goddess Ruth Bader Ginsburg so famously said, "Real change, enduring change, happens one step at a time."
On the bright side (cause there has to be one, right?!): vaccinations are being administered, our new President is working on a massive COVID-19 relief package, my not-in-school 5 yo is actually learning how to read, and my meds have been working. Lol. So, not all hope is lost.
I know all of this is a major digression from our regularly scheduled content. But when you see a craft or recipe that we post, I want you to know that there's a real person behind it. And not a chipper, on-top-of-it-all, robotic type of person. But a real person who's experiencing the freakin' quagmire of these times just like you.
-Julie