Hey y'all! I wanted to share with you my current, three favorite kitchen tools for kids. Two of them are not exactly made for kids, but I think they're perfect for little dudes. Ummm, it was really hard to take photos of these products without my dog getting in the way. So, he won. Meet my canine, Carlos. Lol.
Note: I am not sponsored by the Curious Chef, Core Kitchen, & Joseph Joseph brands. I just really like their stuff 🙂 This post does, however, contain Amazon Affiliate links.
Overview:
These knives are perfect for little dudes. They have small handles (for tiny hands), grippies on the handles, and not-too-sharp blades. The knives are easy to hold for kids and I never worry that my kids will cut themselves on them. The set comes with three knives (small, medium, and large). So, they can be shared between a couple kids. They are dishwasher safe and less likely to scratch surfaces, due to being made of nylon. The set can be found in green/white and orange/white.
My experience:
While I was really just looking for safe knives that actually worked, my kids really took a liking to these knives. Before, I kept giving the kids plastic knives and butter knives to cut produce...and they weren't really cutting it (pun intended)! These, however, really do work. They're serrated enough to cut through most soft to medium density things. The unexpected perk of the purchase was that my kids felt extra special having their own, designated tools. My three yo was the most excited about the knives (more than my five yo), but I have to say, the handles were still just a little too big for her hands. I believe the product is intended for 5+ kids anyway.
I did catch my kids cutting veggies with the knives directly on our countertop, and phew, no scratches/marks! Of course, I would recommend always using a cutting board with them 🙂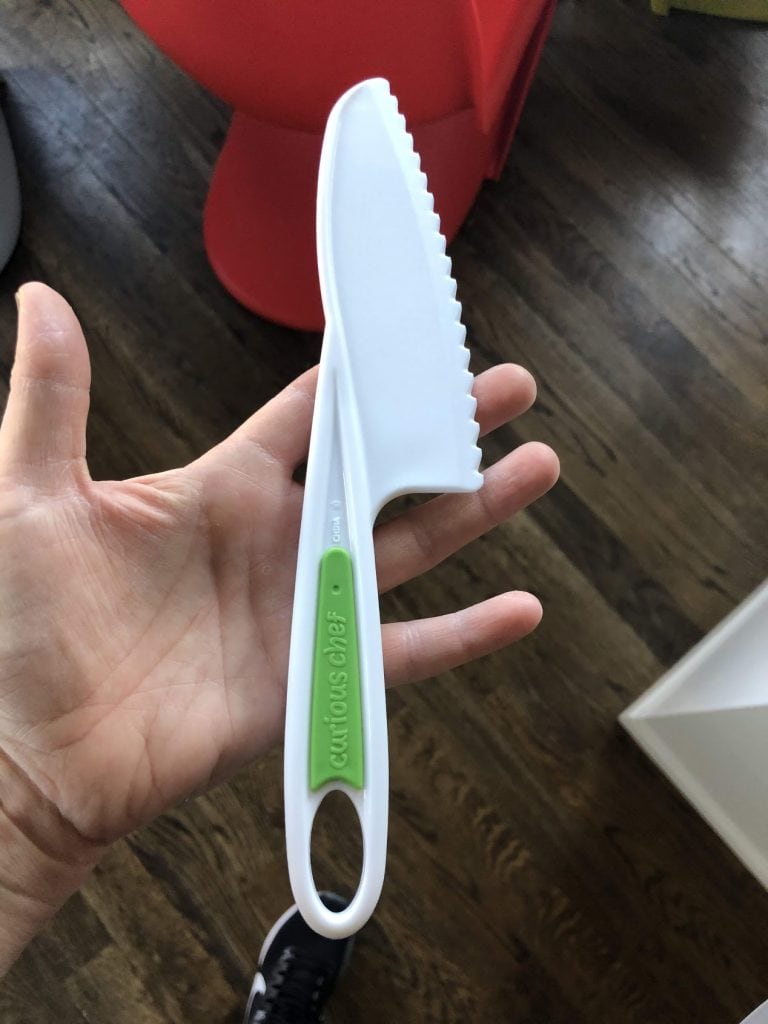 Extra Info:
Curious Chef actually makes a ton of kids' kitchen tools. I can't vouch for them yet, but I am excited to try some out. You can find their products at Bed, Bath and Beyond or Amazon. If you poke around online, you'll find they make almost every basic kitchen utensil you can think of, plus oven mits, measuring cups, mixing bowls, aprons, etc. They even have a cookbook.
I'm honestly not a huge proponent of purchasing tons of kid versions of real things. I mean, kids are completely capable of navigating their way around a regular old spatula or whisk. BUT two areas I totally think it's worth it to buy some kid-based tools: (1) safety items, i.e. knives and veggie peelers, and (2) things that might be too heavy/cumbersome for little bodies, i.e. rolling pins.
Overview:
I love these cutting boards! For kids, they are the perfect size (a little smaller than a standard sheet of paper). It's also nice for adults that they don't take up a lot of space. The grippies on the back actually work, the fact of which is so important when you have little kids cutting. One slip could mean a cut, ya know? They come in a pack of four, which is great for siblings or having friends over. And they come in different colors. I think the intention is to use them for different food groups (i.e. one for veggies, one for meat, etc.). The boards are dishwasher safe and are so lightweight that your kids can easily carry them around.
My Experience:
Admittedly, I was drawn to these cutting boards because they came in multiple colors. I'm a sucker for rainbow-colored anything, really. I mean, when I moved into my new house and bought a new kitchen table, I bought all different colored kitchen chairs. Judgment free zone here, right? 🙂 I do believe that color changes everything for the better, and that my kids get more excited about eating. They'll say 'I'm feeling like green today' or they'll fight over the orange chair 😁 Anyway, same goes for the cutting boards.
Plus, the size of the cutting boards allows the kids to have their own small station where they can meal prep without getting in my way too much. This goes a long way for households with limited counter space. I've also really liked having four cutting boards because if one child is helping me cook and they make a mess on one of the boards, I can just swap it out for another and not waste time cleaning at that moment.
Extra Info:
I've started to really love the Core Kitchen brand, overall. They work a lot with bamboo and heat-resistant silicone. It's a super colorful brand, as well. Yay for rainbow kitchen tools! And if you like modern design, they really fit the bill. Their products are BPA free, dishwasher safe, durable, and non-scratch. I've noticed they make a lot of smaller tools too, which is great for kids. I've really loved their tongs, and this 10-piece set might be my next move.
Overview:
This nesting set had more to it than I realized initially. It contains 2 mixing bowls, a stainless steel sieve strainer, colander, 4 measuring cups, and a dual t/T measuring spoon. All of these 9 pieces nest together in lovely rainbow perfection! 😀 The whole set is BPA-free and dishwasher safe (except the metal sieve). And the set is super light weight. The mixing bowls have grippy bottoms, which makes it so much easier for kids to use. The measuring cups all have little hollowed out handles, which I've found, are great for little hands to carry around. And the small mixing bowl has a little lip (a bonus for sure!).
My Experience:
Again, with the rainbow obsession! I love how colorful this set is and that when nested together it not only saves space, but looks really cool. My kids gravitate towards color always. So, hands down, I would always select colorful kitchen tools if given the option. I've found my kids playing with the set too, like stacking it up to fit together. For really little ones, it's cool to have kitchen pieces that enhance spatial awareness. And for slightly older ones, while they play you can explain the different measurements and how they add up (yay fractions!) Might as well get a little math lesson in, and this is a really natural, life-skillsy way to do so.
Because of the fantastic nesting nature of this set, you can just grab the whole thing as one from the cabinet, rather than shifting around and unstacking multiple bowl piles to get to find something.
Extra Info:
This is honestly the first time I've purchased anything from Joseph Joseph. BUT I'm an immediate fan. They seem to have a space-saving, modern design purview for their product line. Functionality coupled with aesthetics. The company was started by British twins, Richard and Antony Joseph, in 2003. In my latest research, I read that they just won the Queen's Award for their multi-compartment recycling/waste bins. I can definitely get behind a company that values sustainability, design, and function.