My kids were very surprised to hear that grapefruit grows on trees. After pulling up some pictures online to show them what these trees look like, we decided to make our own grapefruit trees! And, inspired by The Pinterested Parent, we decided to paint the grapefruit onto the trees with Q-tips.
Q-Tip Craft!
This is a very simple craft that kids can pretty much do 100% on their own. The only thing I did was pull up some pictures of grapefruit trees online for my kids to use as a model when outlining their trees.
The trees turned out so beautiful that my kids were eager to sign and display their artwork. My kids and I definitely plan to do this q-tip craft again. Next time, maybe we will make apple trees or something seasonal, like cherry blossom trees or autumn leaves.
This q-tip craft also provides a great opportunity to share some fun facts about this meal's featured ingredient: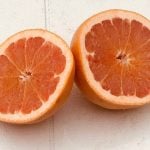 🍊Grapefruit🍊
Read more...
💡Overview💡


Featured Ingredient: Grapefruit


Corresponding Recipe: Grapefruit, Avocado, and Arugula Salad

Skills supported: Fine motor (drawing, coloring painting), following instructions

[lgc_column grid="50" tablet_grid="50" mobile_grid="100" last="false"]


Green & brown crayons
Yellow, pink or red washable paint
Paint containers (little bowls, tupperware, or cups)

[/lgc_column]

[lgc_column grid="50" tablet_grid="50" mobile_grid="100" last="false"]

[/lgc_column]

Note: This post contains affiliate links.

📝instructions📝

Consider setting up the craft before cooking so kids can get to work right away.

1. Draw a grapefruit tree without the grapefruit. We told our kids to simply draw a large tree with a brown trunk and green leaves.

Note: We recommend using a green crayon for the tree's leaves, as the paint for the grapefruit may not show up very brightly on top of green marker.

2. Pour some yellow (or pink or red) paint into a paint container. Gently dip the tip of your Q-tip into the paint and stamp the Q-tip onto your tree to form small, round grapefruits. Repeat so that the tree is full of fruit.

3. Sign your art work and hang it up for all to see!