In the spirit of the holidays, this week we made these adorable mini Christmas burgers, in the shape of reindeer! These Christmas burgers were very popular with our kids, and also super tasty. The inspiration came from One Crazy House.
Note: This post contains affiliate links
What is a Christmas Burger?
We wanted to use our beloved turkey burger recipe in a fun and creative way to celebrate Christmas. And while doing some research, I was struck by how many festive burger recipes are out there! There are burgers featuring traditional Christmas ingredients, like cranberry sauce and stuffing (see Slow the Cook Down's awesome Christmas Burger). And there are colorful burgers with red and green fixings, as seen in the incredible Rachel Ray Christmas Burger.
These ideas sounded amazing to us! But what we really wanted to do was turn our favorite turkey burger recipe into something that would bring Christmas cheer and fun to our kids. Turning the bun into a character would allow us to keep our recipe intact. And who doesn't love Rudolph! Hence, this adorable and edible reindeer Christmas burger!
Juicy and Flavorful Turkey Burger Recipe
If you already have a special turkey burger recipe, that will certainly work. Yet, we highly recommend using our traditional turkey burger recipe, as it's been a huge hit with our families!
What we love most about our turkey burgers are the patties' juicy flavor and texture. We use breadcrumbs to in our mixture, which traps in the moisture and holds the patties together as they cook. We also use a variety of seasonings, including lemon juice and Worcestershire sauce, which we think gives the patties a sweet and savory pop in flavor!
Transform Turkey Burgers into Little Rudolphs!
Turning these miniature burgers into reindeer is simple! After putting the sliders together, add Rudolph's face. We used pretzels (broken in half) for the antlers, sliced black olives for the eyes, and half a grape tomato for Rudolph's nose! However, you can use whatever kind of food you'd like to for the reindeer's features!
---
Note: This post contains affiliate links
STEPS FOR SUCCESS:
There is minimal chopping for this recipe. So, the prep work is really just combining ingredients. For smooth sailing, we recommend following these steps in order to maximize your time while making these Miniature Christmas Burgers.
>STEP 1: Combine turkey patty ingredients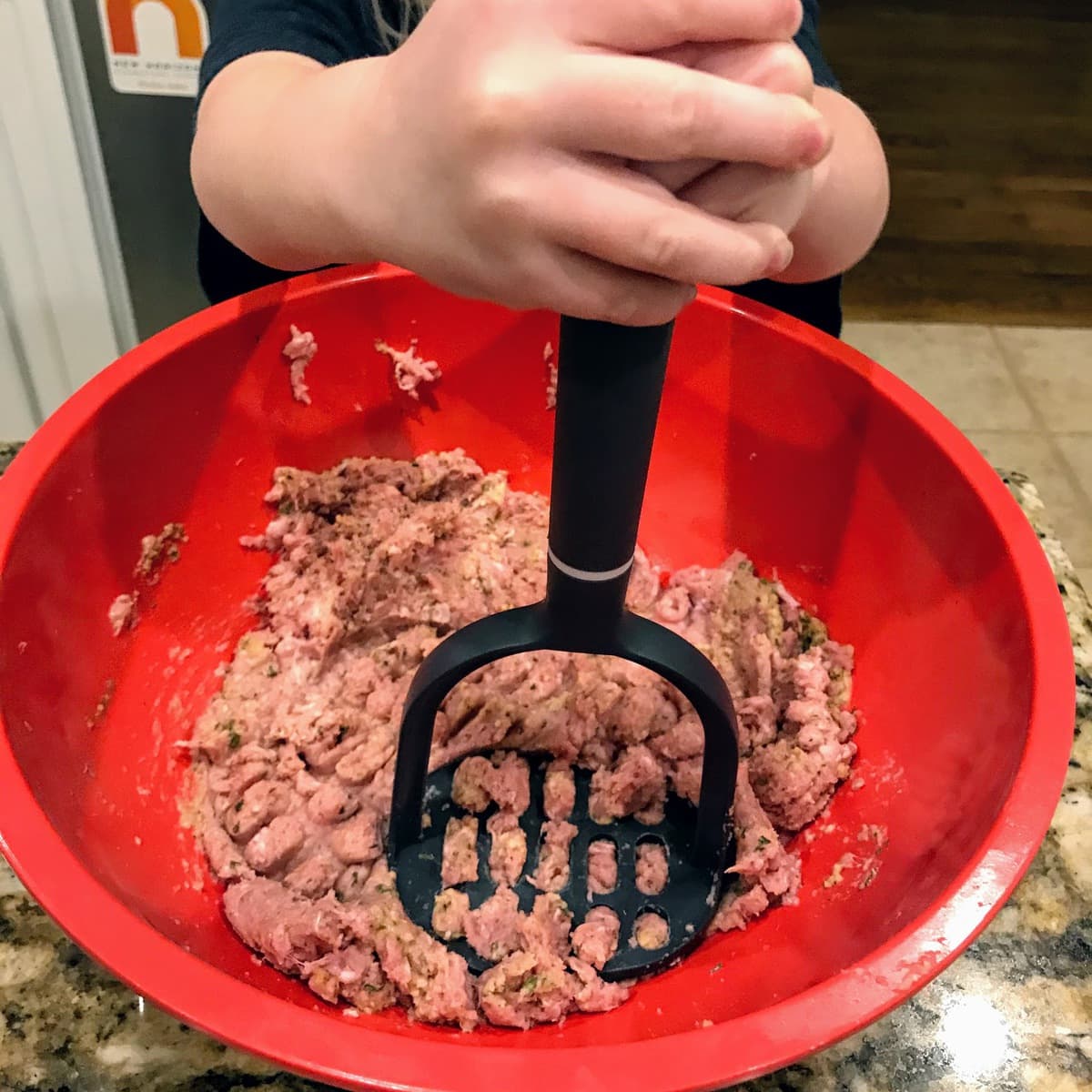 >STEP 2: Heat Pan with olive oil
And your kids can make sure the pan is fully greased, using a basting brush (we love this Core basting brush because, although not made for kids, it's mini sized and perfect for little hands) to spread the olive oil. [not necessary, but totally fun!]

>STEP 3: Form and Cook Patties 
Forming the patties can be a tad messy (which my kids love!), but once they are on the skillet, they cook pretty fast.
 
>STEP 4: Assemble your burgers
>STEP 5: Style your buns to look like Rudolphs!
---
Christmas Dinner Burgers for your Holiday Spread
These miniature burgers make for a fabulous appetizer OR entree for your holiday meal. You can pair the Christmas burgers with our sweet Strawberry Santa Hats for dessert, and you'll have the most festive Christmas spread for your table!
---
Combine Your Christmas Burgers with a side dish
These miniature burgers make for a great meal on their own, but if you are looking for a side dish, you may want to consider one of the following:
---
HAVE A FAMILY COOKING SESSION:
Worth considering is how this might be the perfect time to invite kids to help out in the kitchen (above all, assuming everyone is healthy and properly washing their hands!). We are all spending so much time together at home these days. So, why not make cooking a family activity?! Not only will cooking together help pass the time, but cooking with your kids has some real educational benefits. For example, cooking with kids can boost self-esteem and foster healthy eating habits.
---
Note: This post contains affiliate links
---
Mimi's Cooking Tips:

🍅We used a potato masher to blend the turkey patty mixture.
🍅Consider setting up a reindeer decorating station for the kids. They will love taking ownership of the process!
---
OUR "KIDIFY" TIPS for Picky Eaters:

🍅Kids choose their toppings. Lettuce, tomato, mayo, ketchup...kids can dress their Christmas food however they'd like!
🍅Change up the meat! While we like ground turkey, ground beef, sausage or a vegetarian substitute would work great for this recipe.
🍅Let kids choose the side dish. Fries, mac & cheese, or a simple salad all go great with burgers!
---
---
Choose an Activity
---
CRAFT FOR THIS CHRISTMAS BURGER RECIPE: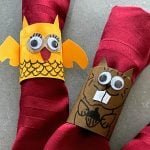 Strawberry Santa Hats! Here's a healthy, edible craft for your kids during the Holidays! These Santa Hats couldn't be easier. And your kids can make them all on their own.
---
Other Turkey Dishes you Might Like: