If you're bored with what you've been making for dinner, this easy carne asada dish will liven things up for you. It's something I assumed I could only order at a restaurant, and never be able to make on my own. There are a lot of moving parts, but it was seriously not hard. You can make it too...in 28 minutes!  
Note: in this video you will see me making the version of the recipe that takes more than 28 minutes (see below for more info).
Easy Carne Asada Ingredients
Because I'm a big dork (and because I was thinking this might be helpful to you), I did some calculations. At first glance, this meal appears to have a lot of ingredients, and I wanted to make that less overwhelming for you. For this meal's ingredients: 47% is fresh produce, 42 % is shelf-stable items, and the remaining 11% is dairy/meat. Now, I think I have a pretty averagely-stocked kitchen. Of the ingredients for this meal, I had to buy about half. But it wasn't very expensive because it was largely produce. Hardly anything processed. Most of the shelf-stable things (and also the mayo) I already had at home.
You can find just about everything at your local grocer. I hadn't used tajin before, but found that it's a super common spice (a red chile, seasoning salt) and can be found at almost any store or like everything else, on Amazon. My sister didn't want to buy a spice she didn't think she'd use again; so, she just replaced tajin with chili powder. She loved how that tasted.
Skirt steak is preferable, as it's the standard type of meat for this dish. But in a pinch, you can use flank. It will just take longer to cook.
You have full decision-making over whether you use all or partial fresh ingredients. In this recipe, we have a few ingredients that you can decide on: (1) fresh corn vs frozen corn, (2) fresh citrus vs bottled citrus juices (3) fresh herb bunches vs pre-chopped herbs or tube paste herbs, and (4) fresh garlic vs jarred minced garlic.
All About Timing!
Okay. For real, I think timing is the trickiest part of making this dish. Carne asada is possible in 28 minutes, but you will be cooking the whole time. And you will have several balls in the air during that time. That's because you are really making four delicious components at once: carne asada, chimichurri sauce, corn and subsequently, corn salad. Here are some tips based on how much time you really have to cook:
If You Have Exactly 28 Minutes...
Make the recipe as it. Be sure to buy pre-chopped herbs, and bottled citrus juices (lemon, lime and orange). This will be a bit more expensive than using all fresh produce, but maybe worth it for the time savings. Gourmet Garden makes both dry-chopped and tubed paste for a few different herbs, including cilantro and parsley. This will save you a lot of chopping time.
Other shortcuts: swap the fresh corn for frozen, and use jarred, minced garlic instead of fresh. While you will be sacrificing some flavor, with frozen corn, you eliminate all the steps of shucking, boiling and cutting (which can be time consuming). As another time saver, my sister swears by using Spice World pre-minced garlic, a jar of which is a staple in her fridge. This will be the most expensive version of the recipe, since you will need to buy more processed/pre-prepped items, but it will be the fastest.
If You Have More Than 28 Minutes...
In a perfect world, this is the best version of the recipe. This is actually what I did and it took about 45 minutes. Basically, use all the fresh ingredients you can. Instead of bottled juices, you can juice the citrus fruit yourself. That should be about 1 lemon, 1 clementine, and 4 ½ limes. Instead of pre-chopped herbs, buy fresh herbs: 1 bunch of cilantro and 1 bunch of parsley. Now, in my opinion, cleaning, de-stemming and chopping the herbs took by far the longest of any task in this recipe. But the flavor difference is sooooo worth it. Just make sure you rinse the herbs properly (I sandwich them in between two paper towels or a towel afterwards to extract excess water). Then use snippers or a chef's knife to remove the stems, and chop those leaves!
Note: Check out how to juice a lemon without a juicer for this recipe.
Of course, this also means using fresh garlic too. It's only 2 cloves, so it takes no time at all. And, finally, definitely use fresh corn. The recipe calls for fresh corn already, but I can't stress enough how much a difference it makes over frozen corn for a dish like this. Corn is the standout ingredient in this dish, especially because it's prime season for corn and it's just such a summer thang. It's also the featured ingredient in our Handprint Corn on the Cob Craft.
Steps for Success
In terms of the order of operations, below is what I would recommend. There are some steps that take a while, like having the meat marinate for 10 minutes or boiling the corn. During the wait time for those steps, you can, i.e. make the chimichurri sauce or prep the salad. Some of this order is based on my kitchen. For instance, I needed to start boiling the water for corn right at the beginning because my stove takes a while. But if yours heats on the faster side, then maybe insert that step later. Here is a breakdown of the order I would recommend:
>Step 1: Heat Water for Corn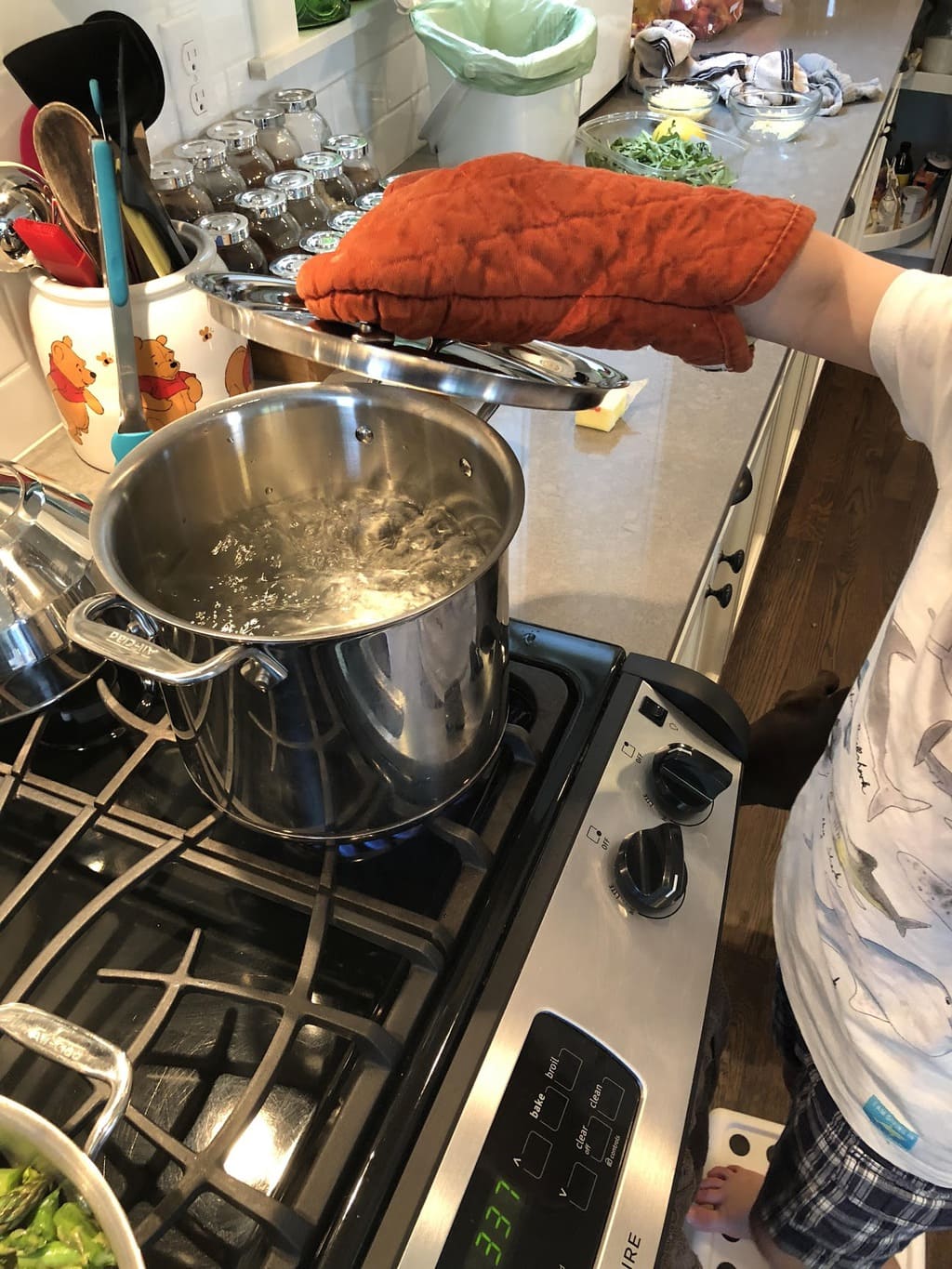 >Step 2: Marinate the Steak
>Step 3: Prep the Corn
>Step 4: Make Chimichurri Sauce
>Step 5: Prep the Salad
>Step 6: Cook the Meat

>Step 7: Plate Your Carne Asada!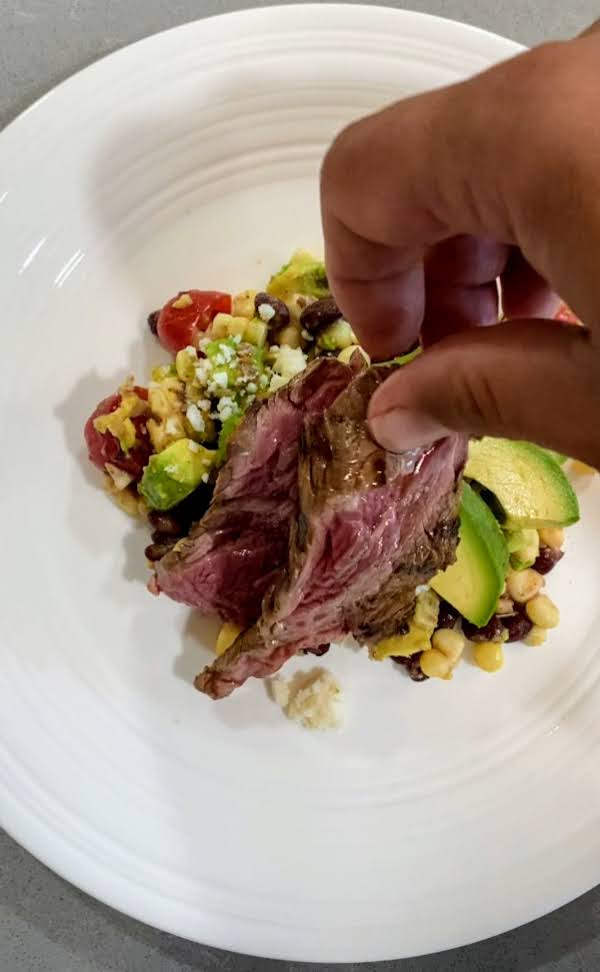 Modify Your Carne Asada
As written, this dish is neither vegan nor vegetarian. However, the carne asada is the only ingredient preventing the dish from being vegetarian. The steak could very easily be swapped for tofu or tempeh, which you could marinate in the same way as the steak. You'd probably want to use a much smaller amount, though, than the 1 - 1 ½ lbs steak. Or you could have the salad on its own, with the delicious chimichurri sauce. In fact, I've been eating just the salad leftovers this week.
To make the dish vegan, there are only 3 changes. Replace the meat, swap the mayo for a vegan mayo and ditch the cheese. I have not made a chimichurri sauce with this mayo, but it's definitely a viable option. Or you could make the chimichurri sauce 'not creamy' and just ditch the mayo. That's a more traditional chimichurri sauce anyway. In lieu of cotija, a great touch would be some sprinkles of nutritional yeast atop the dish. Nutritional yeast makes everything better. Yummmmmmmm.
In terms of other dietary choices and/or restrictions, this dish is naturally gluten free, and only dairy free if you ditch the cheese crumbles.
Note: This post contains affiliate links.
Have a Family Cooking Session
Worth considering is how this might be the perfect time to invite kids to help out in the kitchen (assuming everyone is healthy and properly washing their hands!). We are all spending so much time together at home these days. So, why not make cooking a family activity?! Not only will cooking together help pass the time, but cooking with your kids has some real educational benefits. For example, cooking with kids can boost self-esteem and foster healthy eating habits.
How Kids Can Help Make This Easy Carne Asada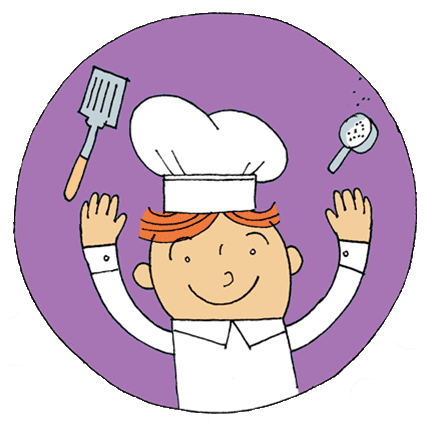 This salad involves many kid-friendly tasks. Here are some ways for your lil' sous chefs to help out:
Gather ingredients!

This sounds silly, but your kid can be super helpful just helping you gather up all the ingredients before cooking (cause there are so many!). Shout out some easy ones and put your kid to work.

Shucking the corn! This is such a fun task for kids, and it will save you time, for sure. My mom would always sit me in a chair with a brown paper grocery bag to do it over. My niece (pictured here) did it over the kitchen sink.
Cutting tomatoes! Kids can use one of these safe, awesome kids kitchen knives to halve the tomatoes while you are doing other things. My son also sneaks a bunch of tomato snacks while he's chopping too. Lol.
Final Tips To Ensure Smooth Sailing!
Easy Carne Asada with Corn Salad & Creamy Chimichurri Sauce
It's summer, and 🌽 CORN 🌽 is in season! We're making corn dinner's main event with this Easy Carne Asada. Our kids loved every part of this!
Equipment
large pot

medium bowl

cutting board

chef's knife and/or kids' kitchen knives

mincer

measuring devices: ¼ teaspoon, ½ teaspoon, 1 teaspoon, 1 tablespoon, ½ cup, 1 cup

small bowl

can opener

colander

basting brush

grill pan
Ingredients
2

ears

corn, shucked

3

Tablespoon

lemon juice

(or 1 small lemon, juiced)

2

Tablespoon

clementine/orange juice

(or 1 clementine, juiced)

1

Tablespoon

olive oil

2

cloves

garlic, minced

(1 clove for marinade & 1 clove for sauce)

9

Tablespoon

chopped, fresh cilantro

(1 T for marinade & ½ cup for sauce)

5

Teaspoon

salt

(3 t for marinade, 1 ½ t for sauce & ½ t for salad)

½

Teaspoon

tajin

1 - 1 ½

Pound

skirt steak

1

cup

mayonaise

9

Tablespoon

lime juice

(½ cup for sauce & 1 T for salad)

1

Tablespoon

sherry vinegar

½

cup

chopped, fresh parsley

1

15 ounce can

black beans, drained & rinsed

2

cups

cherry or grape tomatoes, halved

¼

Teaspoon

black pepper

2

avocados, sliced

crumbled cotija cheese
Instructions
CORN! Fill a large pot with water and heat to boiling. Boil corn for 6-10 minutes. Remove from water with tongs. Once cooled a bit, cut the corn off of the cob. Set aside.

MARINADE! While the water's heating, in a medium bowl mix together the marinade ingredients: lemon juice, clementine juice, olive oil, 1 of the minced garlic cloves, 1 T of the chopped cilantro, 3 t of the salt, and the tajin. Add meat and immerse in marinade. Let sit for 10 minutes.

CHIMICHURRI SAUCE! In a small bowl, combine: mayo, ½ cup of the lime juice, sherry vinegar, chopped parsley, the remaining ½ cup of the chopped cilantro, the remaining minced garlic clove, and 1 ½ t of the salt. Whisk briefly with a fork until well combined. Set aside.

SALAD! In a medium bowl, combine the corn salad ingredients: corn, black beans, tomatoes, the remaining 1 T of the lime juice, the remaining ½ t of the salt, and the black pepper. Slice the avocados and set aside.

MEAT! Heat a grill pan on med-high. Spray with cooking spray and use basting brush to spread the oil around, into the nooks. Cook skirt steak for 6 mins (or more), flipping frequently. Cut meat into strips, against the bias (cross-grain).

As a final step, sprinkle crumbled cotija over plated meal.
Notes
Serve ½-1 cup of the corn salad. Sprinkle with cotija cheese and fan out a few slices of avocado on top. Add some strips of carne asada and drizzle chimichurri sauce over everything. Yummmmm!
Corn - make sure your corn is fully shucked (including silks) before boiling. Your water will boil faster if you put a lid on the pot while heating.
Nutrition
Calories:
1047
kcal
(52%)
Carbohydrates:
18
g
(6%)
Protein:
65
g
(130%)
Fat:
82
g
(126%)
Saturated Fat:
17
g
(106%)
Polyunsaturated Fat:
28
g
Monounsaturated Fat:
31
g
Trans Fat:
1
g
Cholesterol:
202
mg
(67%)
Sodium:
3467
mg
(151%)
Potassium:
1625
mg
(46%)
Fiber:
8
g
(33%)
Sugar:
5
g
(6%)
Vitamin A:
1557
IU
(31%)
Vitamin C:
48
mg
(58%)
Calcium:
64
mg
(6%)
Iron:
7
mg
(39%)
*Percent Daily Values are based on a 2000 calorie diet. While we are not certified nutritionists, we work with a WordPress-integrated nutrition API to calculate our recipes' ingredient values.
What Can Kids do While Grown-ups Cook?
Craft for this Recipe:
Handprint Corn on the Cob! Your kids can make this Handprint Corn on the Cob craft while you prepare our Carne Asada dish! If you love corn on the cob you will love this craft! Hang it up on the fridge or gift this sweet keepsake to someone you love!
Other 🥩 & 🌽 Dishes You Might Like:
🍅 Shrimp with Corn in Creamy Poblano Pepper Sauce