Our life can get pretty chaotic. With my husband in medical training, sometimes a week goes by and Ray and I realize we haven't really had a family meal. So, the other night Ray suggested that we take the kiddos out for a special dinner. To be honest, we are always a little nervous to bring our 4-year old and 6-year old to a restaurant, let alone a really nice restaurant. They're so distracted by the environment and it's hard for them to sit still. We don't like to let them use phones or ipads while eating out, yet we are realistic about the situation and keep them on hand if all chaos ensues.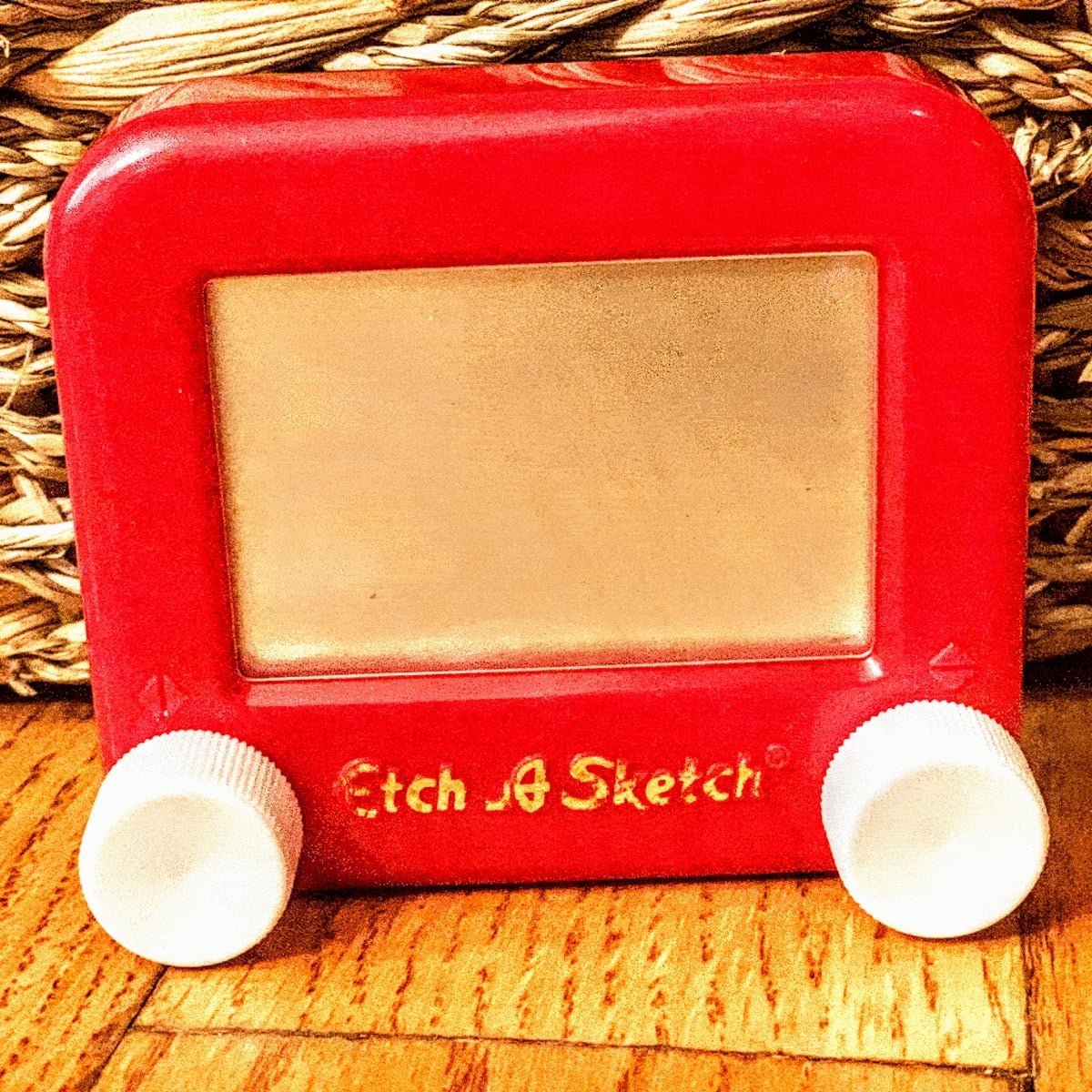 When we checked into the restaurant, we were pleasantly surprised when the hostess offered the kids an Etch A Sketch to use at the table. "It's like the first version of an iPad," she told the kids. We naturally accepted the Etch A Sketches and made our way to the table.
Amazingly, throughout dinner, our kids happily played with the toys. And my husband joined in on the fun, helping the kids to spell their names and draw pictures. He even made this pretty impressive princess for my daughter!
The whole meal I kept thinking how interesting it was that the hostess called these toys 'the first version of the iPad.' While Etch A Sketches are way simpler and cheaper than iPads, surprisingly they seemed equally entertaining. It got me wondering, why do we constantly feel the need to use complex technologies to entertain our kids? I mean, I am a huge supporter of educational television and games, and I think these technologies are valuable tools when used the right way. But there is something sweet and comforting about opting for simplicity. Maybe I'm just feeling nostalgic for my own childhood. Who knows?! But this experience motivated me to use more technology-free forms of entertainment for my kiddos.
Here are some of my favorites! My top five picks for on-the-go, technology-free entertainment. When at a restaurant, doctor's office waiting room, airport, or any other places kids think are boring, I challenge you to go technology-free. I will admit, it doesn't work every time...but I think it's worth a try. These devices are mess-free AND reusable, so unlike coloring books, you can't 'use them up. (Note: This list contains affiliate links)
Let me know how it goes and what you think of these devices! Maybe you have other products to recommend. I hope you'll join me on this technology-free "on-the-go" challenge!