The humidity has FINALLY left North Carolina, which means fall has officially arrived. Naturally, we are super eager to make some warm dishes featuring our favorite fall flavors. And our One Pot Chicken Apple Sausage Pasta is one such dish that we promise won't disappoint!
Sweet & Savory Chicken Apple Sausage
Our One Pot Chicken Apple Sausage Pasta is packed with savory veggie-bean-pasta yumminess. To add a sweet element, we threw in some chicken-apple sausage, which was a big hit with the little ones. And the resulting combination of savory and sweet was perfect.
---
Oh how we love ONE POT meals!
While there is chopping involved, preparing this meal is fairly straightforward and only requires ONE pot! Once the veggies and sausage are chopped, it's all smooth sailing!
>Step 1: Cook Veggies & Sausage
>Step 2: Add Broth and Cook Macaroni
>Step 3: Fold in beans and kale
---
Note: This post contains affiliate links.
Chicken Apple Sausage with Fall Veggies
While you can use whichever veggies you like for this pasta bowl, we used veggies that generally come to harvest from late summer through (early) fall. And for an even heartier dish (and if you had some extra time), it would be fun to use more root veggies, like carrots, sweet potatoes, and fennel.
(Our kids loved using their Opinel kids knife to chop the veggies)
Eggplant for the win
While making this dish, my kids couldn't help but be intrigued by an eggplant's appearance. They loved its shiny purple surface and were surprised by how different it looked once cut open. Because they were so intrigued, they wanted to make their own eggplants to play with (see Halloween Craft: Eggplant Witch)!
We were also surprised to read that although eggplant is culinarily considered a vegetable, it's actually a member of the berry family, as it contains small, edible seeds.
---
Modify

This Chicken Apple Sausage Dish
There are lots of ways to modify this dish to fit various dietary needs. We originally planned to make this dish vegetarian, but we added sausage last minute to bring more protein to the dish. So, basically I'm saying that this dish is totally delicious in its meat-free form. And if you use a vegetable base instead of chicken, your pasta will be totally vegetarian. To make this dish vegan, simply eliminate the sausage, use a vegetable base (instead of chicken) and garnish the final dish with nutritional yeast instead of cheese.
If you'd like this dish to be gluten-free, swap the pasta for brown or white rice, quinoa, or polenta. And make sure your stock base and sausage do not contain traces of gluten. I'm a huge fan of the Aidells brand, and their sausage is gluten-free.
---
Have a family cooking session
Worth considering is how this might be the perfect time to invite kids to help out in the kitchen (assuming everyone is healthy and properly washing their hands!). We are all spending so much time together at home these days. So, why not make cooking a family activity?! Not only will cooking together help pass the time, but cooking with your kids has some real educational benefits. For example, cooking with kids can boost self-esteem and foster healthy eating habits.
---
How kids can help make Chicken Apple Sausage Pasta: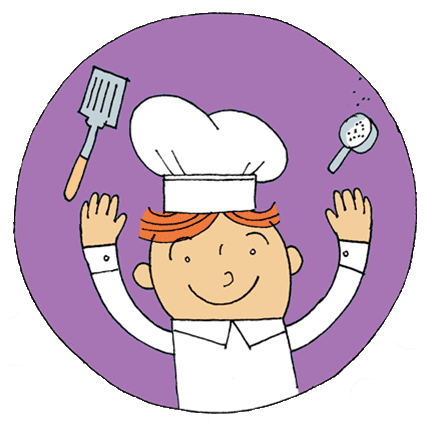 This dish involves many kid-friendly tasks. Here are some ways for your lil' sous chefs to help out:
*Note: For toddlers especially, these tasks require adult supervision and/or assistance, as items may be sharp, hot or otherwise dangerous.
---
MIMI'S COOKING TIPS:

🍅If you don't have a 5 or 6 Qt Stock Pot, consider cooking noodles in a separate pot.
🍅To protect their eyes, encourage kids to wear goggles as they chop onion.
🍅To prevent beans from getting mushy, add them in as a final step.
---
OUR "KIDIFY" TIPS:

🍅Swap the veggies. Try exchanging some veggies in the dish for ones your kids prefer. Or increase/decrease veggies in the recipe.
🍅Pick another pasta. Swap the macaroni for your kids' favorite noodles, i.e. rotini or orzo. If that gets them more pumped to eat dinner, it's totally worth it.
🍅Add some carbs! You can have some bread, toast, or crackers with the meal. My kids are always fans of toast!
One Pot Chicken Apple Sausage Pasta
Ingredients
2

T

cooking oil

1

small eggplant, cut into 1" pieces

1

medium zucchini, chopped

3

roma tomatoes, coarsely chopped

1

small red onion, chopped

2

cloves

garlic, minced

1/2

T

salt

1

t

black pepper

12

oz

pre-cooked chicken apple sausage, sliced

3

cups

chicken broth

2

cups

whole grain elbow macaroni

15

oz

cannellini beans, rinsed & drained

(aka white kidney beans)

2

big handfuls

baby kale, de-stemmed and cut into medium-sized pieces

1

cup

shredded parmesan cheese
Instructions
Heat cooking oil on medium-high heat in a large 5 or 6 Qt. stock pot. Add eggplant, zucchini, tomatoes, onion and garlic. Sprinkle with salt & pepper. Cook veggies for 5 minutes or until tender, stirring frequently. Add sausage and cook another 2 minutes.

Pour broth into the pot. Bring mixture to a boil and then add macaroni. Bring back to a boil, then cover and cook on medium/low for 8-10 minutes (or until pasta is done).

Remove lid, fold in beans and kale. Stir until kale shrinks down, and then remove from heat.
Notes
Scoop into bowls or plates, and garnish with shredded parmesan cheese. 
Note: This recipe is based on using a gas stovetop that can reach high temps relatively quickly. If you have electric burners, you may need to do all this cooking on high heat, and you may have to adjust/lengthen the cooking times.
We recommend that all meals for children be served with milk.
*Percent Daily Values are based on a 2000 calorie diet. While we are not certified nutritionists, we work with a Wordpress-integrated nutrition API to calculate our recipes' ingredient values.
---
What Can Kids do While Grown-ups Cook?
---
CRAFT FOR THIS RECIPE:
Eggplant Witch! Your kids will love making this Eggplant Witch while you prepare this fall pasta dish. This is an easy, different Halloween craft that uses real food! You probably already have all the supplies in your home!
---
OTHER ONE POT MEALS FOR YOU:
🍅One Pot Easy Pea-sy Cheese Tortellini
🍅One Pan, Easy Pea-sy Chicken & Rice Recipe